The Theatre School presents rare Ibsen play 'The Lady from the Sea'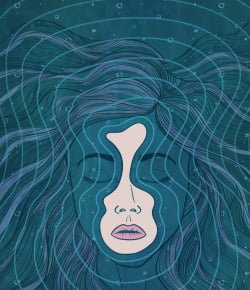 Finding comfort in a new place is something that second year DePaul Theatre School student Erin Kraft understands well. The MFA directing student cut her teeth working on contemporary productions in Seattle.
But that's what drew Kraft to the classical Henrik Ibsen work, "The Lady from the Sea," which opens in the Healy Theatre at The Theatre School Oct. 23. She said the rarely produced work is challenging because it questions modern society's preference for radical independence, while establishing what it means to create a home.
"I was attracted to it partially as a new transplant to Chicago," she said. "It's very much so about belonging and the difficulty in transitioning into a place or into a relationship if it means having to fully let go of your past and fully let go of that piece of yourself that really belonged there."
"The Lady from the Sea" tells the story of a woman torn between two lives: one on solid ground, and the other in the mysteries of the ocean. Norwegian playwright Ibsen draws on mythical symbolism to paint the main character Ellida as a mermaid on land, who must choose between her husband and a sailor she once loved.
But it's not a shallow love triangle, Kraft said. Instead, it focuses on Ellida's internal struggles, rather than her desire for the perfect romance.
"The play is so much about fear and desire being interlinked, that we get pulled towards things that we cannot understand and that feel overwhelming," she said.
Though Ibsen is best known for his tragedies like "A Doll's House" – which outraged 19th century audiences because of its liberal views of women and divorce – this is a much rarer piece, though in some ways, it is more conservative. Kraft said that the modern day zeitgeist might be more accepting of a work that prides independence than "The Lady from the Sea," which accepts community.
"We today understand extreme choices that protect our independence more than we understand finding a way to embrace community, finding a way to be happy where you are, finding a way to let go of our demons," she said. "So I think that that's an interesting challenge of the piece that didn't exist 125 years ago when the play was written."
Kraft shares this vision with assistant directors and undergraduate students Hampton Cade and Margaret Baughman, along with a cast of Theatre School actors.
"I think it's the kind of thing we need as a society, this kind of story," Cade, a third-year BFA student, said. "We all just so independent that we don't think of the possibility of being part of something, how that's not the end of the world."
Though Kraft admits these notions might not be easy –  both for a modern day audience and as a director – she hopes to spark a discussion about what it means to find home.
"It's very much so about belonging and the difficulty in transitioning into a place or into a relationship if it means having to fully let go of your past and fully let go of that piece of yourself that really belonged there," she said. "How do we manage that? How do we really belong anywhere when we can belong multiple places? How do we find happiness and satisfaction?"
"The Lady from the Sea"
by Henrik Ibsen
Directed by Erin Kraft, MFA Directing, Class of 2017
Oct. 23 – Nov. 1
In the Healy Theatre at The Theatre School at DePaul University
Tickets