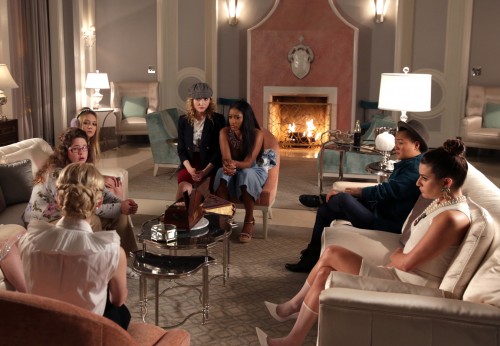 Grab your custom-made cape pajamas, packing peanut s'mores and your souls because it's time for a Kappa slumber party. This week's "Scream Queens" episode, "Seven Minutes in Hell," locked audiences in the Kappa house for a night, watching pledges, sisters, and Dollar Scholars all point fingers at who could be the murderer among them.
The cold open had the Chanel minions among us fear that her reign could be coming to an end as the Kappa presidential vote, counted by Farty McCandlewax herself, resulted in a tie between Chanel and Zayday. Like all presidential losers, Chanel bowed out gracefully, blaming all those intimidated by her hotness.
As her loyal minions rush to her side, we discover that Chanel voted for Zayday, as she realized being Kappa president would make her a target for the Red Devil. Wanting to stay alive, Chanel threw the vote to Zayday and presented her with the key to the storage room. As her first act of power as president, Zayday and Grace announce a Kappa slumber party designed to reveal secrets related to the Red Devil and play games including spin the bottle and truth or dare.
Meanwhile at the Dollar Scholar's house, the voice of Earl Grey prompts a mini-intervention on Chad's weird obsession with sleeping with older women like Dean Munsch. With the help of his prep boys, Chad vows to focus on more important things, like sleeping with popular girls. Earl Grey hints that the Kappa girls are planning a sleepover and it seems like the perfect opportunity for a panty raid.
Spin the bottle is going mediocre for the Kappa sisters. After landing on Grace and demanding a re-spin, Chanel #3 gets her chance to kiss Sam, both agreeing that the kiss was great. Once alone, Chanel #3 and Sam bond over their mutual disinterested personalities. Despite their attraction to each other, Chanel #3 swears they may never touch because those who fall in love with her go insane.
Suddenly, the Kappas find out someone has locked all the doors and windows. Chanel confesses that during a "Panic Room" movie night with Chad she made the Kappa house into her own panic room with a safety alarm and can't remember the code to unlock it. Just as Hester suggests the Red Devil has locked them in, ready to pick them off one by one, the lights go out.
Chad's panty raid turns into a rescue mission when Chanel calls for help. As he and the Dollar Scholars launch a ladder to Chanel's window, Chad confesses he slept with Munsch and Denise and Chanel vows to be his for the amount of time Chad feels is appropriate. The Dollar Scholars are almost up the ladder when the Red Devil shows his menacing grin and what began as a sexually curious Kappa sleepover just got murderous.
[box]Read more "Scream Queens" recaps[/box]
Downstairs, Grace and Zayday finally convince the girls to play truth or dare now that the Dollar Scholars have arrived. Grace uses the game to find hidden information by asking Sam what Chanel #3's deepest darkest secret is. Chanel #3 bursts out her feelings for Sam while Sam confesses #3's father is Charles Manson. Furious, #3 dares Sam to go down to the basement and take a nap in the bathtub.
Sam is alone in the basement when the Red Devil shows up. The Red Devil knocks Sam's head against the bathtub and lays her in it. Sam begs the Red Devil to show his or her true identity before she is killed. The Red Devil unveils the mask while the audience sees Sam confess she "knew it was you." The Red Devil then wraps a plastic bag over Sam's head and suffocates her.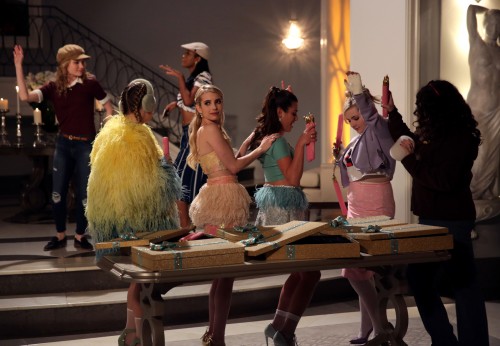 At the dance party, Hester meets Chad at the pantry and breaks it off with Hester to be with Chanel. Seeing this, Chanel suggests the party play seven minutes in heaven, starting wit her and Chad. While alone, Chanel tells Chad she wants to take the relationship to the next level. She wants the relationship to mean something and they pinky promise to keep their relationship monogamous.
Chanel #5 and Roger go next but unfortunately, the seven minutes in heaven turned into hell as Chanel #5 witnesses Roger's death by nail gun. However, the Red Devil leaves Chanel #5 screaming in the closet instead of killing her as well, and Chanel now points accusations at #5 being the killer. This is when Chad decides to spill the vital information of knowing that there were two Red Devils the night Caufield's arms were chopped off. The next accusation then points at Pete, whom Grace claims is studying.
Since no presidential closet would be complete without trap doors, Chad discovers one and Zayday and Chanel go down to find the exit. Lining the luxurious tunnels are portraits of past Kappa presidents. Scratching the tiled walls with two axes, the Red Devil approaches the girls. Chanel and Zayday start running but Zayday falls and is pinned by the Red Devil. This time the Red Devil is out for blood. We see the first true sign of leadership and sisterhood from Chanel as she comes back for Zayday and knocks the Red Devil out with a lamp and the girls escape.
While the relationship between Zayday and Chanel seems to have grown, #3 and #5 seem to be shifting their alliances as #3 makes #5 promise that the two of them will outlive Chanel.
The end of the slumber party concludes with Chanel posing war against the Red Devil, claiming that no more sisters will be killed and Zayday starts a dance party. Not without the Red Devil watching, of course.
PREDICTIONS
Maybe I am just charmed with Earl Grey's smooth voice that it seems too good to be true but he is high on my suspect list for the Red Devil. There isn't too much focus on him, yet when he speaks, his information is most vital. For example, how did he know about 53 Shady Lane?
We only found out because of Pete and Grace's conversation; however, Earl Grey and Zayday were there as well. This episode he knew about the sleepover, encouraging the boys to sneak in. And this wouldn't be the first time a Dollar Scholar was involved with the Red Devil.
Wes has to be involved in some way. The Dean is just so off her rocker crazy that I don't believe she's directly involved, but Wes has motives. If there isn't a Kappa house left, then Grace can never be a Kappa like her dead mother. The mother's death is somehow involved with Kappa and not a random fire; a death that causes Wes to be obsessed with horror films and Kappa revenge.