Misogynist music industry impacts artists, fans
With her most recent album "1989," Taylor Swift was able to make some of her greatest accomplishments as an artist so far in her 11-year career. After co-writing every song on the 16-track album and writing "This Love" on her own, "1989" went on to sell millions and had the highest sales week for an album since Eminem released "The Eminem Show" in 2002. As of September, her tour for the album grossed over $130 million, with 1.1 million tickets sold. On a personal level, the album marked her departure from the country genre that she began her career in, certifying Swift as a pop star. But all of this wasn't what earned "1989" respect of some critics and listeners — alternative musician Ryan Adams' cover of the hit album was.
Triple J, an Australian radio station, has previously refused to play Swift but played Adams' cover of "Wildest Dreams" in September. The New Yorker reviews Adams' cover album, but not Swift's original.
Adams' adaptation of the album work is taken more seriously as it is not pop music, a genre widely regarded to be of no value. Much of this, of course, has to do with sexism, as most of pop music's most vocal fan base is female.
The interests that women and girls are mocked for range throughout various forms of culture, but can be most easily recognized in their interests in pop music.
"Pop music does get labeled as king of a feminine space," Daniel Bashara, a professor of media and cinema studies at DePaul, said. "As does everything that's considered low taste like the romance novel and soap operas. All of these things that we like to call 'low culture' also happen to be enjoyed by women. And that's not a coincidence in the sense that the people making those distinctions are primarily men."
DePaul freshman Elaine Omori is no stranger to being laughed at for her passion for boy bands including Backstreet Boys and 98 Degrees. Omori, a New Kids on the Block fan, has been lovingly mocked by her family and friends, who point out that Omori has "bad taste."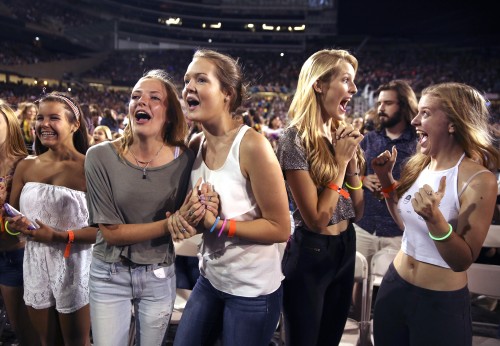 "My best friend has made jabs at me," Ormori said. "I'll tell her how much I like a song, and she'll say, with distaste, 'That's because you like pop music.'"
Not only is the genre itself regarded as bad, but fans, especially teenage girls, are made fun of because of their devotion to the genre.
"By brushing these girls aside and laughing at how stupid whatever they like is, we tell these young women that their interests are less important than what men like," Sandra Song wrote in an op-ed for Pitchfork in April.
Partly because of its large female fan base, pop music in general is looked at as a "lesser" form of music — but this is also because of its mass commercialization and perceived lack of talent by pop stars.
In an interview with Loudwire, Slipknot frontman Corey Taylor described his hatred for the genre.
"It's so auto tuned and it's so beat corrected and it's so canned and processed and lifeless," Taylor said.
It's obvious to anyone who follows a pop star on social media or attends a pop concert that the music is bursting with life and passion, rather than what Taylor said about it being lifeless.
Swift, Katy Perry and other pop stars regularly get hundreds of thousands of comments on their posts from adoring fans. One Direction concerts are filled with fans with tears in their eyes. Because of the personal nature of pop songs, fans are allowed to not only become fans of the music, but also see life through the eyes of the pop stars themselves, creating an intense devotion to the artists.
"What draws me most to boy bands are the members of each group," Omori said. "I enjoy watching old interviews and TV appearances on YouTube, when many of the guys were teenagers and laughing at their silly antics."
"I tend to favor the shy guys, like Jonathan Knight in New Kids on the Block or Mark Feehily in Westlife," Omori said.
There is also the argument that pop music is inescapable, which is simply not the case.
According to radio-locator.com, there are 83 radio stations within listening range from Chicago. Two of them play Top 40 hits, while the rest cater to genres including Spanish, country and hip-hop.
Pop is unreasonably one of the most scoffed-at genres in music, and it's hard to imagine it one day getting the respect it deserves. The genre, filled with passionate fans and talented musicians will probably continue to fight for respect with future releases, but in the meantime current albums need the validation they deserve, especially "1989." The album broke ground in pop music through its massive sales and impact and made Swift an all-out power force in music. She shouldn't need validation from an indie rocker to prove this.
View Comments (1)