The power of the young voter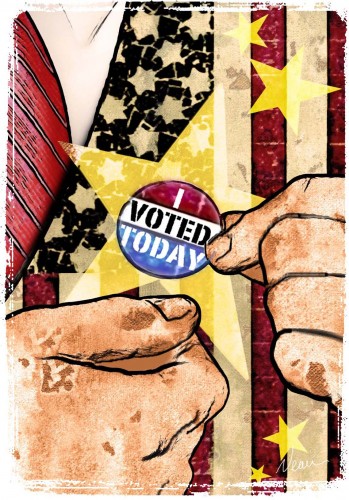 Donald Trump shocked the nation with his fast rise to leading candidate of the Republican Party for the 2016 presidential election. His statements have angered the public, mostly with his harsh position against undocumented immigrants. Ben Carson is beginning to follow his lead by making outlandish comments as well. While some older demographics seem to agree with their extreme, conservative views, college students as a majority are in fierce opposition to them.
According to a survey conducted by online textbook rental service Chegg, college students tend to lean more towards the left with political views, with 30 percent identifying as liberal, 39 percent identifying as middle of the road, 12 percent identifying as other and only 17 percent identifying as conservative.
But younger generations have been criticized for being indifferent towards politics. In the 2012 presidential election, a mere 38 percent of all 18 to 24-year-olds voted. However, the outlandish comments by Trump, Carson and other potential candidates may inspire some students to head out to the voting booth to ensure that the beliefs of the elected president represent their own.
Hillary Clinton and Sen. Bernie Sanders, the current frontrunners of the Democratic Party, seem to be putting a specific emphasis on pandering towards college age students. Sanders appeals to the younger demographic with his ideas of raising the minimum wage and making college tuition free. Clinton reaches out to college students by proposing a plan to lower tuition and by visiting colleges across the country.
In the survey conducted by Chegg, the three top favored potential candidates of any party by college students are Sanders, Biden and Clinton, in that order. But Biden announced Oct. 21 that he would not be running for the 2016 presidential election, leaving Sanders and Clinton as the leaders in the polls among college students.
The Republican candidates are having a harder time appealing to college-aged voters. Trump appears to be the frontrunner of the party, but according to the same Chegg study, Trump is the least-liked candidate among college students with 77 percent finding him to be an unfavorable option for presidency.
To many young adults, the idea of Trump or Carson being elected into office is too ridiculous to even think about.
"Imagining someone who is all about Donald Trump, I can't even do it. I can't even picture it," DePaul student Sarah Mitchell said. "In a way, it almost doesn't motivate me to feel more strongly about (politics) because I don't even consider (Trump being elected president as) something that's going to happen."
Only 29 percent of college students found Carson to be an unfavorable candidate as of September, and the public's approval of him is continuously put into question because of his outlandish comments.
Carson and Trump's political strategy of bluntness and avoiding political correctness resonates with some voters. But it has also sparked outrage for many people — college students being a big part of that category. Despite this, the outrageous comments are still captivating to the American public.
"It's making me involved because I'm definitely reading what they're saying," DePaul junior Emily Guerin said. "It doesn't sway me one way or another because I know a lot of (a presidential campaign is) just a show to put on to get more attention. I mostly just won't vote because I don't align with any of the politics."
Carson faced backlash a couple weeks ago when he said that the Holocaust may have been prevented if German civilians were armed. Trump received similar scrutiny after claiming that had he been president on 9/11, the hijackers involved would never have made it into the country.
Many voters below the age of 25 may be uninterested in the world of politics, but their easy access to the Internet and social media makes learning about the candidates an effortless process.
"I think that younger people are going to vote because there's more of an online presence of what is being said by outlandish candidates like Donald Trump," Guerin said.
The only way to solve the issue of offensive candidates is for college students and the rest of the American public to use their vote. A significant percentage of the country has made it clear that Trump and Carson do not represent their ideals and beliefs, so these voters should make their opinions count.
No matter what politics you support, filling out a ballot in November 2016 is the only way to truly take part in deciding who will win in the race to the oval office. If you fail to do this and the winning candidate is unfavorable in your mind, you will regret not taking part in the opportunity to vote.