Michelle Obama continues activism with new project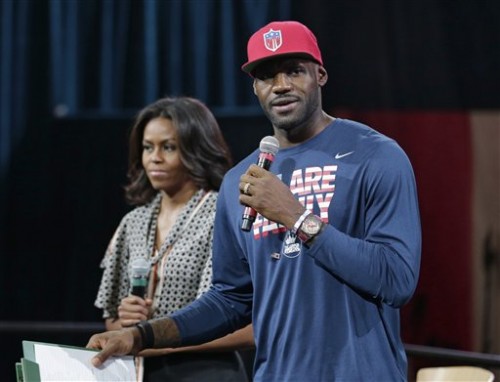 First lady Michelle Obama announced on Monday that her Reach Higher Initiative would be launching a new program geared towards encouraging youth to pursue education after high school, whether it's college, trade school or job training.  This program, called "Better Make Room," focuses on engaging teens between the ages of 14 and 19 through social media.
"The idea behind Better Make Room is pretty simple. We want to create a space where young people can engage with each other, where they can inspire each other to complete their education beyond high school," Michelle Obama said in a press conference. "Because the truth is that right now, that space really doesn't exist in our popular culture."
This program was created to help achieve President Barack Obama's goal of increased college enrollment in the next five years. Recently the United States has slipped in proportion of college graduates compared to the rest of the world, and president Obama said he hopes to reclaim the top spot by 2020.
The first lady's project is not unlike other projects that previous first ladies have taken on. Martha Washington helped veterans of the American Revolution who were suffering from poverty, Mary Lincoln was a supporter and contributor of the Freedman's Bureau, which helped freed slaves find housing, education and employment. Obama's projects have expanded upon the goals of the office; to better the nation by addressing issues that may hinder success.
Eleanor Roosevelt is one of the most well-known first ladies because of her projects.
"I think that throughout the history of the US, (first ladies) have played significant roles in campaigning for women's rights, even going back to Abigail Adams asking John to 'remember the ladies,' giving them an important place in politics," Will Bermudez, DePaul senior, said. "I consider (Eleanor Roosevelt) a key figure in the history of political broadcasting, paving the way for other politicians to be comfortable with publicizing themselves in this manner."
Using their platforms to broadcast the importance of issues in the past required speaking tours and teaming up with organizations. Now it requires a different type of invisible hand to reach out to citizens, often in the form of social media campaigns.
Several media and communication outlets have joined first lady Obama's project already, including Funny or Die, the CW and Vine. While their roles aren't clearly defined, they have committed to spreading the initiative's messages through their networks and creating public service announcements. Additionally, Michelle Obama is currently touring the United States in order to gain more traction for the initiative and to gain support, including that of LeBron James, who recently undertook an education initiative of his own in Cleveland.
There is skepticism surrounding the first lady's program in its potential to have an impact and if it can really make a difference with the students most at risk. Dawn Turner of the Chicago Tribune  has hope for the project but said its success depends on if it can reach the students who need this project most. The fear is that these types of programs don't alleviate other risks these students face such as violence and lack of resources.
While it's much too soon to measure the impact of the initiative, teachers are hopeful.
"We want to make it clear to students that college isn't your only option after high school. We'd love for them to look into trade school or other training if they feel like college isn't for them. Our hope is that they continue their education in one form or another, and Better Make Room could be a great way for positive reinforcement from peers," Charlie Walesa, a social studies teacher at Goshen High School, said. "Students need to know that they have options."