How Veterans Day is commemorated around the United States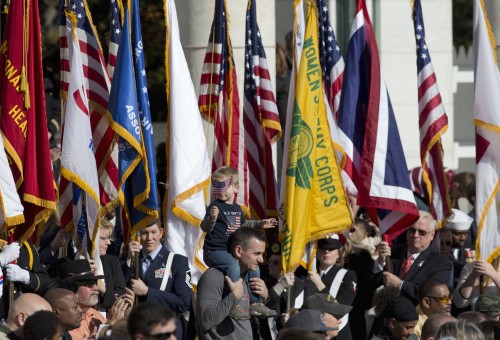 Ninety-seven years ago, an armistice ended World War I, which was then the greatest conflict the world had ever seen. Armistice Day became Veterans Day in the 1950s and now commemorates the spirit of all U.S. military members. A look at how the day is being observed across the country:
PARADES OF PRIDE
Parades and other celebrations were held throughout the country. New York City hosted its 96th annual parade, the largest celebration of service in the nation. "America's Parade" featured more than 20,000 participants, including marching bands, floats, veterans and military units.
EUROPE PAYS TRIBUTE TO WAR DEAD
Church bells tolled across Europe on Armistice Day to pay tribute to the millions of soldiers killed during World War I.
In Paris, thousands of people lined the Champs Elysees to watch President Francois Hollande lay a wreath at the Arc de Triomphe, where an eternal flame burns aside France's Tomb of the Unknown Soldier.
In Britain, crowds paused to observe two minutes of silence in streets and town squares, offices, churches and railway stations. Hundreds stood quietly in London's Trafalgar Square and around the Cenotaph memorial in central London as the bongs of Parliament's Big Ben bell sounded the hour.
OBAMA SEEKS BETTER CARE FOR VETS
President Barack Obama laid a wreath at the Tomb of the Unknowns and urged the nation to keep veterans in their thoughts long after Veterans Day.
In a ceremony at Arlington National Cemetery, Obama said the nation is boosting funding for the Department of Veterans Affairs and making progress on long-standing issues of veteran homelessness and in reducing a backlog of disability claims.
Still, he said, other problems must be addressed.
"The unacceptable problems that we've seen, like long wait times and some veterans not getting the timely care that they need, is a challenge for all of us if we are to match our words with deeds," Obama said.
HOMES FOR HOMELESS VETERANS
The federal government announced that Louisville is the first city in Kentucky to eradicate veteran homelessness. The city housed more than 400 veterans in the last year. And in Virginia, Gov. Terry McAuliffe says the state has found permanent homes for 1,400 veterans in the past year.
Washington state's Kitsap County also is aiming to end homelessness for veterans by next Veterans Day. A coalition of agencies has created the "Homes For all Who Served" project to house dozens of former service members. The county has also launched a program that pays landlords who rent to veterans.
HONORING HMONG IN WISCONSIN
Wisconsin honored Hmong-Lao Vietnam war veterans with a monument in the northern city of Wausau, where the first Hmong families arrived nearly 40 years ago.
Groundbreaking was Tuesday at the Marathon County Courthouse. The bronze and granite statue is expected to be finished by May.
Hmong American Board President Kham Yang says Hmong veterans were known as the secret soldiers because few knew what they did for the United States during the Vietnam War. They fought surreptitiously for the CIA in Laos and faced persecution.
More than 7,000 Hmong now live in Wausau, a city of about 40,000.
A FIRST IN TULSA, OKLAHOMA
The Oklahoma branch of the Council on American-Islamic Relations had a float in the Tulsa Veteran's Day parade for the first time. Organizers said that leading up to the parade they got many phone calls protesting the council's participation. The CAIR float Wednesday was mostly well-received, with kids and adult spectators waving and applauding at the Muslim veterans who passed by.
TRANSGENDER HEALTH CARE
The Cleveland VA Medical Center is opening a clinic to serve transgender veterans.
The clinic will provide transgender veterans with primary care, hormonal therapy, mental health care and other services. All providers in the new clinic have a special interest in transgender care and say they will create a welcoming environment for those veterans.
A ceremony is planned Thursday afternoon to open the clinic, which current treats about 20 transgender patients.
The hospital serves more than 112,000 veterans annually with its inpatient and outpatient services.
RETURNING MEDALS
The family of a World War II veteran from New Jersey has his missing military medals back, thanks to another veteran who was rummaging through a flea market.
Nicholas Del Prete, of Toms River, bought the medals last month and contacted the Purple Hearts Reunited organization in a bid to find Army Maj. Anthony Sordill. He was a medical officer who earned the nation's third-highest decoration for valor, the Silver Star, in North Africa in 1943.
The group was able to contact relatives, and the medals were returned to the family during a ceremony Tuesday in Toms River.
Purple Hearts Reunited has returned medals and artifacts to over 150 families and museums.
NEW MEMORIAL BY MEMORIAL DAY 2016
Nevada Gov. Brian Sandoval and others broke ground Wednesday on the Las Vegas Veterans Memorial that will sit on 2 acres and house 18 larger-than-life statues. The statues will depict veterans from the Revolutionary War to the recent wars against terrorism, along with granite walls etched with quotations. The $2.2 million project launched by the veteran-operated business American Shooters Inc. is to be completed by Memorial Day 2016.