Uber business model surges ahead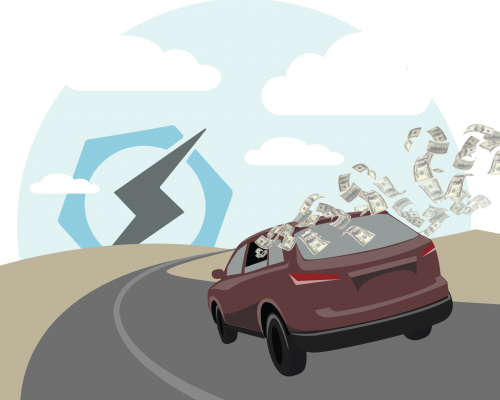 "Let's just Uber home." A phrase that wouldn't have been understood a decade ago, Uber has developed a new business model that is changing the game of entrepreneurship and convenience.
There's practically an Uber for everything. The rideshare service driving traditional taxis out of business has also inspired dog-walking, laundry-washing, food-delivering and apartment-renting services that have entrepreneurs scrambling for the next big thing. Understanding the "Uber model" and how it does business is related to entrepreneurs adapting to a new target market — millennials.
The revolutionary rideshare service is only five years old, but worth more than $51 billion. By comparison, it took Facebook seven years to raise the same amount, the Wall Street Journal reported. What is it that makes the service so unique?
Start-up business expert and DePaul professor Patrick J. Murphy said the Uber model comes down to three things: decentralization, technology and immediate, on-demand service.
Decentralization means the drivers go by their own schedule and only represent the business. There is no direct supervision. The technology aspect is self-explanatory, but it implies convenience. Key components are the GPS tracking and instant credit card payment. Finally, the on-demand service differs from calling a traditional cab company because users are not put on hold, waiting in line for the service or waiting on the street for a cab.
"If you have people who are needing a particular service, not necessarily a product… you're talking about the service economy's parallel to that online product place," Murphy said, referencing Amazon, Ebay and Craigslist. "The buyer and seller can find each other through this marketplace and technology."
In laymen's terms, the online marketplace is the platform where a buyer and seller find each other, and the Uber model makes it no longer just about buying a product, but quickly and conveniently finding a specific service.
In light of its success, Uber has added branches called RUSH and EATS, product and food delivery services, that have the same GPS tracking features and automatic payment through the app. EATS is more experimental in that it only serves from specific restaurants at peak lunch and dinner times and faces stiff competition from Grubhub, an online food delivery service established in 2005.
But what EATS also indicates by its specific locations in the Loop, West Loop, South Loop, River North, Lincoln Park, Old Town and Gold Coast neighborhoods is that it serves a very particular audience.
According to 2000 Census data provided by the City of Chicago, the neighborhoods are home to residents with bachelor's degrees and wealth, speaking perhaps to Murphy's point that Uber isn't just about new technology.
"People are more independent than they were a couple generations ago," Murphy said. "A lot of young people are doing a bunch of different things. There's great diversity now in the younger generation that I don't believe we had three or four generations ago."
Addicted to technology, waiting longer to have families and prioritizing a fruitful career over free time make Millennials a diverse group and just the demographic Uber-models serve.
Murphy said these diverse needs and interests have changed businesses' point of view.
The best way entrepreneurs have connected diverse, young people with all of their diverse needs are through online marketplaces like Amazon, Ebay, Craigslist, Uber or Grubhub, Murphy said. "It gives people a lot more choices because there's a lot more different types of needs that people have."
Someone paying attention to this shift in Millennials' needs is Dave Arel, founder of Chefmade.
A Millennial himself, Arel and his wife were working full-time and couldn't make the time to cook.
"Trying to source good, local ingredients and figure out a recipe for those ingredients on a daily basis (was impossible)," Arel said. "My wife is a fantastic cook and even we were too busy to do it ourselves."
So the Arels developed Chefmade, a weekly prepared food delivery service in Chicago. The distinctive factors? Ninety percent of the ingredients are local and the meals are a balance of healthy and tasty.
"(Chefmade is for) anyone who is busy, doesn't have the time to cook, but wants to eat better than walking to McDonalds every day or passing into Subway," Arel said. "There's not a whole lot of options that are truly healthy, that don't take time out of your day."
What makes Chefmade an Uber-model? Compare it to the grocery delivery service, Peapod.
"Peapod will deliver all the ingredients, and that's good, especially if you know what you want. You have the recipe that you're going to make and you have the time," Arel said. "(But) less and less people know what they're doing in the kitchen. And more and more people have less and less time to spend in the kitchen."
Chefmade is more customizable and has a specific audience in mind. But Arel said part of what makes Chefmade like Uber is that it offers a higher-class service that wasn't available before.
"You're getting something created by a personal chef when normally you would have to have a personal chef come into your kitchen," Arel said. "We're offering something that's much cheaper and enables us to share personal chefs in the same way (Uber shares drivers)."
Getting more bang for your buck is not a new idea, but Uber has just done it well. Arel said Uber is more than just on-demand, it's about making people who can't afford a personal driver feel like they have one.
"Technology made us more productive, but also made us feel like we're living a higher class life," Arel said.
Entrepreneurs like Arel and Murphy said the business possibilities today are endless. So where should you start with the next big idea?
"Look for where things are broken, where things aren't working very well," Murphy said. "Very often when you have such a large, fast growth and way of doing things, there are always going to be inefficiencies built into it. Look at the Uber model and all of its aspects, all those players who are participating. They are going to have little wins and little losses. Entrepreneurship is going to come from the losses."
The Uber business model has prompted a service industry revolution.
Getaround
Different from car rentals like Turo or Zipcar, it is a car-sharing app. Find a neighbor's car, book one you like, use the app to unlock it and find the keys stowed in a compartment. Renters can make $800 a month and receive insurance and guaranteed parking.
Roadie
Shipping a couch, pet or bike is expensive. In the Roadie app, put in the item and its location and drivers headed in that direction will offer to pick it up. Then track their progress across town or across the country to your door.
Whittl
Book a hair, nail, dentist or doctor's appointment and pay for the service through the app with no fees involved.
Shiftgig
Different businesses post shifts they need covered and users can sign up when and where they see fit. The most popular jobs are for bartenders, cashiers, host/hostesses, kitchen managers, line cooks, assistant managers, delivery drivers and servers.
Urban Leash
Workers go through extensive training and not only walk your dog, but can also provide basic care services for other pets. Workers can also pick up your mail and water your plants, all at no extra charge. Prices: 15 minutes for $14; 30 minutes for $18; 45 minutes for $22.
View Comments (1)