SeaWorld stops killer whale show after profit loss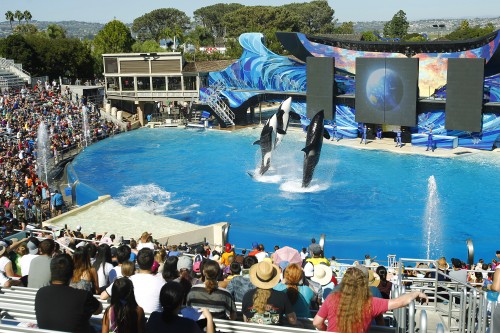 After increasing protests over their treatment of orca whales, and a continuous loss of profits, SeaWorld announced on Nov. 9 that their San Diego theme park is going to begin phasing out their killer whale shows, and they will officially end by 2017. The theme park has faced severe backlash for their treatment of the whales, especially after the release of the 2013 documentary "Blackfish."
The documentary focuses on Tilikum, an orca whale currently owned by SeaWorld Orlando. The orca has been responsible for the deaths of numerous people including SeaWorld trainer Dawn Brancheau. The film also documents the treatment of orca whales at the SeaWorld parks. "Blackfish" led to a slew of protests, including a notable one on August 9 in which "Jackass" star Steve-O climbed a construction crane in Los Angeles in protest of the theme park, where he lit off fireworks while holding an inflatable whale.
"Americans respond really well to a crisis," Peter Steeves, a professor of philosophy at DePaul who specializes in the ethics of zoos said. "I think in many ways, the 'Blackfish' movie made it into a crisis."
In 2014, attendance at SeaWorld dropped four percent, and according to Time, their profits dropped 84 percent.
"While there has always been a negative view of the treatment of these animals, "Blackfish" helped bring a lot more interest to this issue," Pedro Escobar, a DePaul freshman and founder of Animal Advocates of DePaul, an animal rights group on campus said. "People who weren't animal activists were suddenly interested and disgusted in the treatment of these animals, and for a few people, it acted as a catalyst, leading into them studying factory farming, poaching and other animal cruelty issues."
This raised awareness of animal cruelty issues has led other to criticize more local establishments which hold animals captive, including the Lincoln Park Zoo and Shedd Aquarium.
"(Captivity) is based on fundamental assumptions about animals and our relation to them," Steeves said. "It doesn't matter if we're talking about the lions at the Lincoln Park Zoo, or the magnificent orcas at SeaWorld. It's all based on the assumption that if you're not human, you don't have moral status and (humans) get to decide what to do with you."
Although none were on the scale of the protests against SeaWorld, there have been protests against the Shedd Aquarium, notably the Empty the Tanks protest in 2013, where protesters asked for the whales and dolphins at the aquarium to be released.
Others see a difference between aquariums and zoos, and theme parks like SeaWorld — mainly because of the intention of zoos and aquariums to educate rather than just solely entertain.
"Aquariums seek to understand animals at an intimate level that they may not be able to in the wild," an employee at the Shedd Aquarium who chose to remain anonymous said. "At the Shedd, transparency drives our desire to educate, inspire and do what's right."
In addition to the problems activists see with keeping animals captive solely for entertainment purposes, a driving force behind freeing orcas is because of their sheer size. Orcas, on average can grow between 23 and 32 feet long according to National Geographic, and in the United States, a Code of Federal Regulations mandated that tanks which the whales are kept in must be at minimum 48 feet long and 12 feet deep.
"I respect zoos and conservatories that focus on keeping animals for conservationist and rehabilitation purposes, but solely for entertainment is cruel," Escobar said. "Coming from Tampa, Florida, SeaWorld was in my backyard, and despite not knowing the full details of how bad the orca's lives were, I used to think about how huge this animals were for how small the tanks were."
Despite the phasing out of killer whale shows at SeaWorld San Diego, both the Orlando and San Antonio locations will continue to have the shows.
"When I heard that (SeaWorld) will stop doing shows, I was initially very excited," DePaul junior Megan Lomasney said. "But then I realized that was only in one park. I am glad to see that there are changes being made, but orcas are still in captivity and shows are still in production all over the country."
The announcement that the shows will end in San Diego comes on the heels of the California state agency banning the breeding of animals in captivity.The theme park, which is home to 11 orcas, attempted to repeal the ban before announcing they will stop their killer whale shows. Now that they are ending the killer whale shows, SeaWorld announced they will be featuring an orca experience instead, more focused on education than solely entertainment.
"Surely it is a PR move, and a preemptive move at that, because last week California Congressman Adam Schiff introduced a federal law that would prohibit using orcas for performance or entertainment purposes," Steeves said. "One can only hope that there will be real laws, and really strong laws, that ban all shows everywhere that feature animals like this."
View Comments (3)