Florida's controversial governor, Ron DeSantis, running for president
Florida Gov. Ron DeSantis (R) announced his running for presidency using Twitter's premier audio feature on Wednesday, May 24. He is the first presidential candidate to announce his presidency over social media. The announcement drew in more than half a million audience members initially, and was set to include an exclusive interview with Elon Musk, Twitter's owner.
The website repeatedly crashed when DeSantis tried to announce his presidency. The announcement was made half an hour later, with a much smaller audience than before.
According to Scott Hibbard, DePaul associate professor of political science, DeSantis was trying to avoid unfavorable feedback from major news outlets by announcing his presidency the traditional way.
DeSantis is known for his controversial legislation as Florida's governor, including banning an AP African American studies course and several other bills surrounding censorship of LGBTQ+ topics. He also reduced the number of jurors able to recommend the death sentence from a unanimous 12 votes to 8.
"It means demonizing the left, demonizing wokeness, kind of targeting anything that's outside the norm of a white Christian evangelical worldview," Hibbard said. "He's made a big deal about LGBTQ agenda. He's demonized trans kids, and a lot of legislation he's passed has fit very well with his great Christian right wing agenda."
Hibbard said that DeSantis markets himself as a less scandalous, more competent version of Donald Trump. 
"There's a strong Trump coalition, still, that DeSantis is gonna have to work really hard to try to win," said Anindya Kundu, assistant professor of educational leadership at Florida International University. "If DeSantis somehow secures the Republican nomination, then I do see most Trump supporters picking him over any other option."
Many politicians and voters have noticed DeSantis's lack of charisma in comparison to Trump.
"DeSantis is a very unlikable personality, and he's not really a people person, which is odd," Hibbard said.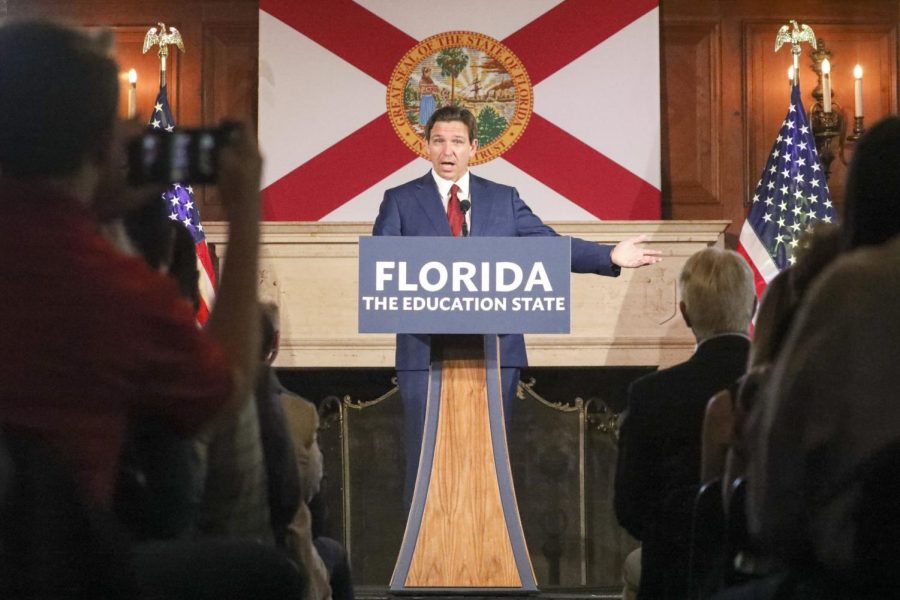 According to Hibbard, DeSantis does not have much of a relationship with his fellow Republican colleagues. 
Earlier this year, DeSantis pulled out of a large business opportunity with Disney due to the organization's open support of LGBTQ+ communities. 
"I think he made a critical mistake in taking on Disney because he keeps getting one up and failing," said Wayne Steger, political science professor at DePaul. "It makes him look like he's not capable and competent. So his basic selling point was, 'I could do what Trump wanted to do, but I'm competent,' and now he looks a little less competent."
According to Steger, Trump has a solid fan base that likes him for his personality, so DeSantis will be competing against all the other Republican candidates for the nomination instead of against Trump.
If he is elected as president, DeSantis will not be able to pass much legislation unless he appoints justices and staff who support his conservative agenda.
"[An] even more conservative Supreme Court is going to be more likely to restrict federal power, particularly with regard to civil rights," Steger said. "When we talk about a conservative court, we have to talk about basically rolling back the restrictions on the police and civil rights that came out of the 1960s and the approval of the expansion of federal regulatory power. All three of those things are subject to being reversed."
Hibbard believes that the restrictions to the rights of minorities is a distraction from DeSantis's true motivations as a lawmaker. While those laws appeal to Evangelical Christians, they distract from some very real issues that Florida faces, such as hurricanes and floods caused by climate change.
"DeSantis and Trump have very similar economic philosophies, and this is why, in many respects, all these cultural issues are distracting discourse," Hibbard said. 
Many billionaires, including Musk, are supporting DeSantis in the 2024 presidential election.
"Why are [Musk and Peter Thiel] giving him money? What is it about his agenda that they're supporting?" Hibbard said. "Is it that he has a great policy agenda on anti-woke [and not] teaching critical race theory in school? Or is it that he's going to deliver them all kinds of tax cuts?"
Kundu is most worried about DeSantis's educational policy.
"As an educational scholar, I'm worried about what his plans would be for the federal government of education," Kundu said. "I think he really wants to treat public schools as if they were some kind of denominational school."
According to Kundu, not teaching young people about their country's real history is harmful to everyone.
"If we gloss over realities like slavery in this country, because we think that some kids are going to feel bad, we're doing them a disservice," Kundu said. "We're keeping them from being able to critically interrogate their world."
Kundu agrees that DeSantis is using his controversial legislation to distract from the larger picture in regards to his policies.
"The vagueness of some of these laws is the tactic in itself. It's to be vague and to scare professionals from feeling like they have autonomy," Kundu said. "And you kind of see that everywhere through the system, like since the pandemic, DeSantis held public funding for schools that defied his no mask mandate, letting their students and teachers choose whether or not to wear a mask."
According to Steger, a conservative Supreme Court could also prevent young people, people of color and urban populations from voting, since those populations tend to vote for Democratic candidates. 
"Traditional norms are defined predominantly by white Christian society, and so it's a very culturally conservative movement that [DeSantis is] trying to latch on and claim leadership to," Steger said.
In reality, many of the policies that the Republican party is in favor of negatively impacts the same conservative base they are trying to appeal to. DeSantis and Trump have similar economic policies, similar to Ronald Reagan's trickle-down economics, where tax cuts to major corporations would be pumped back into the economy, benefiting everyone.
"The reality is [companies] just bought back stock and the shareholders made lots of money, the president of various corporations made lots of money, it did not translate into economic growth," Hibbard said.
Kundu believes that part of DeSantis's policies are to keep a white Christian base voting Republican.
"Every other democracy around the country has stronger public institutions except for us because we still have this 'us versus them' mentality," Kundu said.