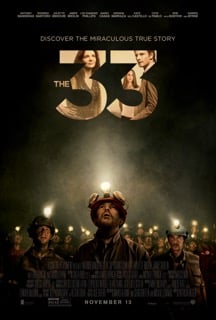 Once a worldwide phenomenon, millions of people gathered attentively, eyes targeted on their TV sets while praying, hoping that everything would be fine.  This is the story of the 2010 Chilean mining disaster.
Directed by Patricia Riggen, 'The 33' submerges viewers 700 meters (2,300 ft.) underground for dear life. The miraculous true story follows the 33-trapped men, and their families, fighting for survival in the Chilean San José mine. This survival drama film is adapted from Héctor Tobar's book 'Deep Down Under' following the brutal conditions of the true event that was all captured on national television.
The DePaulia: There was an underlying theme of family bond and hope, was this familiar territory for you? 
Patricia Riggen: My first movie 'Under The Same Moon' was about family. It was a mother and child trying to re-unite and this movie is about these men trying to re-unite with their families, too. I was trying to play off this theme because I believe in it. It is so true to what they want. They stayed alive for their families. The families fought for their men through this miraculous event.
How did you balance the structure going from in and out of the mine?
I knew that the three worlds were very important. I shot half the movie inside the mine and half above ground. The majority was with the miners because I believe they had the most extraordinary experience. Then balancing the other two aspects were the rescuers and the families and those two came when we put it all together in the editor's room. We had to come out of the mine every now and then.
Were the actual families and survivors a part of the production process? 
From the beginning, the miners were partners in the movie. They gave the rights to the producers and shared all of their personal secrets and stories to us and that was a big part of the development process when we were working on the script.
They also came over during the shoot either to visit or help out with the movie. They were my advisors throughout the entire process, all of them: the government officials, the engineers, the families and, of course, the miners.
Were there any directorial techniques that you used to portray the intimacy and isolation in and out of the mine?
 Inside the mine, there is no time; there is no air, no light. I made it more stylized and more design camera work, more slower. And the outside, I used the reference of a painter that I love and that was very appropriate for this movie which is Ceravaggio. If you take a look at his paintings it's like being inside a mine with 70-year-old men with beards. It's beautiful. So I though we can do something beautiful inside a dark, awful place. And the outside we decided to go about in a very documentary, news style way in which it would be all-handheld, every single shot outside is handheld. It's kind of like chasing the moment and being very immediate with the camera. Kind of like how the news reported the real event.
After going to film school, working on many shorts and documentaries, what have you learned while working on 'The 33' that you plan to take with you for the rest of your career?
 I think that the most important thing is having survived this whole experience. It was really hard, really tough as a woman directing 33 Latino men. I had to prove myself many times and fight many times for the things that I needed. The biggest learning experience is that I don't ever have to stop believing in myself. No matter what anyone says, just keep fighting and keep standing. I feel like I came out of it as a very strong director.
What is something that you wish you could know now that you didn't know while trying to get into the business?
 One of the things that I am very conscious about is as we, women, we are educated very differently than men in which we question ourselves, we are not sure and we don't believe fully that we are talented and that we deserve to get as much as everyone else. My advice to all female directors is to be as egocentric as men are. And believe in ourselves and fight for what we want because we are as smart and as talented as everyone else and we are not getting the same opportunities, it's a world that has denied female directors in particular and we now need to take it.
Five years seems like a quick turnover time, can you describe the process? 
I think five years is quick. It took us three years to make the movie. These movies are very hard to make. We live in a time where dramas are not very popular in the Hollywood studio system. They are very hard to get financed. So we didn't have the support of any studio at the beginning and we had to make the movie independently.  It was a very large budget for an independent movie, but a very small budget for a studio movie.
Once we finished it, we were in that very tricky place, is the movie going to be picked up by a studio to be distributed? We spent many stressful weeks figuring that out until we had the great luck that Alcon and Warner Brothers took it and they are great studio's to have behind the movie. Thanks to that, this independent movie will now will be seen by, I think we are opening to 2,500 screens in the United States.