DePaul art professor's work explores feminist intersectionality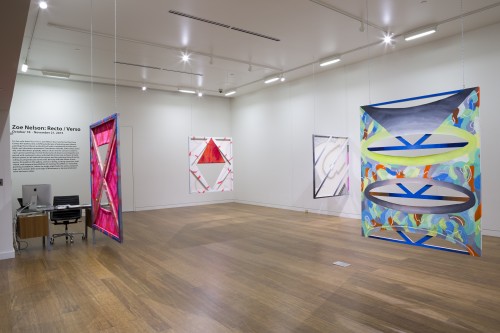 A fusion of throbbing color, sliced negative space and pulsating vitality, the paintings by Zoe Nelson breathe freely in space, hanging in the atmosphere of the Cleve Carney Art Gallery at the College of DuPage in Glen Ellyn, Illinois. Liberated from the wall, the chained and hung paintings make their presence known to the viewer.
It's a misnomer, however, to call Nelson's work "paintings." Rather, the artworks exist freely in space, presented for the viewer to see both sides of the canvas, transforming the traditionally two-dimensional medium into art that straddles the border between painting and sculpture.
Holes are sliced into the surface of the canvases, allowing the viewer to peer through and catch fleeting glimpses of other paintings, spaces and people, creating with each view a new composition.
"Sometimes violently, other times sensually, and oftentimes playfully, I slice into the canvas in order to open up my paintings and transgress the limitations imposed by paint," Nelson said in a description of her work on her website.
Born in Rhinebeck, New York, Zoe Nelson has lived in Chicago for the past six years and has taught in the Art, Media and Design department at DePaul University since the spring of 2015. Nelson received an MFA from Columbia University in 2009 and currently has an exhibition at the College of DuPage.
Titled "Recto/Verso," the show invites viewers to actively engage with the work and create their own ephemeral and intimate experiences unique to their personal perception. In tandem with the exhibit, the Leopold Group dance company has performed in the installation space, with dancers winding around and in between the explosions of hues and expression in the gallery space to the "Disintegration Loops" of avante-garde composer William Basinki.
"With this show I was very conscious of wanting to have a completely reversible painting, an experience where it was not only reversible but the parameters of the painting were defined in a temporal way,"  Nelson said. "They are defined by one's own relationship to the painting, defined based upon where one is standing in the room."
More than just transforming the painting surface into a sculptural object, Nelson engages and often sacrifices what she describes as the most beautiful parts of the paintings by literally cutting them out of the composition.
Stating that she always knows something lies within the crevice, hole, or rip, she justifies the destruction as necessary to try to explore deeper philosophical, queer and feminist intersections in her art.
According to Thea Nicholas, a writer for Art Forum, Nelson's paintings' "bright, sometimes metallic palette, their patches of grafted-together color, noodle-shaped ghost forms silhouetted in spray paint, and tiny hairlike dashes echoing thin incisions in the canvases surface all belie the pieces' emotional complexity." writes Thea Nichols.
According to Nelson, she is looking forward to creating a body of work in the future that are "in response to a specific space. I think that could be really interesting and challenging."