Concerned students confront legacy of racism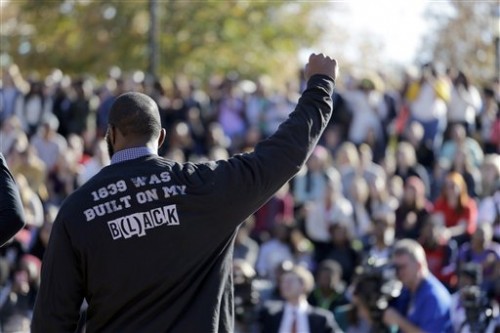 In 1938, Lloyd Gaines, a Missouri resident, became the subject of  Gaines v. Canada, a U.S. Supreme Court case that required the state of Missouri to either let Gaines attend the University of Missouri, Columbia's law school or create another school that would provide him the same education. The school, begrudgingly, built a black law school.
Three months after the ruling, Gaines left his home for stamps and was never seen again.
Last week, Mizzou's history of racial tension was addressed.  Students calling themselves "Concerned Student 1950," — referencing the year Mizzou began accepting students of color — created a list of demands that called for the resignation of systems president Tom Wolfe in relation to his lack of a substantial response to racist events and tensions on campus. Before that, according to the Missourian, someone called the president of the student body, Payton Head, the n-word in September.
In early October, former  chancellor, R. Bowen Loftin, after the Legion of Black Collegians posted an open letter on Twitter about brushes with racism, responded with a YouTube video denouncing hate and announced mandatory diversity training. A swastika drawn with human feces was found. Football players voiced their support and Wolfe resigned Nov. 9.
"The black student body stood strong and we're standing right there with them," Mario Morrow, Jr., president of DePaul's Black Student Union said. "I think it was the right move for their president to step down. Someone has gone on a hunger strike, the football team wasn't going to play, faculty was on strike. They not only got their student body but the administration to be on their side because they all saw how important the issue was."
Not long after the resignation, death threats appeared on the messaging app Yik Yak.
Conversations surrounding race on campus have surged in recent years — or perhaps they're getting more national media attention and the vision of students at the forefront have more viable outlets. Yale and Ithaca College — which recently presented its own set of demands similar to Mizzou's — are facing similar tense situations. The history of the schools themselves may play a part in why these issues are becoming more prevalent.
A tumultuous year has brought race and how the nation chooses to address it into the forefront, and recent events at college campuses, especially those that are among the most revered, highlight the continued fight students of color face while attending college.
"Predominantly white institutions aren't predominantly white they're historically white. People of color weren't intentionally meant to be here. So with that, historically, that everlasting thought process is going to continue," Morrow said. "No matter what, someone will have that mind frame. So faculty and administration can talk about the struggles we go through every day and come up with as many programs as they want, but at the end of the day they'll never truly understand the true struggles that a minority student goes through."
The state of affairs at DePaul is slightly different. Though there have been pop-up discussions and panels about Black Lives Matter, few events resembling those leading up to Mizzou's protests and the furor that followed have happened in Chicago. DePaul junior Tomas House attributes this to the nature of Chicago and its residents.
"There's no doubt that racist incidents happen (in Chicago), but the black population here is more sporadic, but they're one of the most active communities in the nation," House said. "(Incidents) may not be a big deal here, but BSU does a good job of talking about those issues here, but we should have a group that talks to those experiencing issues like these."
Whether or not the protests could find their way to DePaul — or whether or not they need to — is one that some students disagree on. Many, like House, do agree that more could — and should — be done.
"I think the only way to start dealing with it is to talk about it, and we should talk about (these issues) more often," Arwen Hoots, an intercultural communications student who has been following social justice issues around the nation, said. "I suppose something like that could happen here, but would anything be done? Probably not."
Students have talked about the need for conversations and change on campuses, but events like Mizzou continue to happen so that future students won't need to have the same conversations. What that future will look like, however, and whether or not it will have a more racially tolerant atmosphere are unknowns.
Men of Vision and Empowerment, MOVE, and Sisters Together Recognizing Our Never-ending Growth, STRONG, as well as other groups on campus came together last Friday for a solidarity gathering with Mizzou to talk about the protests and offer support. What the future will be for Mizzou and those standing in solidarity with them is still under construction but the hope is that, by continuing to point out these issues and encourage discussion, things will change.
"Students of color are not in need of compassion or empathy, but rather are in need of policy change," Morrow said." Policy changes happen over a span of years, but continuous conversations with administration directly to come up with solutions would help students of color feel more comfortable on their respective college campuses. They may not help the students of today, but knowing that students of the future will not have to face these same issues we currently struggle with today is the reason why these actions are taking place."