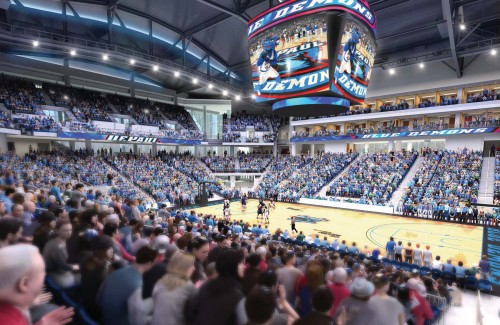 DePaul unveiled a showcase room Thursday for its upcoming arena in the South Loop. The room was created to help sell suites, corporate sponsorships and maybe even future recruits.
Located in the DePaul Center building in the Loop, the room included a smaller-scale 3-D model of the 10,000 seat arena. Also near it are interactive touch screens with renderings of the arena, giving potential buyers and fans a closer look.
The showcase room also features a model of the 22 suites that will be in the arena.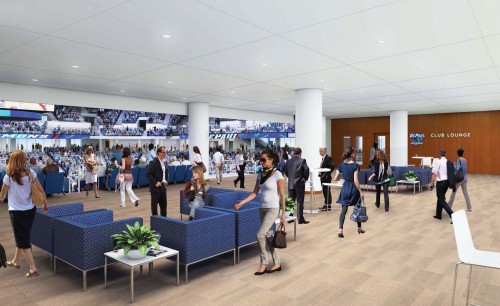 "Everyone involved is extremely excited," DePaul men's basketball head coach Dave Leitao said. "It's going to be a tremendous chance to be Chicago's team from a community standpoint."
Leitao and the Blue Demons recently announced Leitao's first full recruiting class, earning commitments from three-star prospects guard Brandon Cyrus, forward Al Eichelberger and Chicago's own Devin Gage.
Leitao said in each recruiting trip, he used the future arena as a recruiting tool.
"The vision is what they got really excited about," Leitao said. "When you talk about a new arena, it's not just a basket to shoot at. It's a new experience.
"Young people are visual," he added. "They want to see the amenities. That's what college basketball has become. This gives us an entry to say that we're like everybody else. It's really important."
Potential recruits will also be given the tour, with renderings of the locker rooms, weight room and film room all available. Giving the sales pitch is salesman and general manager of Legends Sales & Marketing Ryan Smith.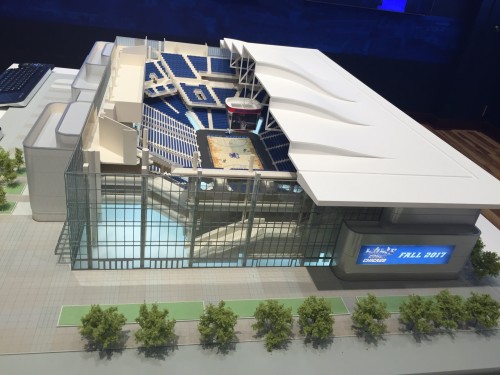 Smith is in charge of leading the sales of suites, sponsorships and even naming rights. He said that the naming rights discussion with companies began about 60 days ago, but added that the process of securing a partner would take about a year.
To women's head basketball coach Doug Bruno, he said he wants to emphasize that DePaul is still a "people's school." But he acknowledged that the new facility will allow the Blue Demons to show they are caught up in the modern aspect of college basketball.
Bruno was even hosting a recruit the day of the unveiling.
"A 15, 16-year-old is looking at the immediate of the facilities," Bruno said. "If you look at the facilities of the best teams in the country, those teams we expect to beat, those facilities are off the charts."
Students, however, won't be able to see the showcase room until January. At that time, DePaul Athletic Director Jean Lenti Ponsetto said the idea is to have 40 to 50 students at a time from student leadership groups.
For now, the university is focused on selling the 22 suites, season tickets, sponsorships and naming rights.
The arena, located at Cermak and Indiana, is scheduled to open Fall 2017. The project officially broke ground in late November.