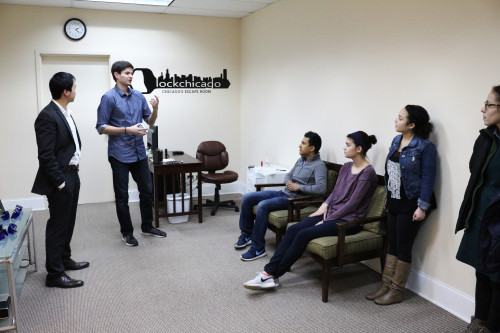 Opening this past week in Evanston is the Lock Chicago, a new adventure escape room. Escape rooms are a mixture of theater, decorated themes and puzzles that groups must solve under a specific time in order to reach the goal and escape the room.
The popularity of escape rooms is a growing trend of themed entertainment popping up across the country.
With challenges that are meant to stump the mind, these twisted puzzles are a unique experience within each room.
In its first week, the Sunburn at the Lock Chicago offers guests creative and challenging puzzles that must be solved in order to escape the room before the timely demise after one hour. Immersed in clues and of rushed anxiety throughout your time trying to solve all of the clues it creates a well-timed frenzy with its players.
The Sunburn room was mic'd up with video feed to the outside. Players are given three clues that they can use during the escape if needed.
The room's theme focused on finding the fabled Sun Treasure which unfortunately is located in a crystal tomb that is constantly being protected by sunlight.
Only during a one-hour solar eclipse can players find the treasure and escape the room before the sun burns you to a crisp. This room focuses on light as a tool for escaping and navigating throughout the dark to find the location of the Sun Treasure.
"We want to make sure people are enjoying what they're doing." Bane Srdjevic, co-owner of Lock Chicago said.  Srdjevic started the escape room along with high school friend and fellow Wilmette native Brian Lee. They were inspired to create an escape room after visiting one made by a friend in Kansas last summer.
"We just want people to have a really good experience," Lee said. "It's a fun activity that we've done before at other cities. We want to incorporate as many different facets of all these rooms without completely scaring people but keeping them at the edge of their seats."
Seeking to entertain while providing mental challenges to their customers, both Lee and Srdjevic are passionate about their escape room.
"We have your typical 9 a.m. to 5 p.m. jobs but it really wasn't enough." Lee added. "There's so many cool things out there, getting the chance to do this ourselves we just wanted to be a part of that, getting the chance to do this ourselves is a pretty cool experience."
"We want to pick things we like doing from puzzles from video games that we might want to bring to real life to people," Srdjevic added on his thoughts on the escape room. "Things they won't be able to interact with off the screen while also learning new ways of thinking working on parts of their brain that they might not have a chance to work on for a while."
The Lock Chicago is offering DePaul students a 20 percent discount when checking out with the coupon code "DIBS."