The best and worst of DePaul's Student Center food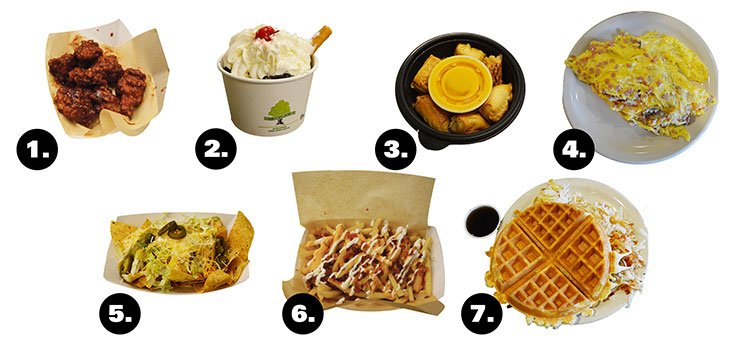 If you're sick of spending your meal plan money on the usual burger and fries combo, we have you covered. Here's our picks for best and worst of food found in DePaul's Lincoln Park Student Center.
1. Boneless barbecue wings
The wings were fairly good overall. They were crispy enough but not to the point where they were burnt or hard to chew. I really liked the sauce they used; it wasn't too spicy but still had a bit of a kick to it. The only problem I really had with the wings was that the sauce wasn't evenly distributed, so there were parts of the wings that were dry and not as flavorful, and the inconsistency of the sauce made the wings a bit weird to eat since some of them were dry and some of them were well covered. Overall though, this was an enjoyable meal.
4/5 stars
— Ben Gartland
2. Ice cream sundae
Tucked into a back corner of the Student Center is a make-your-own sundae bar. Filled with everything that a kid (and an adult) could dream of, the bar gives you choices between chocolate and vanilla ice cream, and a variety of topping and sauces. I went with vanilla ice cream, and covered it in hot fudge and everything that I could — except nuts, of course. The addition of brownie bites is crucial, especially when you get a small taste of Oreos with it. The ice cream sundaes are a chocolatey blend of perfection.
5/5 stars
— Erin Yarnall
3. Pretzel bites
As an avid fan of shopping mall pretzels, I was excited to see the Student Center offer pretzel bites with a side of cheese included. However, I was disappointed to open the plastic container and find small bits of soggy and unsalted bread. The pretzel bites were not the crunchy and golden brown pretzels I was used to, but were chewy and unsatisfying.
1/5 stars
— Jessica Villagomez
4. Cheesy skillet
I modified this dish a bit from its original menu listing and added ham for protein, and that was a very good decision. There was an ample amount of cheese that stuck to one side for the most part, but when mixed with the hash browns and the ham it was very tasty. The hash browns were a good temperature and the eggs that encompassed everything into an omelette were fluffy, although the outside edges were a bit too crispy for my taste. The best part about this dish is, without the ham, it is only 250 calories so it's a tasty option as well as a healthy-ish one for breakfast.
4/5 stars
— Ben Gartland
5. Nachos
I consider nachos to be their own food group and eat them more than I probably should. At Kitchen, students can make their own nachos and have a variety of toppings and sides to put on them including cheese, salsas and multiple meat options. It's pretty difficult to mess up a meal consisting of tortilla chips but the variety of toppings was adequate and my combination of ingredients tasted okay overall. I would recommend the green salsa and a light hand on the jalapeños.
4/5 stars
— Jessica Villagomez
6. Loaded fries
These were very good. I'm normally not a big fan of the Student Center's fries, but when you add a boatload of bacon to anything it always makes it better. We decided not to get the fries with the green onions that probably would have added a bit of a kick to it but the sour cream, cheese and bacon made a really good combination on their own. What I really liked about this dish was that, despite the large amount of fries in the tub, it was evenly coated. Usually with these type of dishes it's very top heavy with the toppings and the rest of it is just fries, but they did a very good job of making this consistent. Would recommend for whenever you want to ingest your daily intake of calories in one sitting.
5/5 stars
— Ben Gartland
7. Belgian waffle and hash browns
I consider hash browns the perfect food, and there are rarely cases when hash browns can go wrong. Sadly, the hash browns I ordered at the Student Center were cold with odd warm spots throughout them, and also tasted of the onions that were grilled on the grill before them. Fortunately, the Belgian waffle was highly superior to the hash browns, as it was golden-brown, cooked to perfection and perfectly sopped up the syrup I poured on it.
3/5 stars
— Erin Yarnall