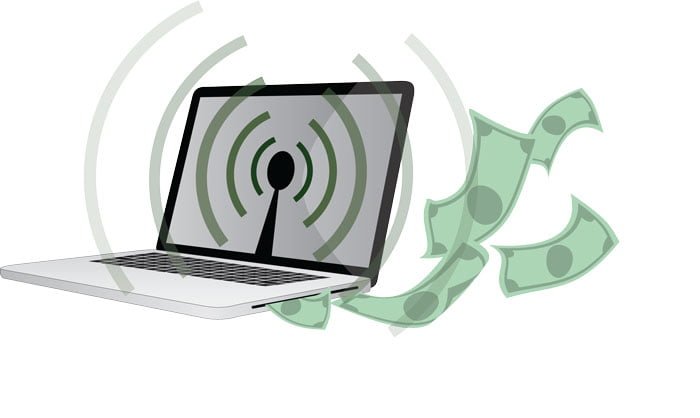 This past December the Copyright Royalty Board, the group responsible for overseeing copyrights and royalty payments through the Library of Congress, announced new rates for music played via the Internet.  To be clear, this impacts online-only radio stations, not FM and AM radio, or satellite radio.
The new law significantly increases the cost a station pays each time a song is played.  In the world of streaming and Internet radio, having more listeners is not always a good thing.  The more people tuning in, the more money the station owes.
The discussion of how musical artists are compensated for music played digitally has become an increasingly visible topic. Last year artists such as Taylor Swift and Adele made headlines for holding out on streaming services that some argue do not pay artists enough.
The extra money from Internet stations may be a nice boost to the artists receiving airplay, but consider some of the groups that will have to foot the bill.
Radio DePaul, the university's Internet only radio station, is not spared from the increase.  Unlike some other local colleges or high schools with an FM radio station, Radio DePaul operates solely online, and therefore receives no special or educational licensing from the Federal Communications Commission (FCC).
"We are an educational college station, even though that's not official," Radio DePaul faculty advisor Scott Vyverman said.  "The FCC doesn't recognize or oversee streaming radio, educational or otherwise. While we know who we are and why DePaul supports our operation and further know that we shouldn't be held to the same copyright fee rates as Pandora, the Copyright Royalty Board has seen fit to lump us together. If we had a license, we would navigate and deal with this differently."
One step the station could take would be to reduce the amount of music played on the station, though that would fundamentally alter the content.  The other option would be to consider fundraising tactics. Vyverman hopes to take neither road.
"Focusing more on fundraising would not be something that I would welcome. It would fundamentally change who we are. We will cross that bridge if we have to, but for now, we are looking to deal with the hand we've been dealt," he said.
Beyond the implications the new copyright laws may have on the university's radio station, the new laws ultimately are a burden to those seeking content that cannot be found elsewhere.
Internet radio has offered listeners some salvation from commercial radio. Niche formats have been able to find small, active communities online where artists can continue to receive airplay and reach fans.   
Veteran Chicago program director and DJ Rick O'Dell operated an Internet-based smooth jazz radio station for three years after the format was left without a home on Chicago radio. O'Dell filled the void for listeners until shutting the station down on Jan. 1, when the increased rates went into effect.
But it is not so much an "us" versus "them" mentality between broadcasters and artists.
"The law isn't counterproductive, because artists deserve compensation," O'Dell said. "Internet broadcasters who were running their businesses as a serious, legitimate enterprise appreciate that artists deserve to be paid."
"In many ways I preferred to see those dollars go into an artist's pocket as opposed to a faceless corporation.  The new royalty increases weren't equitably applied.  That's the problem I have with it, not the fact that I have to pay royalties in the first place," said O'Dell.
Unfortunately, it can be a double-edged sword.  Artists can only receive royalties if someone is listening to their music via an online station.  An online station can only operate and play the music if it can afford to.
It is in the Internet broadcasters' best interests to no longer do it alone.  Instead of operating as independent entities, some organization on the part of Internet stations could go a long way in influencing future changes.
"If Internet broadcasters had been better organized, we at least could have had a seat at the table," O'Dell said. "As it was, we weren't represented at all.  That's not the fault of the FCC or CRB.  That's our fault.  You can't influence the results of the game if you're not in the game."
Without representation or organization, the Internet radio industry will continue to have to abide by laws in which they had no say in crafting.
For stations like Radio DePaul, there is some hope that other educational based outlets could join forces.
"Thankfully we have the Intercollegiate Broadcasting System on our side. They are fighting the good fight for us and I hope that they will continue to appeal and argue on behalf of all college stations, especially the streaming-only stations," Vyverman said.
Otherwise, voices and content lacking representation on traditional radio risk being silenced by the new payment system.