Oregon ranchers stand down, 1 killed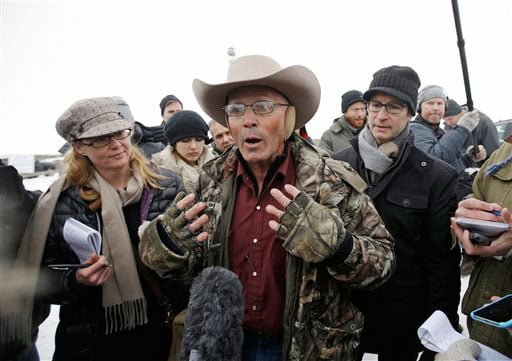 A spokesman for the armed occupiers of a wildlife refuge who died in a confrontation with officers earlier this week was shot when he reached for his waistband, a law enforcement official said Thursday.
Robert Finicum died Tuesday when he and other prominent figures in the occupation were stopped by law enforcement officials on a remote road.
Meanwhile, occupiers at the Malheur National Wildlife Refuge were dwindling in number. Four were left Thursday morning. There was a lot of police activity around the refuge Thursday afternoon and it was unclear whether more had left or surrendered.
The occupation by ranchers and others began on Jan. 2, and at one point there were a couple of dozen people holed up, demanding that the federal government turn public lands over to local control. But the compound has been emptying out since the arrest of their main leader, Ammon Bundy, and 10 others over the past few days and with the death of Finicum.
Bundy, Finicum and others were traveling in two vehicles when they were stopped by law enforcement officials. Bundy and four others were arrested during the stop.
A law enforcement official said Thursday that Finicum, who had been acting as a spokesman for the occupiers, was armed and he was shot after reaching toward his waistband multiple times. The official also said Finicum did not have an opportunity to fire any shots.
The Oregon State Medical Examiner's Office on Thursday confirmed the person shot in the Tuesday confrontation was Finicum, a 54-year-old Arizona rancher.
The last occupiers have been posting YouTube videos demanding assurances they would not be arrested.
"We're still stuck here, four of us. They're telling us it's safe to leave, but it's not safe," a spokesman believed to be occupier David Fry said in a video.