A bark to action: DePaul dog group promotes advocacy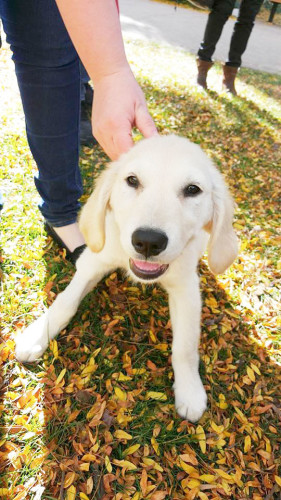 It started as a joke: Wouldn't it be funny to create a Facebook group for DePaul students, devoted to posting pictures of dogs?
But by word of mouth and a love of dogs, DePaul Dogspotting blew up to the point where it came full circle for some of its original members.
"It got way past just us — there's a ton of people I don't know in the group," said freshman Pedro Escobar, one of the admins and original members of the group. "I had people come up to me and tell me, 'hey, do you know about this DePaul Dogspotting page? It's so cool, you should join.'"
DePaul Dogspotting now boasts nearly 700 dog lovers, who pore over photos of their favorite local pets. And the once tongue-in-cheek notion has spun off into its own animal rights student group, Animal Advocates of DePaul.
The group was founded one day on a whim, when freshmen Simon Handmaker and Emily Dunn invited a few of their friends — like Escobar, who shared a discover class with Handmaker — to join and become admins. But then, it snowballed. Perhaps drawn by its quirkiness or cuteness — none of the three could exactly pinpoint its draw — Dunn estimates about 400 members joined within two weeks, all with an eye out for pups on campus.
"It's fun to be on the lookout for dogs — because then you see dogs," Handmaker said. "It's a win-win."
The group is loosely based on the 100,000 member original Dogspotting Facebook group, which pegs itself as a "sport and lifestyle of posting random dogs." It's equal parts competition and cuteness, with a semi-controversial point system and boasting strict set of rules. No posting pictures of dogs you know, no selfies, familiar dogs or "low hanging fruit' — dogs in pet stores, dog parks or vet clinics. Extra points for big dogs, working dogs or heroic dogs.
But on DePaul Dogspotting, there's photos of dogs on the quad — with captions lamenting their cuteness — along with memes and personal pets. It's more about community than competition.
"For us, we don't really have a point system," Dunn said. "If there's a puppy, go for it. Spread the joy."
Dunn said that like her, the page fills a void for many students who miss the animals they left behind to attend DePaul. For her, it's her "princess" of a yellow lab, Molly, who is at home in Cleveland.
"We're all living on campus now, so we can't have dogs — or any pets at all," said Handmaker, who has cats at home but identifies as a dog lover, too. "It's a nice way to get your daily dog fix without having a dog."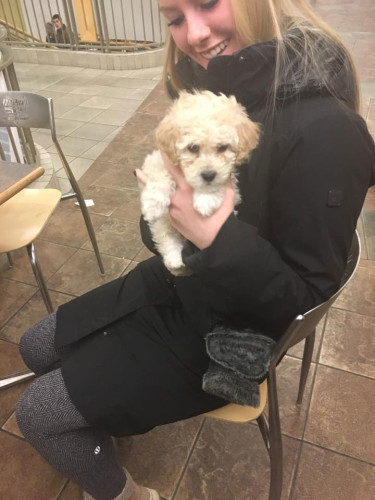 As a result, some local dogs have become fan favorites. There's the lumbering St. Bernard, Buddy, and Lola, a golden retriever puppy which fans watched grow from a fluffy little pup into a full-grown dog.
Dunn said that most owners are likely aware of their pet's niche fandom.
"Lola is probably our most famous celebrity on there," Escobar said. "It's a yellow lab puppy on the quad — of course people stop and take photos of it, it's adorable."
Dunn said that once they realized the audience they had, they decided to channel the page towards a cause they are all passionate about: animal rights. Shortly before the deadline to apply for a DePaul organization, they whipped up a constitution for the newly formed Animal Advocates of DePaul.
"I feel like in today's society, animals might not get the voice they need. They're a minority that literally cannot speak for themselves," Escobar said. "If humans do not think about the effect they're having on these issues, nothing's going to change. And on top of that, I really love animals, I really do."
Animal Advocates of DePaul is still in its initial planning phases, but a strong turnout at a Fall Quarter meeting has them hopeful for success. This quarter, they are looking into volunteering with local animal shelters, such as PAWS, which can offer them both time to make a difference and socialize with dogs.
It's an activity that's both reflective of the fun-loving spirit of Dogspotting, and the organizers' passions.
"I'm very proud of them," said Animal Advocates of DePaul advisor and Honors Program Assistant Director Jennifer Kosco. She also advised Escobar and Handmaker's discover class, and became an early member of the Dogspotting group with photos of her dachshund Timmy.
"It's a cause that's important to me, and I love seeing that there are students who feel the same way," she said.
Though they have bigger plans in mind, for the Dogspotters, even the little moments in the group — like poring over pictures of pugs or posting quirky comments — have cultivated a sense of community. Even though it is virtual, the founders have seen the group bring people together over a shared love of animals.
And it's no longer just a joke.
"There's a really good sense of camaraderie, and I see a lot of different people interacting on the page," Handmaker said. "I think it really does inspire a sense of goodwill and friendliness between people who may have zero connection outside the Dogspotting page. It brings people together in a fun way."