Women's tennis shoots for spotlight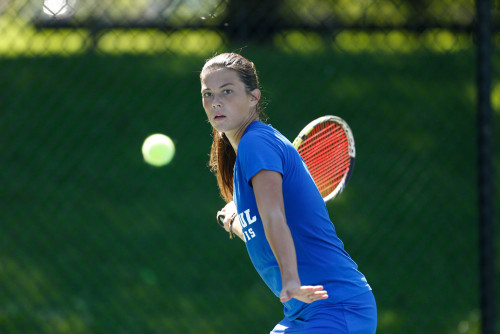 Women's tennis head coach Mark Ardizzone does not make the goals for the team. He hasn't done so the past 10 years. The players will get together before the season and decide what they want to accomplish, then they all sign it to keep each other accountable.
"They have to think about what they want," Ardizzone said. "They have to think about what last year was and what's the next step. I like that they're ambitious, it shows where our program is now."
This year's list includes the  ambitious goals, such as winning the Big East tournament for the third straight season and having the highest team grade point average in DePaul's athletic department. The biggest goal, however, is going farther than they ever have in the NCAA tournament: making it at least the Sweet 16.
"We used to be the hunters and now we're the hunted," senior Jarrett Fisher said. "We have a target on our back and we have to realize that it's a privilege to have that pressure."
DePaul made strides in 2015 when they won their first round match of the NCAA tournament for the first time in school history and advanced to the second round, where they ended their season against Michigan.
The No. 35 Blue Demons opened up the season dropping their first two matches. The first was to No. 21 LSU in a 4-0 sweep by the Tigers. The next day, DePaul fell 4-2 to No. 46 William and Mary, a team they beat in 2015 in a close match.
"It's tough to start out the season that way but at the same time there's some positives we can take out of it," Fisher said. "We competed well in doubles on the second day."
This year's team features new faces. Two new freshmen complement a returning Patricia Lancranjan, a sophomore who missed half of last season with a wrist injury. Ardizzone said that the team has new starters for half of their lineup, and that they need to restate their presence as a team.
"It's really a new team and this team hasn't really earned the respect of all the other teams," he said. "We have to earn it, we have to send a message."
The other side of that coin, however, are three seniors who bring experience.
"I don't want to think about afterwards because I can't imagine my life without tennis," graduate student Rebeca Mitrea said.
2015 Record
22-5 Record
Big East Champions
Second round NCAA tournament