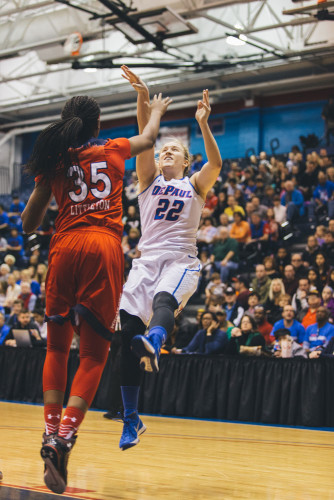 Coming off the disappointing loss to Seton Hall on Friday, the DePaul women's basketball team played host to St. John's in a game between the two of the top teams in the Big East.
No. 23/21 DePaul (17-7, 9-2) halted its losing streak with a 77-71 win over St. John's (16-6, 7-4) at McGrath-Phillips Arena in a game where five Blue Demons scored in double digits.
"I think you saw this weekend how talented both Seton Hall and St. John's are," coach Doug Bruno said. "I'm just really, really proud of our player's ability to bounce back after a tough game."
The Blue Demons, or more like Jessica January, started the game off strong. January scored nine of the team's first 11 points and assisted on the lone basket she didn't score.
"Overall our team came out with a lot of energy and … we knew St. John's was a really good team," January said. "We all were just trying to get our offensive execution back together because Friday we didn't execute very well.
"With the offense we were running, we had openings in the lane, people were cutting and we were just hitting the players that were cutting."
January continued her hot streak and finished the game with a stacked stat line of 21 points, 10 rebounds, nine assists and three steals, just narrowly missing out on a triple-double. She wasn't the only one to have a big game either. Megan Podkowa scored 10 points, grabbed 13 rebounds and had three steals while Chanise Jenkins added 10 points, 10 assists and two steals.
The whole team looked completely different from Friday's loss to Seton Hall. There was fluidity in the offense, ball movement seemed so easy for most of the game and it led to the Blue Demons stretching the lead to 15 multiple times in the second half.
On Friday Bruno was disappointed in how his bench played and how they didn't make much of a positive impact on the game. Today, two players off the bench scored in double digits, Ashton Millender and Tanita Allen. Allen didn't even feature against Seton Hall.
"It's a great team win. Tanita Allen didn't play a minute on Friday and she was very impactful in today's win," Bruno said. "We're trying to find reserve answers and today they came in and really gave us a great lift off of the bench."
The Red Storm's Danaejah Grant went off for 24 points and seven rebounds and was a big part of their near-comeback late in the fourth when they got the game within five. Bruno said she's as good as any guard in the country and even with the team trapping her on the court, she still showed her talent. It's a testament to the overall strength of the league the DePaul coach boasts.
"The Big East is a great league and I'm really proud to play in this league because the talent of the coaches and the talent of the players makes every single game you play a very, very difficult game," Bruno said.
With five of the remaining seven conference games on the road, the Blue Demons will need to grind out wins like they did against the Red Storm to stay stop the conference.
"Every game is going to be like this, on the road and at home," Bruno said. "It's just going to be a great stretch run here as we have seven games left.