Treat yo' self: Make V-Day the best day for singles
Feb. 14, the most dreaded of Hallmark holidays among college students, otherwise known as Valentine's Day, is upon us once again. All the candy canes and marshmallow Santas have been replaced with anxiety in the form of heart shaped chocolate, obese teddy bears and allergy sparking flowers. January has ended, and you're beginning to feel the same panic you felt trying to find a prom date. What will you do without a date, a Valentine, your dignity?
Well, it just so happens a new holiday is about to hit Chi-town, courtesy of Pawnee, Indiana's very own Tom Haverford and Donna Meagle. For all your Gallentines out there, it's a day to kick romance to the curb and celebrate yourself (and your friends). That's right, DePaul; this Feb. 14, you're treating yo' self ­— here's how to do it right:
The Mantra
"Clothes. Treat yo' self. Mimosas. Treat yo' self. Spa. Treat yo' self. It's the best day of the year."
Memorize it, chant it together as you dance in your sweatpants to Adele, Beyonce and Taylor Swift all at the same time. This is a solid opportunity to burn off the waffles you're about to eat. Today is about you, your friends and kinda your Spotify playlist.
Breakfast Food
Leslie Knope may be a fictional character from the hit series Parks and Recreation, but the role waffles and other breakfast foods play today is very real. Get your gal or guy pals together for breakfast, brunch or breakfast for dinner. Really, whatever time of day works best for you to stuff your face with waffles is fine by us.
Spa Day
Take yourself and your loves to one of the salons in Lincoln Park. Get your nails did, a massage, a new do or fiercen up your eyebrow game. Pamper yourself, make Tom and Donna proud.
Blueberry Moon | 2108 N. Halsted St.
Massage Envy | 801 W. Diversey Pkwy.
Tres Bien Nails | 922 W Armitage
Lincoln Park Massage Spa | 630 W. Webster Ave.
Nail Fairy and Spa | 1249 W. Fullerton Ave.
Craft Day
Break out your crafty pants, chicas (sweatpants are fine). Go to Michael's — the only man you're allowed to cheat on your gal pals with — and buy the paper, glitter, and markers you need to half-heartedly attempt the DIY Galentine's you pinned on Pinterest. Give them to each other and cherish them 5evr.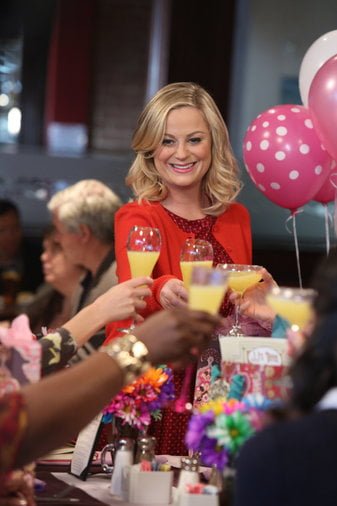 Movie Day
If high-class "treat yo self" doesn't exactly meet your current budget, don't fret. Movie it up. Or, if you've seen "The Titanic" and "The Notebook" so many times they don't make you sob anymore and you fear you're turning into the Grinch, head to Netflix with this episode master list:
"Parks and Recreation: "Galentine's Day" S2 | Episode 16
The Office: "Valentine's Day" S2 | Episode 16
Friends: "The One With the Candy Hearts" S1 | Episode 14
"Orange is The New Black:" "You Also Have a Pizza" S2 | Episode 6
"30 Rock:" "St. Valentine's Day" S3 | Episode 11
"New Girl:" "Valentine's Day" S1 | Episode 13
"Family Guy:" "Valentine's Day in Quahog" S11 | Episode 12
"Gossip Girl:" "Crazy, Cupid, Love" S5| Episode 15
"Bob's Burgers:" "My Fuzzy Valentine" S3 | Episode 13
Baking Day
If you're wondering if waffles are considered "dessert," you are sorely mistaken. They are a staple of today's meal plan, but as Leslie can attest, there's always room for more sugar. Whether your specialty is baking chocolate chip cookies, Funfetti cupcakes or you're thinking you might just sit this one out since your only edible attribution would be dyeing Ramen pink, there's always dire need for quality inspection.
In the shocking event these suggestions fail to tickle the fancies of you and your homies, it's no big deal. The important thing is you get to spend the whole day with your best friends, having a blast without worrying about the pressure of Valentine's Day to come. Besides, you need time to coordinate who's driving your posse to Walgreens on Feb. 15 to snag all the discount candy and groan at the over-achieving St. Patrick's Day and Easter displays.