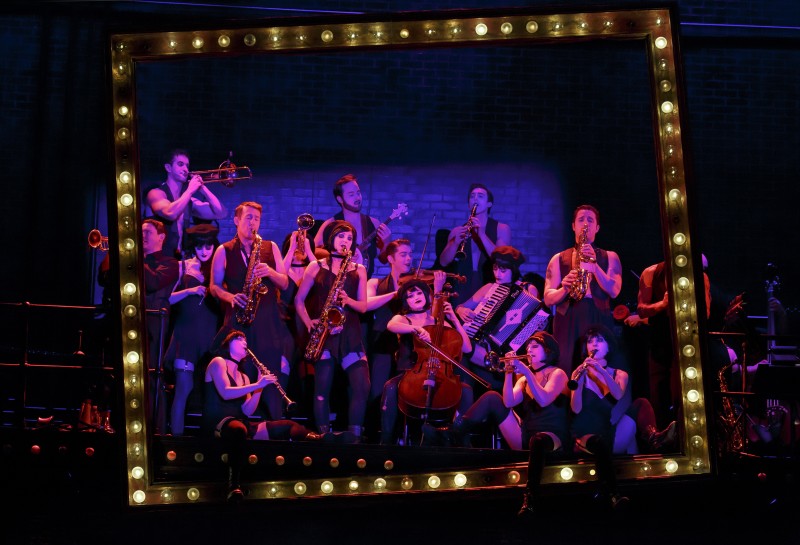 For musical lovers out there, the thrilling and historic "Cabaret" will be launching its national tour next week and kicking off with performances in Chicago. As part of their 50th anniversary season, Roundabout Theatre Company will be presenting Sam Mendes ("Skyfall," "American Beauty") and Rob Marshall's ("Into the Woods" and "Chicago") Tony-award winning musical through Broadway in Chicago. 
"Cabaret" is based on a 1939 novel by Christopher Isherwood, with its current revival directed by Roundabout Theatre's B.T. McNicholl. The musical became a Broadway hit in 1966 — with music by John Kander and lyrics by Fred Ebb — and is inspiring many adaptations of the production, including the 1972 film of the same name.
Taking place in 1931 Berlin as the Nazis are rising to power, Cabaret is centered on the provocative world of the Kit Kat Klub, a colorful nightlife scene intertwined with the world outside on the brink of World War II. The main plot revolves around 19-year-old English cabaret performer Sally Bowles and her relationship with American writer Cliff Bradshaw.
"It's exciting and nerve-wracking at the same time," Hillary Ekwall, one of the cast members of "Cabaret," said in a phone interview with The DePaulia about being in the historic production. "It's this sense of gratefulness and honor that I get the opportunity to perform in a show with such a long and important history."
Ekwall will take on the role of Rosie, a Kit Kat girl at the club who is part of six lovely ladies that dance with Bowles. Even with the plot set in 1931 on the brink of a world war, she expresses how much audiences can get from the show to this day.
"If you take out the specifics of Nazi Germany, the show is basically about somebody with good intentions who is discriminating against people who are not like him — unfortunately, this still happens in our world today," Ekwall said. "It's intimidating to share this story with the hope that the audience will take away this message."
A unique aspect of Cabaret is that many of the cast members (Ekwall included) are also part of the orchestra, who play both in upper level stands above the stage and on stage as part of the performance.
This provides an enticing atmosphere where the music and the performers are woven into an enchanting and realistic cabaret experience that takes place almost entirely on the stage.
Along with her extensive experience in the world of theater, Ekwall is a professional concert cellist. Among her many musical and athletic achievements, she plays with the 3 Penny Chorus and Orchestra, a group recently featured on America's Got Talent at Radio City Music Hall.
"(Playing instruments) keeps us busy — there's no down time in the show," she said. "It can be chaotic at times, but that's what's so fun about it. It's definitely a unique experience for audience members in that respect, usually because the orchestra pit is below the stage. In the show, the cabaret setup is reflective of the time period."
Just like the original Broadway production, the revival of Cabaret features many elements that shocked 1966 audiences, such as abortion, tensions between Jewish characters and Nazis, and racy dance numbers.
Although it is set on a large Chicago stage, Ekwall said that Cabaret aims to achieve its classic charm.
"It's an intimate experience even when it's in a large theater. They really want you to feel like you're at a small cabaret performance in 1930s Berlin," she said.
In addition, the content of the show pushes the limits not only for audiences, but for the performers as well.
Ekwall described the challenges of taking on such a particular and exuberant role in a time period that differs, in many ways, from our own.
"The show is a much different style than most musicals I do," Ekwall said. "I usually do a lot of comedy performing. In this show, as a dancer, it's reflective of the time period. That time was really dark, so it's a lot different for me. I really like the challenge of being something other than what I am in real life."
As a versatile and seasoned performer across many artistic mediums, Ekwall had some wise words of advice for DePaul Theatre students.
"One of the big things I have learned and what I always tell other people is to be persistent and determined. In this business, we hear no all the time. It's important to have inside this core of determination and belief that what you bring to the table is worthwhile," she said.
"Cabaret" opens Feb. 9 at The PrivateBank Theatre and runs until Feb. 21.