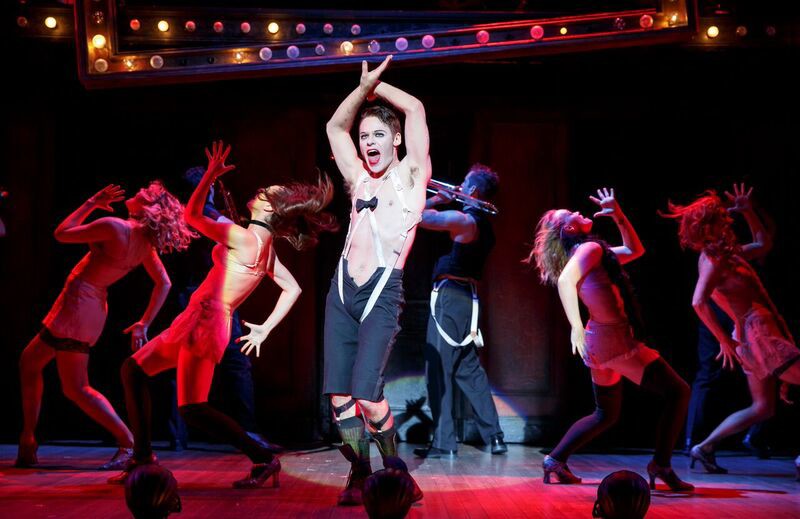 For over 50 years, "Cabaret" has been a risqué yet enticing musical that has astounded audiences across the world with its controversial subject matter. With a powerful start, Roundabout Theatre's production of  "Cabaret" kicked off at the Privatebank Theatre last night with their opening performance. From start to finish, the audience was drawn into the Kit Kat Club of 1930s Berlin—a world of sex and love, alcohol and abortions, varying representations of homosexuality, and of course, Nazis.
As a part of their 50th anniversary season, Roundabout Theatre's revival of "Cabaret" featured an all-star cast including Randy Harrison, Andrea Goss, Shannon Cochran and Alison Ewing.
Before the show started, the audience could see the performers warming up on the stage, interacting with each other and smoking fake cigarettes. This created an intimate atmosphere, as if the audience were actually at the Kit Kat Club waiting to see a performance.
Unlike most musicals (where the orchestra plays unseen in a pit below the stage), the cast played live like an actual Cabaret band. To give the feel of a real club, a platform above the stage—accessed by two winding metal staircases—opened up to a large area populated entirely by cast members who doubled as musicians.  The band even performed during the intermission, nestled inside a giant picture frame lined with lights.
Randy Harrison, best known for his television role on the Showtime drama "Queer as Folk," demanded the show with his starring role as the Emcee. Without missing a beat, Harrison facilitated the cast throughout the two-hour performance, giving the audience a highly authentic portrayal of 1930s culture. Tasked with the job of weaving each individual plotline together to create a colorful story of love and fear, his sharp sense of humor and undeniable emotion throughout "Cabaret" was the backbone of the entire show, seen most prominently in songs like "Two Ladies" and "Money." Another notable performance on Harrison's part—a satirical take on Nazi Germany's perception of Jewish citizens—featured a dance between the Emcee and a gorilla, titled "If You Could See Her." After experiencing Harrison's intoxicating domination of the stage, it was clear that the show's message to "leave your troubles outside" was easier than one initially anticipated.
Other knock out cast members included Andrea Goss as Sally Bowles, a young English headliner at the Kit Kat Club. Goss' big voice sent shockwaves through the audience as she belted out numbers like "Don't Tell Mama." A solo performance of the title song "Cabaret" featured Goss captivating the audience with mascara running down her face, smashing her microphone to the ground with the final note.
A mixture of humor and sadness, misfortune and luck, "Cabaret" does not fail to give the audience an entirely enchanting experience. With a killer band doubling as an incredibly seasoned cast, Roundabout Theatre's tribute to this Broadway classic addresses hard issues in an easy environment—one that can transition with expert smoothness between songs about pineapples to songs about Nazi death camps. Anyone who loves history, half-naked dancing, and outrageous musical numbers, it seems that this most recent revival of "Cabaret" lives up to its reputation as a seedy celebration of life, loss, and everything in between.
"Cabaret" will be at the PrivateBank Theatre for a limited two-week engagement through February 21, 2016.