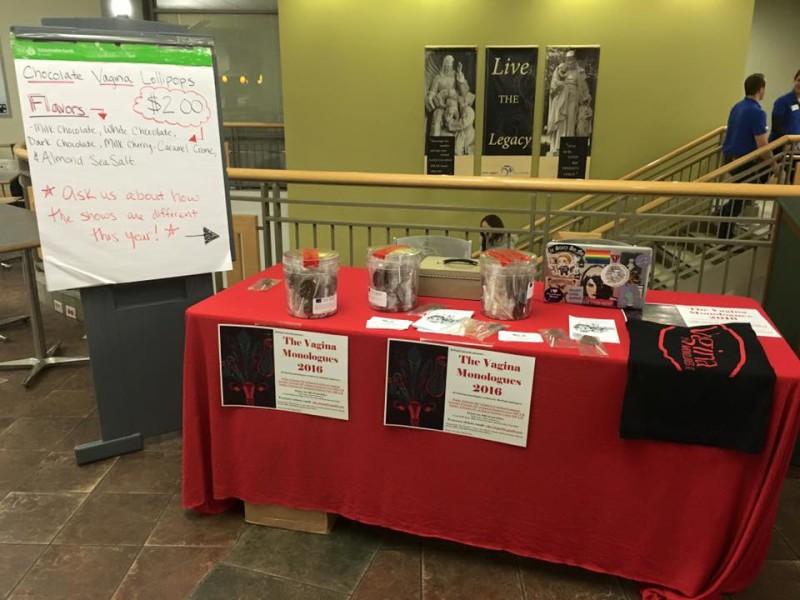 For its 17th year, The Vagina Monologues — an episodic play originally written by Eve Ensler — was performed at DePaul this past weekend. 
The play, which premiered last Friday and ran until Sunday, is a series of monologues that touch on the feminine experience with subjects like sex, love, orgasms, masturbation, sexual assault and the vagina itself. Proceeds from the show will be donated to various beneficiaries that focus on sexual violence advocacy, including A Long Walk Home, Rape Victim Advocates and Take Back the Halls.
Aside from the original monologues written by Ensler, this production also featured multiple personal monologues written by DePaul students, which was geared toward creating a more inclusive play and focused on subjects such as asexuality, transgender experiences and the smell of the vagina.
The play was a delicate balance between original monologues that are still relevant today as well as newer monologues about experiences that had previously been overlooked.
Notable performances included a personal monologue written and performed by Adam Penney. As a transgender male, Penney outlined his experiences growing up, ranging from perception to sexual assault to finding himself.
He described the way he saw the world when he was young, referring to the sky as a floating ocean and asking puddles their secrets.
Penney's performance took the audience on a rollercoaster of emotions; with softness in his poetic voice, he spoke so delicately of both difficult and defining moments in his life, moving many audience members to tears.
Other personal monologues included one written and performed by Laura Springman. In her piece, Springman — who received many snaps from the audience for her much-needed take on how people perceive themselves — described the experience as an asexual lesbian, commenting on the inaccurate idea that to love your vagina means to love sex.
With most of The Vagina Monologues touching on at least one aspect of sex, Springman brought an important point to the show by establishing that to be asexual does not mean one has to love their body, their partner or themselves any less.
Many of Ensler's original monologues were also a part of the production, including "My Short Skirt," performed by Christina Teach and Pam Atadero. This monologue featured the two powerful performers highlighting what a short skirt means and does not mean, empowering people to wear what they want and enjoy it, regardless of society's perception of women in short skirts.
Although many performances of The Vagina Monologues were influenced by heavy subject matter and experiences, some monologues were a little more light-hearted, such as "The Woman Who Loved To Make Vaginas Happy."
Performed by the charming Charia McDonald, this particular episode included the performer telling the audience about her experience as a sex worker, acting out the different kinds of moans women unleash when they are with her.
After a whirlwind of emotions and tears, the audience could not stop laughing at McDonald's outrageous, yet totally accurate, portrayal of many women who don't hold back in bed.
Every performance of The Vagina Monologues aimed to inform and educate the audience about what it is like to live life with a vagina, no matter your race, age, sexual orientation, gender or gender identity.
With composure and an admirable sense of humor, the performers at this year's production touched on experiences of the vagina in a much-needed light, empowering and enlightening the audience members from start to finish.
Their dedication and immersion in these monologues — whether written by themselves or by Ensler — was clear throughout the entire performance, showing that although we all may walk different paths in life, we are never alone.