The names of a former mayor, Broadway actress and medical supply salesman adorn campus buildings. Students and faculty see them each time they enter a building, or even look at their schedule for room numbers, but most students don't notice the buildings as they pass by for class.
DePaul's campus is dotted with buildings named after various figures in the university's past.  A look behind these names on campus reveals an important narrative; how DePaul has grown as a university.
Some don't see the point of peeking into DePaul's past, but others argue it is something every student should do. Retaining the university's history is part of Andrea Bainbridge's job as university archivist for Special Collections and Archives.
"It's good for us to see some continuity. Sometimes by looking at these people, you can see some arc of how the university got to where it is and what we did in the past," Bainbridge said.
Loop students are well acquainted with the Lewis Center and O'Malley Place, both named after figures who have played an important part at DePaul. Rev. Comerford O'Malley, C.M. served as DePaul's president from 1944 to 1964.  Under his direction, DePaul acquired buildings in the Loop, expanding the campus beyond Lincoln Park for the first time.  The 16-story Lewis  Building, formerly known as the Kimball building, was a gift from the Frank J. Lewis foundation in 1955.  Lewis donated the building and the land it sits on to the university.
"I believe it's always important to know your history and it's easy to ignore the little things, you know? You're in the buildings all the time, but we don't really stop to ask 'who is O'Connell?'" Bainbridge said.
O'Connell is more than a figurehead of the Lincoln Park building that bears his name.  While it may be hard to know where the building stretches with its abrupt entrances to the SAC and Levan buildings, O'Connell's impact on the university is easier to discern.
O'Connell served as university president from 1935 to 1944.  O'Connell created emergency service training programs and war training courses in science and engineering, effectively keeping DePaul relevant during World War II.
Growth and relevance is a consistent theme in DePaul's history.  The familiar John T. Richardson Library offers a glimpse into this concept.
Richardson guided the university's enrollment to unprecedented levels. By Richardson's retirement in 1993, DePaul had more than 16,000 students, with more than a quarter from outside of Illinois, showing the significant growth the university had achieved. The library was named in Richardson's honor following his retirement. The naming was by request of Richard and Claire Heise, who donated $7.5 million for the project.
Not all buildings on campus are named after distant figures.  DePaul's Merle Reskin Theater in the Loop bears the name of the former Broadway actress.
"Merle Reskin is still living," theater manager Leslie Shook said.  Reskin once acted in "South Pacific" on Broadway, and remains active in the theater community today.
Reskin is a member of The Theatre School Board, Goodman Theatre Women's Board, Lyric Opera Women's Board and Steppenwolf Theatre Company Board, Shook said.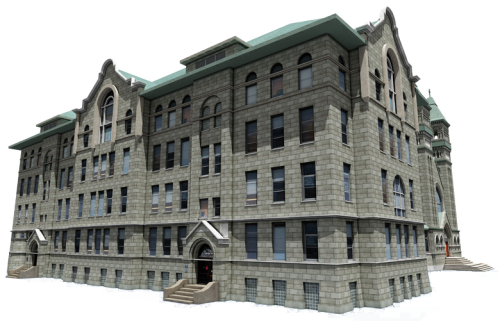 The theater was renamed after Reskin because her husband donated $2 million to the theater.
Reskin stands out as one of the few non-university presidents to have a campus facility bear her name. Judging from the buildings on campus, it is clear that DePaul presidents have had a substantial impact on the university's direction.  Look no further than the Cortelyou Commons in Lincoln Park.
President from 1964 to 1981, Rev. John Cortelyou, C.M. was the first president to have a degree in natural science.  Cortelyou possessed a master's degree in biology.  All presidents before were trained as theologians.
Cortelyou's science background led him to lobby for a science and research facility for DePaul in 1964.  Ultimately, it was decided that the university was more in need of a library and academic center.  Thanks to a $1 million contribution from Arthur Schmitt, the Schmitt Academic Center was completed in 1966 instead.
DePaul would get the kind of science facility Cortelyou hoped for years later, thanks in part to a donation from William McGowan.  According to a 1997 press release, McGowan challenged donors to raise $2.5 million for the new science buildings, to which he would match the donation.  His challenge was accepted and successfully met, hence McGowan North and South buildings.  Another $4.85 million was contributed by the Department of Agriculture in a plan by Congress to increase minority participation in the science field, according to university records.
But campus construction and additions can threaten to erase some of the university's history.  Take for instance the current demolition of McGaw Hall.  McGaw was purchased by the university in 1977.  The building was a part of the former McCormick Theological Seminary.
The university does in fact take several steps to preserve its history.
"When we demolish buildings to make way for new ones, we typically do one of two things," Vice President of Facilities Operations Bob Janis said.
"(We'll) take a series of photographs prior to demolition, or salvage a particular noteworthy piece of the building. In the case of McGaw, both. The art department photographed the building inside and out prior to demolition. We also salvaged two small sections of the building's sunscreen, some referred to it as the 'cheese grater.' One piece went to the art department to go along with the photos, and one piece was sent to the university archives," Janis said.
The building was named for Chicago philanthropist Foster McGaw's parents, prior to DePaul's acquisition of the building.  It was also used as a library for the McCormick Theological Seminary.  When DePaul purchased the former seminary, the name was retained, but some of the university's buildings are named after things other than DePaul figureheads.
"(Some) have street names or addresses assigned as their titles only, with the idea that someday that may change. For example, Munroe Hall, named for Martin Munroe, Sr., was known as Clifton Hall for many years," Janis said.
Munroe Hall was given its current name in 1989 following the death of DePaul alumnus Martin Munroe.  A graduate of the class of 1950, he left more than $700,000 to the university.  He was a former Blue Demon basketball player and went on to become senior vice president of UPS.
"We never lose hope when it comes to the generosity of DePaul's family and friends," Janis said.
"With Arts & Letters Hall we had many generous donors contribute to the project, but did not have a naming level donation. Not wanting to go with just an address and street name, Arts & Letters was assigned as the departments that occupy the building are associated with the College of Liberal Arts & Sciences, with most of the classes taught in the building associated with LAS" Janis said.
Next time you enter a building on campus, look up and consider the name and the history behind it.  Whether it is named after a street near campus, or an important DePaul donor or president, campus buildings provide a crash course in DePaul history.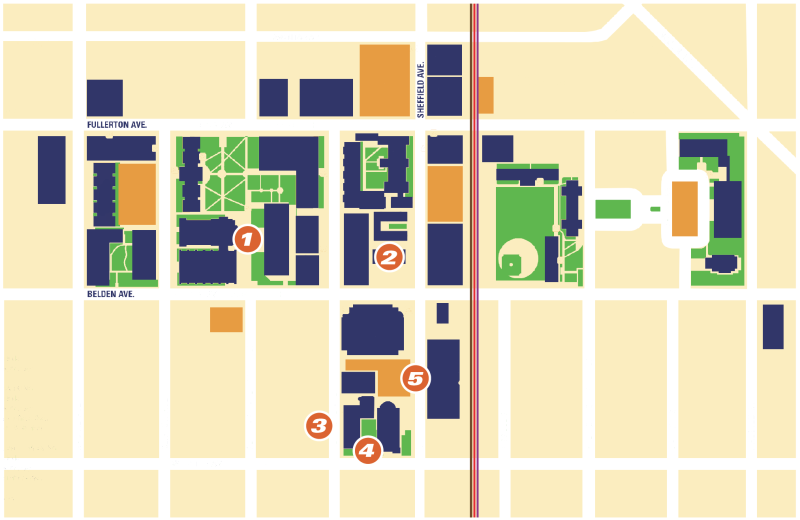 1. Schmitt Academic Center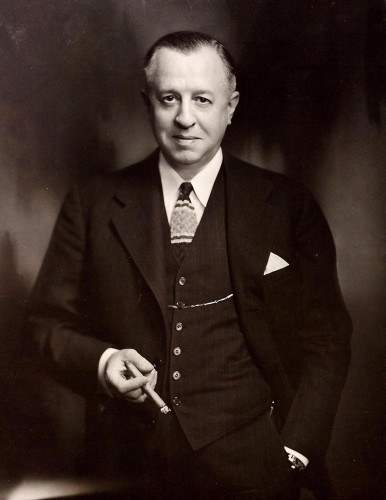 Though not a DePaul student, Arthur Schmitt was a Chicago native.  He was the founder of Amphenol, which today manufactures electrical and fiber optic components.  He used some of his fortune for philanthropic causes, and today the Arthur J. Schmitt Foundation continues to grant scholarships to students.  Much of Schmitt's donations have gone to Catholic universities and their students, though not exclusively.
2. Vincent and Louise House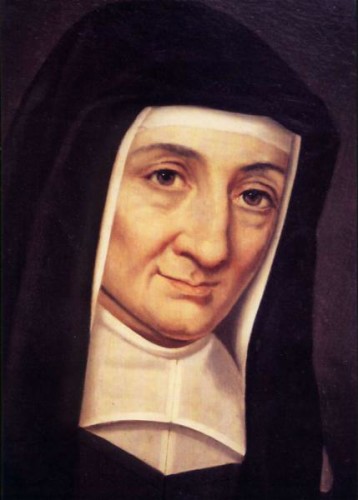 Louise is St. Louise de Marillac who, along with St. Vincent de Paul, founded the Daughters of Charity.  She was canonized as a saint in 1934.
3. Byrne Hall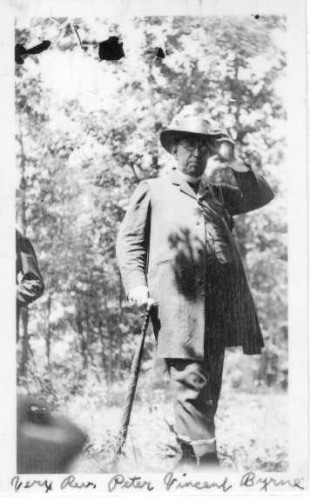 Named for DePaul's first president, Rev. Peter Vincent Byrne expanded DePaul from college to university status.  He also opened the university to non-Catholic students for the first time.
4. St. Vincent de Paul Parish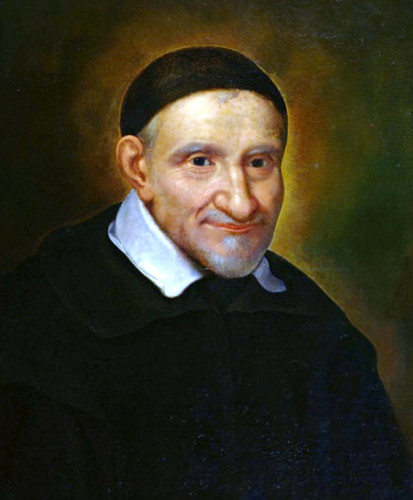 Sharing a name with the university, the church was originally located where Byrne Hall stands today.  The new church, at its present location, was opened in 1897.
5. Ray Meyer Fitness Center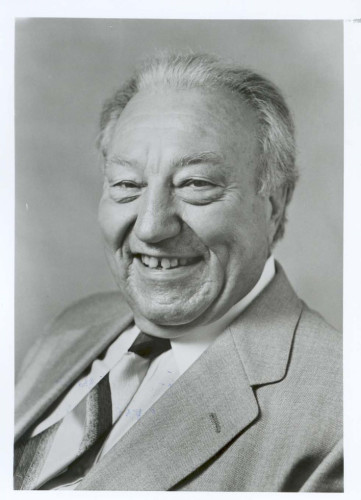 Few names associated with DePaul are as well known outside the university.  Meyer coached DePaul men's basketball from 1942 to 1984, leading the Blue Demons to make 21 post-season appearances.