Kesha's battle with Sony Music highlights bigger ethical issues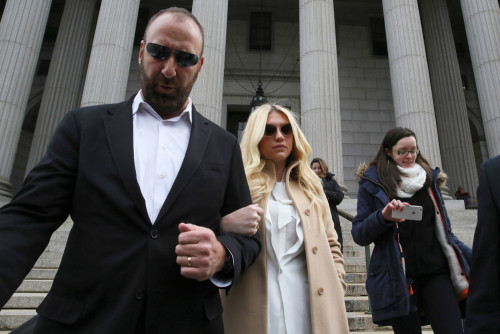 After a lengthy court case and her career being stalled for two years, Kesha's future is still up in the air. The pop singer, whose full name is Kesha Sebert, is known for her glittery style and fun-loving songs including "Tik Tok" and "Die Young." But the artist has taken a more serious tone as of late, as she's been engulfed in a legal battle with her record label and former producer.
Kesha claims her producer Luke Gottwald, who is professionally known as Dr. Luke, has "sexually, physically, verbally, and emotionally abused (her) to the point where (she) nearly lost her life." But on Feb. 19, a New York State Supreme Court judge refused to let Kesha leave her six-album contract with Sony and Gottwald. Kesha is trying to get out of her contract so she no longer has to work with her alleged abuser. Gottwald has denied all charges.
Kesha is not the only singer to struggle with her label and producers in regards to creative freedom. Pop star Jojo was released from her former label Blackground Records in 2015 after years of legal battles. Prince also felt trapped in his record label contract in the early '90s.
The difference in Kesha's case is she is not only trapped into her contract, but the accusation of rape adds a level of fear the industry hasn't seen before. While Sony insists that Kesha is allowed to work with a different producer, Dr. Luke would still profit off the singer.
"Imagine someone really hurt you, physically and emotionally," actress Lena Dunham wrote in a Lenny Letter about the case. "The judge says you don't have to see them again, but they still own your house. After everything you've been through, do you feel safe living in that house?"
Gottwald claims that he has never raped Kesha, and denied all the allegations against him in a series of Tweets.
"It's a shame that there's so much speculation out there basing itself on so little information," Gottwald said on Twitter. "I didn't rape Kesha and I have never had sex with her. Kesha and I were friends for many years and she was like my little sister."
This case further proves how the legal system works against victims of rape through victim blaming, silencing survivors and intimidation — altogether contributing to rape culture.
"(The ruling) proves the existence of rape culture," DePaul freshman Aurora Lawrie said. "It's telling victims that they will lose even more if they try to bring the people who assaulted them to justice."
Rape culture is a setting in which rape is normalized due to societal attitudes about gender and sexuality, and victims tend to be blamed for their own assault for a wide variety of reasons such as what they were wearing, how much they had to drink or for being out and alone late at night.
"It's only very recently that we've begun to work at stopping victim shaming, and one of my biggest fears is that this case will undo a lot of that," Lawrie said. "Obviously this ruling is a product of rape culture and will continue to perpetuate it in the minds of the public."
While the New York State Supreme Court has not given any justice to Kesha, the change she needs to be set free may be found in the grassroots movement, including rallies such as the one at Loyola University Chicago on Feb. 26 — the day a Kesha concert at the school's campus was cancelled due to "personal issues" according to the singer's management.
Despite the pop star cancelling her concert, students and community members at Loyola still held a rally in support of Kesha.
"We hope this rally shows Kesha that she has a huge support system rallying behind her," Shanzeh Daudi, a Loyola student and one of the organizers of the rally, said. "We hope this rally raises awareness of the issue of rape culture and through the power of organizing, can help her appeal the ruling and get justice."
Many protesters have also gathered outside of the Sony headquarters in New York City, and have gathered in support of the singer on the Internet.
The ruling against Kesha sparked outrage on social media, leading to more grassroots support, and hundreds of thousands of fans posting with the #FreeKesha hashtag on Twitter and publicly supporting the singer, including celebrities like Lady Gaga, Adele, Kelly Clarkson and Demi Lovato, who have become outspoken supporters of the "Tik Tok" singer.
Lovato sent off a series of tweets, which have been retweeted thousands of times, calling for women empowerment and the support of Kesha.
"Frustrating to see women come forward with their past only to be shot down, not believed & disrespected for their bravery in taking action," Lovato said in one of her tweets.
While every aspect of the case is frustrating, one of the scariest is the lack of results in such a highly-publicized case with a pop star at the center of it, when one in three average women will experience sexual or physical violence from a partner, according to the World Health Organization.
"Once I heard about Kesha, I thought, if someone in higher authority can't get justice, then who can?" Regina Silvestri, a student at Adler University who attended the Loyola rally said.
According to the Rape, Abuse and Incest National Network (RAINN), an American is sexually assaulted every 107 seconds, and 47 percent of the time it is by a friend or an acquaintance.
In addition to a massive amount of support on social media, Brandon de la Cruz, a Kesha fan, created a GoFundMe page to buy the singer out of her contract. With a $2 million goal, the page has raised more than $20,000 through more than 1,400 donations.
While justice was not given to Kesha in the legal system, through grassroots activism, she knows that she is supported and not being silenced.
"While Kesha is indefinitely silenced, her voice has never been louder," Dunham said.
Although we can't always expect the best outcomes for rape survivors in court, it's important to never underestimate the positive impact that public support can have.
"Words cannot really express the emotions I've gone through reading and seeing how amazing everyone has been to me," Kesha said in a statement after the ruling, before discussing how what she has gone through will impact her support for survivors of sexual assault in the future.
"I for one, will stand beside you and behind you," she said. "I know now how all this feels and will forever fight for you the way perfect strangers have been fighting for me."