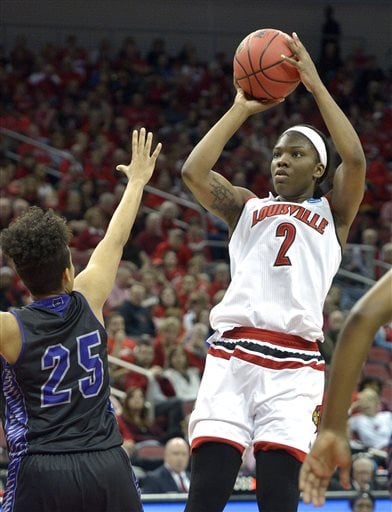 LOUISVILLE — In front of a sea of red in the KFC Yum! Center, No. 3 Louisville hosted No. 14 Central Arkansas with the winner facing DePaul in the second round on Sunday.
After a nervy first quarter, Louisville found its rhythm and won 87-60 over Central Arkansas. The Sugar Bears made it interesting early on leading 25-22 at the end of the first quarter. A strong second quarter where Louisville outscored Central Arkansas 29-9 ended the Sugar Bears' dreams of an upset.
"They came out in the first quarter and really punched us in the nose," Louisville coach Jeff Walz said. "It's a ball game we were able to pull away and win, but we (still have things to work on)."
The Cardinals were led by Myisha Hines-Allen who scored 25 points and grabbed seven rebounds in just 23 minutes played – she sat out the final 14:42 of the game. Mariya Moore added 16 points, four rebounds and four assists while Sam Fuehring chipped in 12 points, three rebounds and four assists.
"We started scoring better in the paint," Hines-Allen said. "It all starts with the layups and my teammates finding me for open shots…then the jump shots and everything just started coming together."
Taylor Baudoin led Central Arkansas with 13 points and 10 rebounds; her teammate Kendara Watts added a dozen. Despite taking a shocking early lead, the Sugar Bears were unable to hang on and frustrate Louisville and Hines-Allen for the final three quarters.
"We didn't rebound really well," Watts said. "We laid it out for (Hines-Allen) too much. We needed to get up on her more and I feel like we didn't do that."
Louisville will meet DePaul on Sunday in the NCAA Tournament and will likely a similar crowd of almost 6,000, if not more, for that game. Walz knows how difficult playing the Blue Demons will be and urged his team to play better than they did against Central Arkansas.
"They have so many players that can shoot the basketball…when you've got your five player knocking down three's, you can't really help off of anyone," Walz said. "It's going to be a challenge to keep them in front of us. If we have to chase DePaul around it's not going to be a good day, they pass the ball too well.
"We aren't going to be able to advance with the effort we put in today."