Trump to blame for rally violence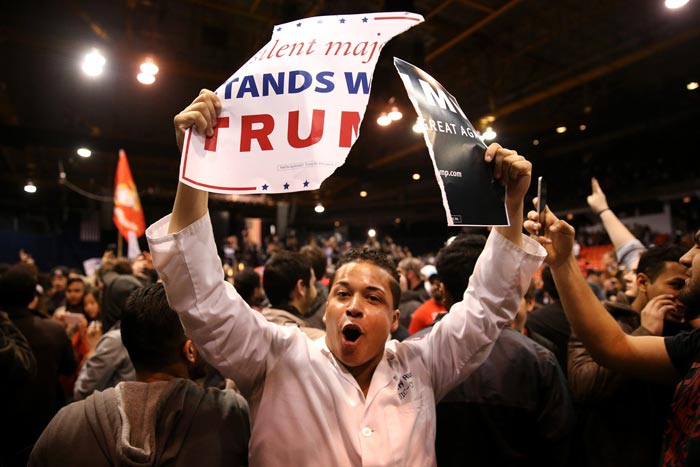 Say what you will about Donald Trump, but the Republican presidential candidate is a mastermind in media manipulation. His campaign has received unprecedented levels of news coverage while devoting significantly less to paid advertising than any of his opponents. It seems that no how matter outrageous Trump's comments or actions, they only increase the allegiance of his supporters and fascination of the entire country.
But his off-the-cuff language and alleged authenticity have become increasingly dangerous over the past few months, inciting violence against protestors at his rallies. One particularly disturbing incident of such language occurred when a protester was escorted out by security at a February rally in Nevada.
"The guards are very gentle with him," Trump said to the crowd. "He's walking out, like big high-fives, smiling, laughing. I'd like to punch him in the face, I tell ya."
And his supporters are clearly listening, with multiple instances of protesters being attacked verbally and physically. To be a protester at a typical Trump rally can be a lonely experience, especially in some of the states in which Trump has campaigned heavily.
So when Trump's traveling circus hit Chicago on March 11, the mogul and his team were caught off guard when they saw massive protests both inside and outside the host venue, the UIC Pavilion, on the city's Near West Side.
They shouldn't have been.
First of all, the site selection was quite provocative. The UIC Pavilion sits a mere mile away from Pilsen, the heart of Chicago's Mexican American community. After being the subject of xenophobic attacks since the beginning of the Trump campaign, one could expect many Latino demonstrators to show up.
And just four months removed from the Laquan McDonald blow-up, Chicago's activist community is fired up and organized. Plus, Trump's team did himself no favors giving them a whole week to plan.
But instead of facing the protestors, he retreated in fear, sending a representative on stage to announce the rally had been cancelled.
"Mr. Trump just arrived in Chicago and after meeting with law enforcement has determined that for the safety of all the tens of thousands of people that have gathered in and around the arena, tonight's rally will be postponed to another day," the statement said. "Thank you very much for your attendance and please go in peace."
But according to Chicago Police Department spokesman Anthony Gugliemi, the department never recommended for Trump cancel his rally, saying the decision was made "independently" by the campaign.
No doubt, the atmosphere was charged. Trump supporters came in large numbers to see their candidate and vastly outnumbered anti-Trump protesters. The line to get in snaked around several blocks. And it was true that several anti-Trump protesters managed to get into the venue, which led to confrontations with Trump supporters inside.
But it was by no means bad enough where the rally had to be cancelled. Yet it's all part of the act for Mr. Trump: cancel the rally and blame it on "professional," mostly minority, agitators. It's another case of manipulation that Trump used to his advantage.
While anyone watching coverage on cable news immediately following the cancellation would see that some hosts took Trump to task over the increasingly violent nature of his rallies, it's still a win-win with a Republican base increasingly uneasy with the social and demographic changes our country is in the midst of.
And of course, it did not hurt him in the polls as Trump cruised to an easy victory in Illinois. He is the likeliest person to be the Republican nominee in the fall. He could also be the first cable news president: his knowledge is a mile long, but only one inch thick. There is no depth to anything he says.
Yet his word is golden in the eyes of his supporters. They truly believe in him and his message. And that is why he is so dangerous.
Mr. Trump may complain about not being entitled to free speech in Chicago (despite the evidence showing he could have spoken if he chose to), but what he does not understand is that one cannot simply say anything they want with zero consequences.
Can one blame someone for being angry when they and their friends and family are branded rapists?
Can one question the motives of a protester when they have to hear a major presidential candidate spew out sexist statements with seemingly no consequence?
Can one really remain level-headed when they get punched by a Trump supporter on the way out of a rally, and Trump considers paying the man's legal fees?
Hate breeds hate, and Trump brings out the worst elements of human nature.