DePaul papal photography exhibition celebrates journeys to the Holy Land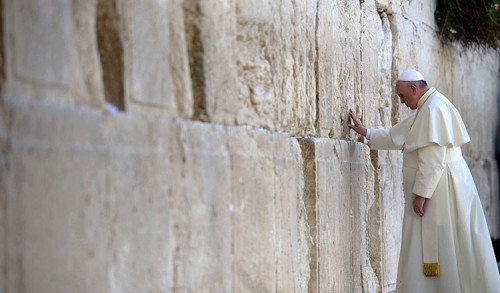 A photography exhibition at DePaul opening Tuesday will celebrate the travels of papal journeys to the Holy Land. Titled "Building Bridges of Faith," the exhibition runs at the John T. Richardson Library March 29 through June 10.
"I was in Jerusalem at the same time as Pope Francis in 2014, and I remember his visit as a very special moment for everyone living in that holy land," DePaul President Rev. Dennis Holtschneider, C.M., said in a press release. "DePaul is honored to host this exhibition with the Consul General of Israel and to show this unique glimpse of Catholicism and Judaism reaching out to one another over the past half century and Israel's consistent warm welcome."
The exhibition features 44 images of Blessed Pope Paul VI, Pope Saint John Paul II, Pope Emeritus Benedict XVI and Pope Francis at nearly a dozen holy sites. It is one of three events this spring co-sponsored by the Consul General of Israel to the Midwest.
In addition, a panel discussion titled "The Catholic Church, the Jewish People and the Jewish State" will be held at 5:30 p.m. April 18 in the Richardson Library, Room 400. On May 18, there will be a reading of a version of the play "Imagining Heschel: In Search of Radical Amazement," at 6 p.m. followed by a Q&A in The Theatre School.
Chicago Archbishop Blase Cupich, Consul General of Israel of the Midwest Roey Gilad and President of the Jewish United Fund/Jewish Federation of Metropolitan Chicago Steven B. Nasatir will join Holtschneider in celebrating the opening Tuesday with a reception open to invited guests.
"The relationship between the Vatican and Israel had a slow start, but Pope Francis' visit in 2014, which was the fourth visit of popes to Israel, reflected a peak in the relationship," Gilad said in a press release. "We in Israel greatly appreciated the warmth in which Pope Francis conducted his visit to Israel. I do believe that this exhibition is a beautiful homage to this unique visit."