Chicago's new interim police chief faces major obstacles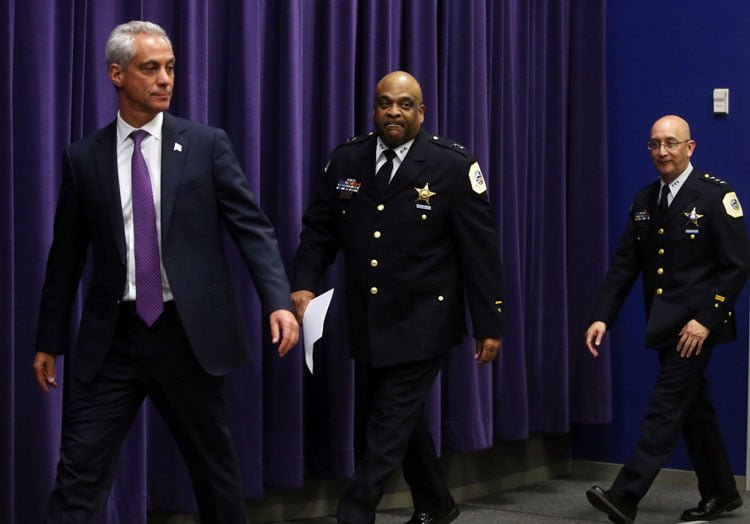 Officer Eddie Johnson has recently been assigned the daunting task of polishing off the tarnished reputation that the Chicago Police Department (CPD) accrued by its own doing, beating out three other candidates who were on a "short list" for the position. Appointed to Interim Police Superintendent by Mayor Rahm Emanuel, Johnson has 27 years of experience as a Chicago cop.
Johnson was appointed to his position after Garry McCarthy, the former police chief, was fired after the city was ordered to release dashboard footage of Jason Van Dyke, a former Chicago police officer, fatally shooting Laquan McDonald with 16 bullets as the 17-year-old was walking away from multiple officers with a knife in hand. The city was overcome by protests following the release of the footage, with mounting pressure on Emanuel to resign and McCarthy to be fired for their perceived attempt to cover up the events that led to McDonald's death.  An atrocious lack of discretion by Van Dyke, the incident was yet another example of white officers fatally shooting black men and women in America under conditions many consider unjustified.
McDonald's death grabbed the nation's attention and it served as McCarthy's coup de grâce. Emanuel did not share the same fate as McCarthy, but he also did not walk away unscathed. His already questionable reputation plummeted even further into what appears to be Chicago's very own bottomless pit of political despair. Emanuel and CPD were both under intense scrutiny, and the mayor remains in office despite calls for his resignation. Emanuel was not involved in the Chicago Police Board's (CPB) process of choosing the three potential candidates for interim police chief, and many were shocked when he named Johnson the city's new top cop considering he wasn't among CPB's final three. Still, Emanuel applauded the police board's rejected nominees.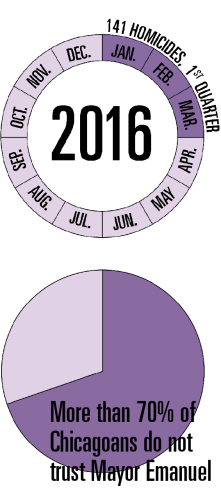 "I am deeply appreciative of the time and hard work the Police Board put into this search," Emanuel said in a press conference announcing he chose Johnson for the job. "The three candidates I interviewed have distinguished careers in law enforcement and they all impressed me with their commitment to public safety. However, as our city works through the challenges ahead, it is more important than ever that we find the right person who knows our city and can provide the level of safety every resident deserves, lift the morale of Chicago's police officers and build on the work that's been done to restore trust and accountability in the police department."
Johnson is entering this job with plenty of major issues to deal with: Chicago's 2016 homicide count was at 135 as of March 30, a 71 percent spike from this time last year, according to CPD. Shootings have also seen a rise as 727 people were shot in the first quarter of 2016, a 73 percent increase from 422 shootings during the first quarter of 2015. It's quite a burden to carry, and he is now responsible for the decline of these numbers. Johnson knows that the faith and trust from the black community especially needs to be restored after the McDonald police shooting.
"I think the relationship is fractured but I also think we can regain their trust and that's what I'm aiming to do," Johnson said.
But it will take quite some time to fully regain trust back from a person or party that is considered untrustworthy by many Chicago citizens. Wounds were opened by the department's perceived dishonesty and many Chicagoans carry feelings of betrayal. So when a cop slays a young man for walking away from multiple officers, and reports come out proving officers at the scene lied about what happened and how many times McDonald was shot on that dark October night, it can be difficult for citizens to believe their police force is truly working to "serve and protect."  They also have added to the construction of the nation's greatest wall. Surprisingly, they were able to accomplish this feat without any help from Donald Trump.
The infamous "Blue Wall of Silence" was established by the very people who are supposed to serve and protect. It values protecting the privacy and reputation of police officers and police departments over maintaining transparency with the communities they serve. Unfortunately for Johnson, even if he is a man who Emanuel believes can, "restore trust and pride" back to the city, he cannot do it alone. It is decidedly up to his subordinates who serve to protect each other. They need to recognize the morally righteous from the morally skewed. Greater transparency is needed in the department to ensure officers are not working in an institution that will protect unjustified use of force in order to avoid public scrutiny. But that's exactly the point of their self-made wall.
Johnson recently admitted he has personally been the subject of racial profiling. "That's how come I am determined to ensure that we don't do that now," he said. "Now I'm in a position where I can stop that kind of behavior, and that's one of my end goals."
But to believe one man can achieve the obliteration of the Blue Wall of Silence is a fantasy.
Although Johnson has had a fabulous record on the force working his way up from the bottom to the upper echelons of the force and has almost three decades of experience policing the city of Chicago, the track record of the CDP as a whole is shoddy at best. Yes, they are absolutely honest police officers that work tirelessly to protect the city of Chicago. And while they are providing relative safety for some, the city's crime rates remain stagnant at a staggering height. CPD has failed to show any traction in decreasing crime rates, as statistics showing increases in homicides and shootings from last year at this time have shown. This will require a change in the entire department, from Johnson to his subordinates, and transparency in a department historically known to be anything but honest with the city it serves.