CTU strike highlights broader issues of inequality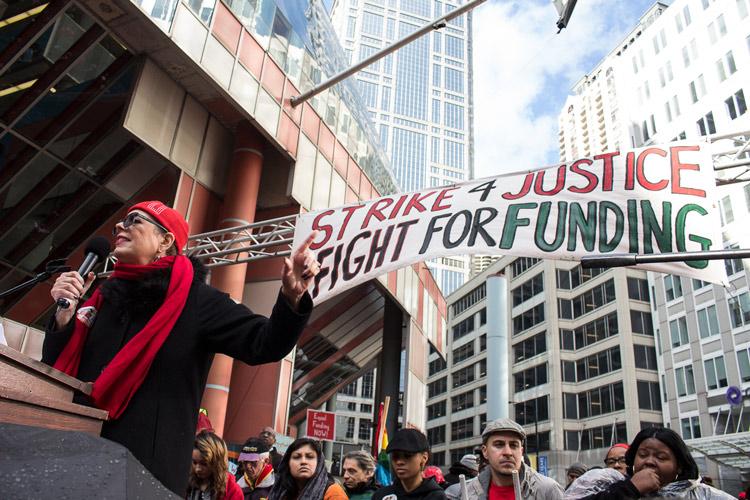 On April 1, the Chicago Teachers Union (CTU) held a district-wide strike in an attempt to bring greater attention to the desperate need for funding in both Chicago Public Schools (CPS) and city colleges. Thousands marched downtown and listened to activists speak at the rally, including CTU President Karen Lewis and the Rev. Jesse Jackson.
"We're not only here for the children of Chicago," Lewis said to the massive crowd gathered outside the Thompson Center.  "We're here for the young adults of Chicago, we're here for people who deserve and are entitled to a real future."
CTU members and supporters alike called out Springfield for its insufficient funding for Chicago schools, with some Illinois school districts receiving an average $2,266 in pension funding per student while CPS receives an average of $31 for each student. But for some frustrated Chicago activists in attendance, the path to a better future for young Chicagoans would require more than just a well-funded school district.
Members of the Fight for $15 movement aimed at raising the minimum wage to $15 per hour marched alongside CTU protestors, as did supporters of the Black Lives Matter (BLM) movement and other organizations calling on their elected representatives for more accountability.
Charles Preston, a senior at Chicago State University which has shortened its school year due to cuts in state funding, also spoke at the downtown rally. Preston emphasized the unique issues African-Americans face on a daily basis.
"I am unapologetically black, because this state has shown that they expect me to apologize for my blackness, they expect me to apologize for my existence," Preston said. "I will continue to fight. Today, we begin revolutionary change."
That anger and general lack of faith in government institutions is widespread in Chicago, a city facing issues with education, housing and crime. And for residents of the Windy City, these issues are failures of our state and city representatives. A poll conducted by the Paul Simon Public Policy Institute at Southern Illinois University in Carbondale found Gov. Bruce Rauner's approval rating in Chicago stands at a mere 34 percent. Mayor Rahm Emanuel's approval rating is even worse at just 27 percent.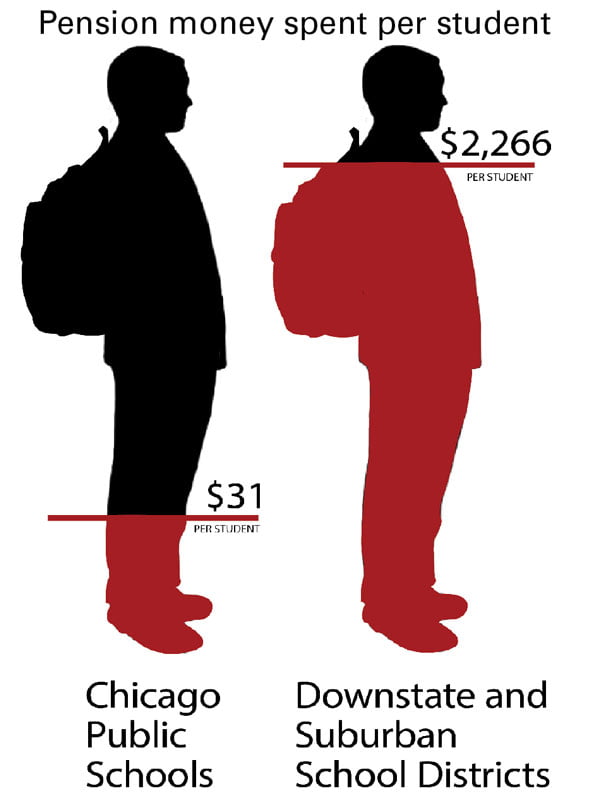 But Emanuel's concerning approval rating is not solely the result of his closing a record-breaking number of public schools in 2013, where 88 percent of students affected by the closings were black. What really destroyed the mayor's relationship with his constituents was the court-ordered release of dashboard footage showing former Chicago cop Jason Van Dyke fatally shooting 17-year-old Laquan McDonald 16 times as he walked away from officers with a three-inch blade in his hand. A Chicago Tribune poll found that nearly 75 percent of Chicago voters do not believe Emanuel's explanation of how he learned of the details of McDonald's death. Additionally, more than two-thirds of Chicagoans believe the mayor was unjustified in withholding the footage from the public.
The widespread mistrust of Emanuel and the Chicago Police Department (CPD) was apparent at the April 1 CTU rally, but wasn't directly addressed by a speaker until Page May of the Black Lives Matter movement took the stage. May's speech was a celebration of the BLM and Chicago's activist groups and a call for further radicalization and civil disobedience, but what made headlines was how she concluded her speech.
"The last thing I want to say while I have y'all's attention is F— the police, f— CPD, f— the (Fraternal Order of Police)," May said. "F— the police and everybody f— with them."
While some considered May's declaration an unnecessary distraction from CTU's objective to shine a light on CPS's budget crisis, it is difficult to separate Chicago's failure to fund its schools and citizens' mistrust of the police department. The very institutions established to create a decent standard of living for all Chicago citizens are failing, and minorities are overwhelmingly the ones suffering the consequences. It should come as no surprise that half of black and Latino voters want Emanuel to resign.
With increasing taxes, widespread violence and a failing school system, Chicago residents are understandably angry, so much so that they're leaving the city.  In 2015, the Chicago area had the greatest loss of any metropolitan area in the country with an estimated 6,263 residents packing their bags and leaving for greener pastures. According to the Chicago Tribune, CPS' financial crisis is among the top motivating factors for those leaving the city. But the No. 1 reason residents are leaving is the lack of safety.
The state of Illinois and the City of Chicago's inability to provide legitimate safety and education for those living in the city's most impoverished areas is unacceptable. It's understandable that citizens are angry, and African-Americans in Chicago are repeatedly the ones who suffer as a result of these social issues and institutional failures.
Emanuel said he understood the CTU's frustration but condemned the strike, claiming students shouldn't be forced to "pay a price for a political message." Instead, the mayor said CTU should work with city officials to combat the disturbing lack of funding for CPS schools.
"If we want to change Springfield, Chicago Teachers Union, Chicago Public Schools and the mayor's office together speaking with one voice about adequately funding education statewide, and specifically poor kids, is a stronger voice than saying, 'We agree with you, but let's attack you first,'" Emanuel said. "We're stronger united in changing the policies in Springfield than divided."
But for those tired of Rauner and Emanuel blaming one another, the problem is bigger than the insufficient funding for Chicago schools. It is an overall low standard of living for the city's most vulnerable citizens, from safety to job opportunities to education. And black men in the city's most dangerous neighborhoods are especially suffering. According to a report commissioned by Alternative Schools Network, nearly half of young black men in Chicago are both unemployed and not in school. Youth unemployment is highest on the city's South and West sides, notably in East Garfield Park, Englewood, North Lawndale and Fuller Park — neighborhoods that are all more than 90 percent black. Unsurprisingly, the lowest concentration of youth unemployment is in the city's neighborhoods on the North and Northwest sides with mostly white residents.
For many Chicagoans, but especially African-Americans on the city's South and West sides, the anger is real. It is urgent. Living in a largely unemployed, unsafe areas with a crumbling school system has been proven a recipe for rampant violence. Until Rauner and Emanuel address the legitimate crises at hand, these protests will continue.