Where you can play with animals in Lincoln Park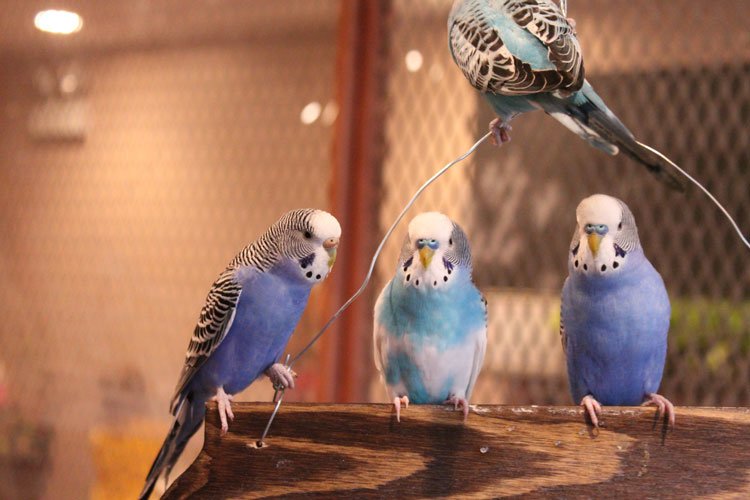 Every student has stopped along the sidewalk to pet a puppy belonging to a Lincoln Park couple, or has gazed longingly inside the pet shop windows dotting various spots on the North Side. One of the downsides to living in a dorm or in the city is that it doesn't allow much room to interact with furry companions. Campus housing doesn't allow animals other than fish, and many apartments either restrict owners from having pets in the building or require a fee to be paid to have one. However, one of the benefits from living in the city is that there's plenty of free or low-cost options to play with some furry friends without having to own one.
One of the most popular attractions in Chicago, the Lincoln Park Zoo, is one of the few remaining free zoos in the United States. Since it's walking distance from the Lincoln Park campus, the zoo is a popular choice among students. More than 3 million people attend each year, browsing different exhibits featuring over 200 different species. The zoo, which boasts over a thousand animals, prides itself on hosting a collection of many rare and endangered animals. For sophomore Rachael Johnson, the zoo is a fun outlet to take a break from school and to show friends not from DePaul  around.
"I think of it as a place to take visitors because it's free and easily accessible," Johnson said. "I haven't gone sophomore year, so it was mostly a freshmen year thing. But I would love to go back when the weather gets nice."
Even though patrons can't physically touch any of the animals, the zoo is still a great way to observe and learn about them. From time to time, special exhibitions are offered, like the Kovler Lion House, which showcases lions from multiple continents.
"My favorite exhibit is probably the tiger exhibit," Johnson said. "I remember last time I went, the tiger was right up against the glass, looking at the people, which was really cool."
Another place to satisfy the lack of pets is Happy Play Café, a small business that recently opened on Clark Street and is owned by two sisters. A walk-able distance from the Lincoln Park Campus, Happy Play Café offers a unique way to physically interact with animals. For only $7, an adult can go into a room of over 100 vibrantly colored, friendly parakeets. Happy Play Café allows the birds to fly freely around the room instead of being cooped up in small cages. Not only can this be a therapeutic and relaxing time for the participant, but it also ensures that the parakeets are getting some playtime as well. The parakeets often find a perch on people walking around in the room, eating seeds from a feeding stick that each person gets.
"Even people who didn't seem like they were into the idea before coming are surprised by how great and therapeutic it is," Amelia Wilton, manager of Happy Play Café and DePaul alumna, said. "You can go to a petting zoo, but this is different and something that people may not get to experience."
At first glance, Happy Play Café appears that it is designed only for children. There's a toddler playroom in the back and homemade ceiling lights that look like clouds and a giant toy train track with which kids can entertain themselves. Happy Play Café, though, is designed for all ages.
"We want everyone to know that they are most definitely welcome to come in. You don't need kids," Milton said. "You don't need to feel like you're coming to a kids only center."
Additionally, Happy Play Café also acts as a pet store and an adoption agency. For those interested and who are lucky enough to be able to have pets in their home, Happy Play Café offers the chance to take home one of the parakeets or rabbits for a fee. One of the benefits of Happy Play Café is that a person can become comfortable with the animal before adopting it. It also makes the animals more accustomed to people because of the daily interaction, which assures that the animals are ready for adoption.
PAWS, founded in 1997 after a mother and her teenage daughter advocated a no kill adoption agency, is a way to volunteer and play with animals simultaneously. According to its website, PAWS began after Paula and Alexis Fasseas rescued Pippen, a dog who was supposed to be euthanized. From there, the pair visited multiple pounds who put down dogs who showed even miniscule symptoms of being sick. Listed on their website, PAWS has also contributed to the decline of the killing of animals, with a 75 percent drop since it was founded in 1997. Rebecca Guthrie, a junior at DePaul, occasionally volunteers with the group.
"I decided to start volunteering at PAWS because my sister had just decided to begin volunteering herself," Guthrie said. "I thought it would be really nice to get to spend time with animals at leisure, because I cannot have pets at my apartment due to a roommate's allergy. I ended up picking to volunteer in Kitty City, as opposed to Dog Town."
There are multiple places across the city that are always looking for volunteers, like the Pippen Fasseas Adoption Center, which is a branch of PAWS. Volunteers can be involved in almost every aspect of the adoption agency, whether it be opening the building in the morning or training the animals.
"The tasks at hand each time I volunteer vary according to whether I work an opening shift, closing shift or sometime in between," Guthrie said. "Usually though, I take care of the cats and kittens by giving them food and water, playing with them and brushing them."
In most circumstances, PAWS doesn't require a person to sign up for a certain amount of hours to volunteer. Instead, students, even the ones with busy class schedules or those who have time consuming jobs, can sign up for shifts whenever they're free. This way, PAWS can not only give more people the opportunity to volunteer, but a more lenient way to get involved.
Besides getting the experience of taking care of animals and the enjoyment of playing with them, volunteers also get the satisfaction of seeing a pet catch an adopter's eye.
"One of the most rewarding parts about working at PAWS is aiding in adoptions," Guthrie said. "It is so nice to see cats and kittens meet loving families and get to go to their forever homes."
Looking for a playdate? Go to…
Lincoln Park Zoo
Open 365 days a year | Free admission | 2001 N. Clark Street
Happy Play Café
Open Sunday through Friday 9AM -6PM and Saturday 9AM – 8PM | $7 per adult | 2346 N. Clark Street
PAWS
Open Monday through Friday 12- 7PM and Saturday and Sunday 11AM- 6PM | 1997 N. Clybourn Avenue