Medieval Times isn't just for kids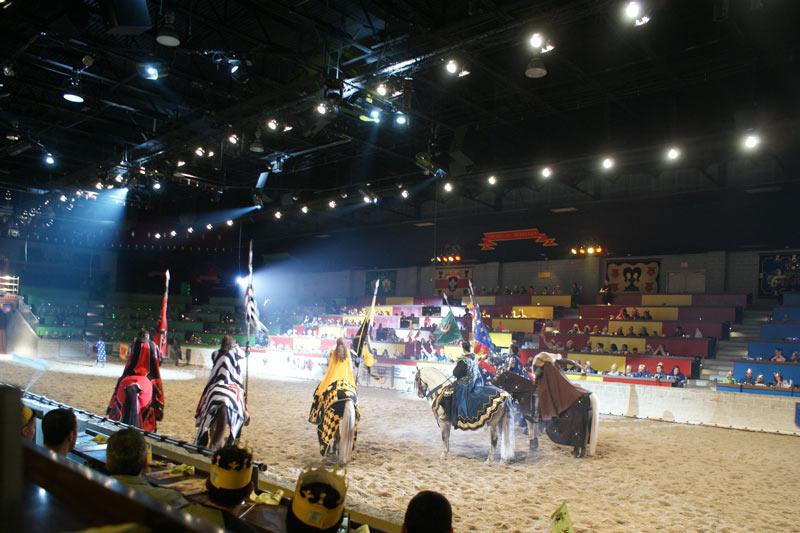 For most DePaul students, a typical evening out includes hitting up Lincoln Park bars, seeing the Chicago sights or maybe going to the zoo if it's nice enough outside. Rarely does it include time traveling to the medieval era to watch chivalrous knights joust and defeat villains, but that's all available too.
"It's definitely a unique experience," Matt Gill, the Marketing and Sales Manager of Medieval Times, said. "It's different from a typical bar or night out with your friends."
Medieval Times, although marketed towards families and children, offers a pricey, but fun alternative experience that can still appeal to college students.
Ask almost any student what the most important part of their life is, and if they're honest with themselves, they'll answer food, which makes the best part of attending Medieval Times the vast amount of food they serve. Although the dinner theater has a set menu, the massive size of it ensures attendees won't be disappointed.
Visitors are served half of a chicken along with several sides, and are expected to eat without any utensils. There is something really satisfying about tearing apart a chicken and shoveling it into your mouth with your bare hands, although it isn't particularly attractive. It might not make for a great first date location, but perfect for when you're past the point in a relationship when you've seen each other be disgusting. The chicken is cooked and seasoned perfectly which makes the mess well worth it.
For those who don't enjoy eating roasted chicken, Medieval Times surprisingly has a vast amount of delicious vegetarian options. For an appetizer, they offer a hummus, vegetables and pita slice platter,  a bean and vegetable stew for a main course and a large amount of sides and appetizers, which include tomato soup, perfectly-roasted potatoes and delicious pastries.
While the food is superb, the entertainment is also phenomenal. Sure, in Chicago you can see a multitude of sports teams, but at Medieval Times, attendees can watch the ancient sports of jousting and sword-fighting performed by skilled knights.
Despite the fact that Medieval Times has been in existence since 1983, they're able to find ways to change their appeal through the telling of different stories byincluding taking on cyberbullying from a medieval perspective a few months ago. According to Gill, the show is rebranded every few years.
The current show features a competition between knights driven by a plot with themes of good over evil, romance and chivalry as knights embark on a quest to save the princess from a dark fate and find their Queen of Love and Beauty.
"It's an exciting two-hour show," Gill said. "Every single night is a little different, you never know which knight is going to win, you never know how the show is going to go because it is a live performance."
The dinner theater experience is also offering a deal for college students for the rest of the month, where entry to the two-hour spectacle is $29.99, a significant discount from its regular price.
Medieval Times is incredibly cheesy, but for students who don't take themselves and their free time too seriously, it's perfect — especially if you can get into the Medieval atmosphere (which is difficult not to).