Cupbob + Ramen brings appetizing Korean flavors to Lincoln Park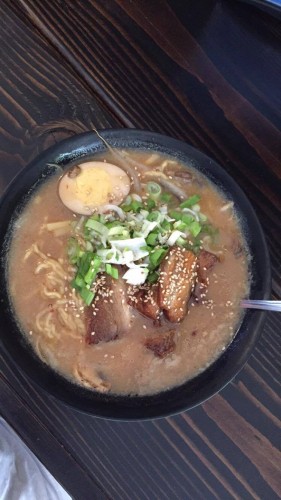 I'm a firm believer that there should be a ramen place on every corner of Chicago, and until that happens, I've been attempting to try all the ramen places in the city. I was excited to learn earlier this month that Cupbop + Ramen, which sells Korean food and ramen, just opened in Lincoln Park at 2439 N. Clark St. Located less than a mile from DePaul's Lincoln Park campus, the restaurant sounded like the perfect place to grab a snack after class.
After a tiring Monday full of classes, I wanted nothing more than a bowl of ramen and a nice place to sit, so I walked to Cupbop + Ramen to check it out.
I was greeted as I walked into the restaurant by a simple, pleasant atmosphere, with tall brown tables taking up the interior. It was 5:30 p.m. and there were no other customers, but a few more trickled in after I had been there for a few minutes.
I perused the menu, and was intrigued by many of the items, such as the "Cupbop," which seemed to be one of their specialties.
Another day I definitely want to go back and try this dish, which is a bowl of meat mixed with rice and vegetables. The shrimp tempura also tempted me, with a picture of the brown battered appetizer on display.
However, I had come for ramen, and I wasn't going to change my mind. I ordered the spicy miso ramen for $13, which may sound expensive but is pretty standard pricing for ramen, and waited at my table eagerly.
The service was very fast; I had steaming ramen in front of me in less than five minutes. I was incredibly hungry, so I was impatient as I let the broth cool. I tasted the soup, carefully making sure that it wasn't too hot, and was hit by a pleasantly flavorful taste with a bit of a kick to it. It's not too spicy, but I would recommend those that prefer less strong tastes to get a different dish.
After determining that the broth was cool enough to enjoy, I dug in to the noodles and pork, both extremely flavorful and just the right texture. The noodles were thick and chewy, while the pork was soft enough to break with the spoon. Green onions sprinkled throughout gave the meal even more zest. My only complaint would be that the soft-boiled egg was overcooked, but this did not ruin the ramen by any means.
The dish left me as full as if I had eaten two meals, and my ramen craving was completely satisfied.
Cupbop + Ramen may just be getting started, but I predict that it will develop into a popular new place, enjoyed by students and community members alike. I know  I'll make it back there with the intention of trying the Cupbop, but I may just be too tempted by the spicy ramen.