North Carolina 'bathroom bill' punishes state's most vulnerable citizens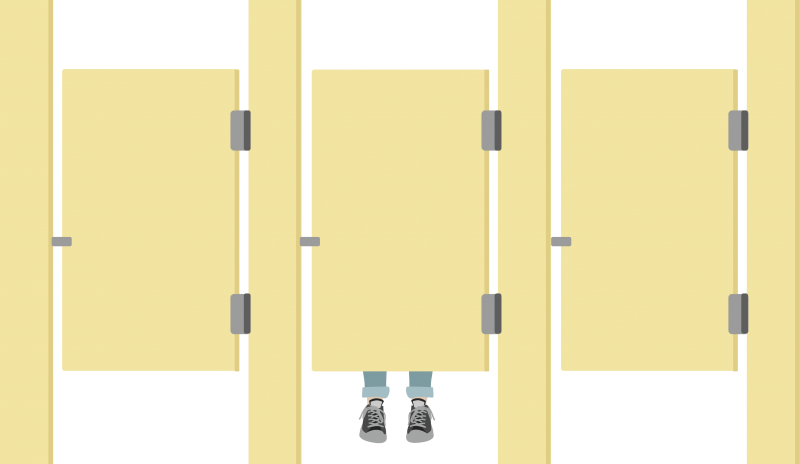 At the 2015 National Religious Broadcasters Convention, Arkansas Gov. Mike Huckabee displayed his gross misunderstanding of civil rights ordinances meant to protect transgender men and women from discrimination and their importance in protecting some of society's most vulnerable people.
"(These) ordinances (say) if your 7-year-old daughter — if she goes into the restroom — cannot be offended and you cannot be offended if she's greeted there by a 42-year-old man who feels more like a woman than he does a man," Huckabee said. "Now I wish that someone told me that when I was in high school that I could have felt like a woman when it came time to take showers in P.E. I'm pretty sure that I would have found my feminine side and said, 'Coach, I think I'd rather shower with the girls today.'"
This widespread, false idea that sexual predators will pose as transgender to attack victims in public restrooms led legislators in North Carolina to pass House Bill 2 (HB2), more commonly known as the "bathroom bill," last month. HB2 requires people to use the bathroom that corresponds with their biological sex, consequently banning transgender men and women from using the restroom for the gender with which they identify.
A similar ordinance was passed this week in Oxford, Alabama. Transgender people in Oxford who do not use the bathroom that matches their biological sex can now face up to six months in jail or a $500 fine. 
"The Council further asserts that single sex public facilities are places of increased vulnerability and present the potential for crimes against individuals utilizing those facilities which may include, but not limited to, voyeurism, exhibitionism, molestation and assault and battery," the ordinance claims. 
What these bathrooms bills and their advocates fail to understand is that transgender people — the only individuals whose lives will be directly affected by this type of legislation — are disproportionately at risk of being a victim of sexual violence.
According to a study by the National Coalition of Anti-Violence Programs (NCAVP), transgender women are nearly twice as likely to experience sexual violence compared to other survivors. These women are also "more likely to experience police violence, discrimination, harassment, threats and intimidation." Even more disturbing, that same study found that 72 percent of hate violence homicide victims in 2013 were transgender women.
The rampant injustice and danger transgender people face do not stop there. According to the National Center for Transgender Equality's report "Injustice at Every Turn," trans people face an unemployment rate double that of the general population, are four times more likely to live in poverty and still cannot serve in the U.S. military. Additionally, 41 percent of respondents reported attempting suicide.
That fact that discrimination against transgender people dramatically impacts their safety and quality of life is undeniable, and legislation such as these bathrooms bills only furthers the stigma against trans men and women. In response to HB2, LGBTQ allies voiced their outrage. Bruce Springsteen, Ringo Starr, Demi Lovato and Nick Jonas all canceled their scheduled performances in North Carolina. Others such as Jimmy Buffett and The Allman Brothers Band's Gregg Allman did not cancel their concerts, but still publicly voiced their disapproval of the ordinance and solidarity with the LGBTQ community.
Corporations are also using their influence to denounce the anti-trans law.
PayPal announced they would no longer be opening a 400-person office in Charlotte, and a number of other companies including IBM, Google and Apple have taken a public stand against the ordinance. The NCAA even indicated in a public statement that they might move tournament games scheduled in North Carolina in 2017 and 2018.
Of all the companies taking a stand in the bathroom bill debate, Target is at the forefront.  On April 19, Target took a stand against bills such as HB2 in an announcement posted on the company's official website. "In our stores, we demonstrate our commitment to an inclusive experience in many ways," the post said. "Most relevant for the conversations currently underway, we welcome transgender team members and guests to use the restroom or fitting facility that corresponds with their gender identity."
North Carolina Gov. Pat McCrory has stood by the bathroom bill in the face of this backlash, but residents of the state are already facing significant consequences. A spokesman for the Greensboro Coliseum said cancelations from Springsteen and other artists have cost the venue nearly $200,000 in ticket sales. According to the Greater Raleigh Convention and Visitors Bureau, the Coliseum will lose an estimated $3.5 million due to the four conferences that have canceled or scaled back involvement in North Carolina following the announcement of HB2.  Arena employees are also suffering from the sudden loss in shifts.
The financial cost of this discriminatory ordinance have already proven abundant and clear, but transgender men and women in North Carolina are facing much greater  consequences. The transgender community faces an uphill battle not only to reach equality, but also to achieve authenticity in the eyes of their opponents.
"(Transgender rights are) an issue that goes beyond Republican or Democrat because it's a human rights issue, and trans people have the right to express their identities and pursue happiness," DePaul senior Felicia Darnell said. "It's unfortunate that lawmakers who are in favor of the legislation are so resigned to oppress that they don't consider the rights of the people who live in their state and their districts. Trans people are a part of every community, and should be given the same rights and resources as anyone else; including using the bathroom safely."
If legislators supporting these bathroom bills truly want to decrease sexual violence, they should not be attacking their transgender constituents and furthering the stigma against trans men and women. Publicly denying the authenticity of these individuals' indentities only increases the likelihood that they will fall victim to hatred, bigotry and violence.