Roster turnover has played a large part in DePaul men's basketball's offseason.  With eight players leaving, five graduating seniors and three transfers, the Blue Demons had the duty of not only filling holes with talent but also with enough players to fill the roster.
After adding three players in the fall, Devin Gage, Brandon Cyrus and Al Eichelberger, the Blue Demons brought in transfer guard Chris Harrison-Docks in the winter, then added 3-star forward Levi Cook and transfer guard Max Strus and forward Tre'Darius McCallum.
Especially with the roster turning over with so many players, head coach Dave Leitao has put a high emphasis on recruiting players based on their potential.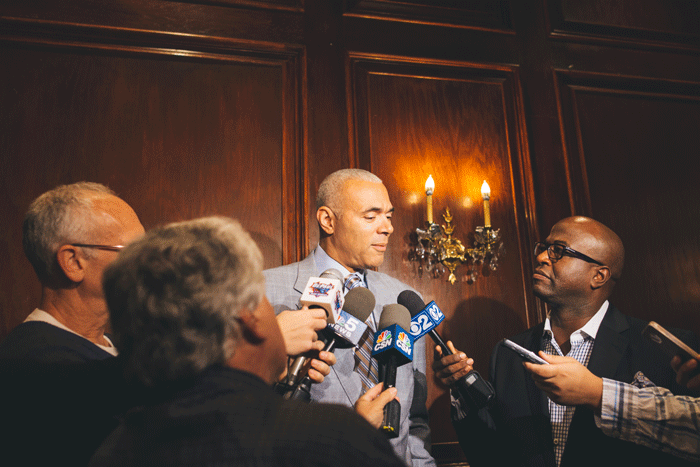 "You have to try and predict where a guy can be as opposed to where he's at," Leitao said. "Everybody's got to get better and guys do get better but to get better to the degree that they become significant members in your program is based on who they are. If they come into a college system and they understand why they're doing what they're doing then they have a much better chance at getting better quicker."
Leitao said the Cook addition was especially important because of DePaul's lack of size going into the 2016-17 season. They lost senior Rashaun Stimage to graduation, then three freshmen forwards transferred away from the program, leaving a dearth of young big men.
"Mentally I think Cook's ready and his skillset is ready and so now it's to get him as acclimated to college as quickly as we can so he can gain valuable experience," he said. "So that when it comes fall he's ready to step on the floor because we expect him and quite honestly need him, to play some good minutes for us."
"(Cook's) got really good hands, has a high basketball IQ and uses his body really well so once we get him into our rhythm of our system and how we want to play and get his body to ready to play college basketball I think he's going to be really good for us."
Leitao also said that Cook is the type of player they try to recruit: talented guys who also have a high character.
"Levi falls into what we wanted to do with everyone, which is bring in guys with high character," Leitao said. "From a basketball standpoint we wanted to and needed to get some size up front."
Leitao had similar thoughts about Strus, who committed to DePaul last week.
"Very happy to have Max come into our program," he said. "As a transfer he has to sit out next year which I think is really good for him and really good for us because it gets him the year to get better. Not that he's not already good but that he can get acclimated to the school and the system."
Strus will have two years of eligibility beginning in the 2017-18 season. Leitao said that the Strus addition, beating out other schools who were interested in him such as Xavier and Butler, shows that minds are starting to change from a recruiting perspective about DePaul.
"I think coming in here understanding where the program is at and trying to change people's mindsets about who we are, but also who we're going to be, is a difficult process," he said. "To go out in our first year and get top-25 talent was something that we knew wasn't going to happen. But we wanted to make sure we got top-25 people."
DePaul found their 13th and final scholarship recipient of the 2016-17 season over the weekend when they received a verbal commitment from junior college forward Tre'Darius McCallum. The Blue Demons' coaching staff can now set their sights on recruting Class of 2017 players and beyond.
"I think we've done a good job this year of getting character people who have talent too," Leitao said. "Now it's just about building on that."