Dabble in the world of eyeliner to find out what fits the best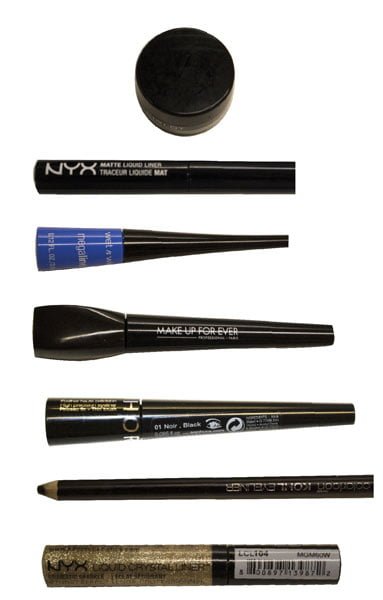 In the world of makeup, few things are more frightening than ruining a perfectly put together eye look by messing up the finishing touch that pulls everything together — eyeliner. A misjudged flick of the wrist can often result in an uneven, thick bold line creating a panda-like frame around the eye rather than the coveted sharp wing.
With hundreds of formulas, brushes and varieties, eyeliner can be the most daunting and unforgiving make-up product in the market, often scaring away users from shaking the fear of panda eyes and thick wings.
But, both beginners and seasoned makeup lovers do not need to be afraid.
Darshanae Jones, a makeup artist for Bobbi Brown Cosmetics, said that eyeliner can be difficult to get started with because there are so many eyeliner formulas in the market, each meant to achieve different eyeliner looks for a variety of eye shapes such as almond-shape, deep-set, oval or hooded eyes.
"The easiest eyeliner to use would be anything in the form of a pencil," Jones said.
Pencil liners are the most forgiving liners and are often easy to smudge away, Jones said. She also recommended using a dark eyeshadow color as eyeliner by packing it onto the lash line with an angled brush, creating a diffused line.
However, Jones said felt-tip eyeliner is the next step in graduating from pencil eyeliner and beginning experimentation with liquid eyeliner.
"Felt tips were my go-to before I got comfortable enough with my brushes to actually be able to use a gel pot liner," she said. "They're much easier to work with. They're much easier to clean up whereas this gel, you get it somewhere and it is everywhere."
Gesenia Chavez, a makeup artist for Impulse Beauty, said that liquid eyeliner can be daunting and takes a lot of practice for users to get accustomed to the formula and application.
"For a beginner, I always recommend a felt-tip liner so you can build it up as opposed to other eyeliners that start off thicker," Chavez said.  She added that felt-tip pen eyeliner is the easiest to control and dispenses a limited amount of product, making it one of the less messy eyeliner choices.
Felt-tip eyeliner is best to achieve a cat eye or winged eyeliner look. The formula and brush requires more precision than pencil eyeliner. (Make Up For Ever Ink Liner in Black, $23)
"One eye is your golden eye," Chavez said. "Your eyes are like sisters, one eye will not match the other and then it will drive you nuts and you'll build it up. It's just a lot of practice and finding what product type and technique type works for you."
West Coast brand ambassador for Clarins cosmetics Marla Henry has been working as a professional makeup artist for 13 years and recommends that people experiment with various types of eyeliners to determine what works best for them and their everyday lifestyle.
"It depends on the person. First, your age has a lot to do with it, and so does your eye shape," Henry said. "For someone that just wants to enhance their eye without going over the top, something they can use from Clarins is a product called the three dot liner. It fills out your lashes and makes your lash line look fuller, which opens up the eye without doing a crazy black liner that not every eye shape can take."
Henry recommended the Clarins 3-Dot liner ($27) for beginners to get accustomed to working with a liquid form of eyeliner and for users who may have an unsteady hand or a hard time creating a straight line.
Henry said eyeliner has a reputation of being over the top, but it doesn't all have to be wing liner and cat eye looks.
"It's all about the eye shape, it's all about the look you're trying to achieve and you can definitely get a polished beautiful look with a winged liner that doesn't even look over the top, so it doesn't always have to look super extreme," she said.
For the more experienced eyeliner user, Henry recommended a water-based gel liner for those seeking all day wear.
"Start from the outer eye and work your way in. When you start from the inner, working your way out, you get a curl which isn't a natural way to define your eye," she said.
For spring eyeliner trends, Henry said people should not be fearful of using various colored eyeliners.
"For spring right now, it's a lot of sparkle on the eye with a defined liner, so a lot of wings with tons of sparkle and color," Henry said. She recommended a pop of color such as white, blue or pink eyeliner to create a sense of dimension and contrast on the eyes.
"You always want the frame of your eye to be darker than your eye color. You want your eyes to pop," she said. "If you have brown eyes, always use a black. If you have blue eyes, you want a contrast, it's the contrast of color that's going to open up the eye like a brown eyeliner. Green eyes would look beautiful with a deep violet."
With various trends emerging to frame eyes and elongate the eye shape, Jones said people should expect to not always apply eyeliner perfectly.
"Try out different liners. You never know what works for you," Jones said. "You can think that you're not that good with a felt tip liner, but then you get it in your hand and it's easier to use than a pencil is for you.
"Have your makeup remover handy — that's what it's for. You mess up, you wipe that mess off and you start again," Jones said. "Don't be afraid of it, just go for it."
Find out what fits you best: