Rompers top choice for summer fashion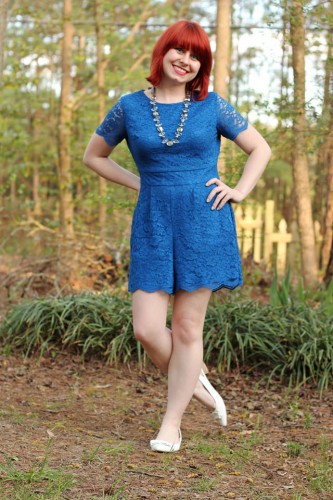 Summer is one of the best times of the year for fashion. This is especially true in a cold city like Chicago where a good portion of the year is spent with clothes hidden behind large, puffy, unattractive winter coats.
The obvious choices of outfits for girls during the warmer months include dresses or pairing shorts with tank tops and short-sleeved shirts. However, there is an option for those who want the comfort of shorts and a tank top, but also want the fashionable style of a dress. This trendy solution is called a romper, and it's necessary to incorporate this into your wardrobe once the weather warms up.
If you don't know what a romper is, it's basically like a dress, but instead of a skirt for the bottom half, it's shorts. This allows women (or whoever choses to wear them) to select a more unique, chic look, but also allows for unrestricted movement. In a romper, there's no need to worry about your skirt flying up. Rompers allow for cartwheels, bike riding and other summer activities for which dresses are less than ideal.
Wearing a romper gives the impression that you put more effort into your appearance than you actually did. Rompers require zero extra work, maybe even less than a normal outfit, because they are only one piece.
"I like rompers because they are stylish like a dress but also functional like shorts," Elizabeth Longo, a junior at DePaul, said.
Rompers are also incredibly versatile and perfect for almost any occasion, depending on how you accessorize them. A romper paired with casual sandals is perfect for hanging out with friends in Millenium Park, while a romper paired with heels and a classy blazer can be a great outfit for formal events.
"It's all about the cuts, styles, designs, colors, patterns, fabrics, length (varieties of short, way above the knee). All these will make some rompers great for music festivals, others for the beach, others for going out in the evening, others for casual weekends. It all depends on the romper AND the shoes," the fashion blog "The Fashion Tag" said.
Celebrities are promoting rompers as well, on and off the red carpet. Miley Cyrus, Vanessa Hudgens and even Beyoncé have all been spotted wearing this popular trend. Rompers can be an affordable way to steal the look of your favorite star and create your new favorite outfit of the day.
Along with celebrities, DePaul students love the romper look as well. It's a great piece of clothing to have on hand for the many events college students need to dress for. Students love the versatility and the ability for one simple clothing item to be worn to such a wide range of functions. Some students even claim that a romper can be worn year round if paired with warm accessories.
"There's so many easy ways to dress them down and dress them up," Sarah Holloway, a freshman at DePaul, said. "If you just throw a jean jacket over it or something, it's casual, but if you throw a blazer over it, it's dressy. I wear them all the time. Even in winter, I'll just wear dark tights or colorful tights and then a sweater over them."
If you are interested in purchasing a romper as the summer months quickly approach, some great stores to check out are Forever 21, H&M, Lulu's and Urban Outfitters. Forever 21 and H&M are both very popular, fairly cheap clothing stores with locations in Chicago. Lulu's is an online store that's a little pricier but very high quality. Urban Outfitters also has locations in Chicago, but is definitely more expensive. No matter where you choose to shop, your romper will sure to be the perfect addition to your closet for this summer.