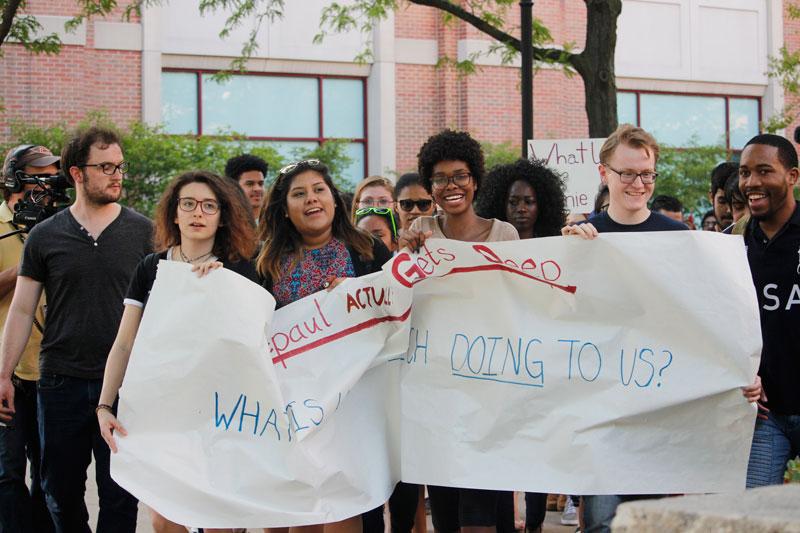 Student groups issued statements this week criticizing the response by administration to events transpiring around speaker and journalist Milo Yiannopoulos' visit Tuesday. While all groups were critical of university response, some cited incidents of harassment and hate speech and others condemned protesters.  
The week never seemed to end. A month after the controversial chalking incident, a racial slur against Mexico was painted on the quad sidewalk and Yiannopoulos' event was protested, leading to its cancellation. Thursday, the university said it received several reports of a noose found on campus.
DePaul President Rev. Dennis Holtschneider, C.M., wrote from Normandy, France Wednesday expressing his disagreement with Yiannopoulos, worries about "inflammatory language" and apologies to College Republicans, who hosted the event.
Yiannopoulos was invited to speak at an event hosted by College Republicans Tuesday evening, attended by more than 500 guests from within and outside the university. The Breitbart journalist is notable for saying that "feminism is cancer," that Black Lives Matter protesters are sensitive and that there is no wage gap between men and women. 
While Holtschneider said he disagreed with Yiannopoulos, he also said College Republicans should have been allowed to host their speaker, who was interrupted by protesters. College Republicans and other attendees criticized what they said is a failure in security to act, who they said did not respond appropriately to the protesters who overtook the speaker's stage and blocked entrances to DePaul buildings.
College Republicans condemned the actions of protesters on Facebook, calling their actions "militant," and that there was, "no discourse, no Q&A, just fascism."
"DePaul administration and security's response just shows the liberal bias that so obviously pervades universities all around the country," the statement read. "Conservatives can't host speakers, can't put on events, because as soon as we get started vile leftists will shut down our events while administration cooperates with their oppressive, disgusting actions."
By the end of the week, Black Student Union (BSU), students from the women and gender studies (WGS) department and Feminist Front also issued statements condemning the event and its ensuing actions.
"The decision made by College Republicans to invite Milo Yiannopoulos as a speaker was not done in good faith or as an effort to foster discussion as their student leaders claim," a statement made by anonymous students from WGS. "It is our view that College Republicans leadership used the event to stoke racial and gendered conflict and create a climate of fear and intimidation on campus for minority students. Furthermore, because the flyer used to market the event to students deliberately attacked feminists and explicitly named 'gender studies' departments, their sponsorship and solicitation of Mr. Y constituted a threat to our right to exist as a department, and to conduct feminist inquiry as a course of study."
The WGS statement rejected Holtschneider's apology to the College Republicans and called for "an immediate investigation into the conduct of College Republicans at (the) event and incidents prior, and a review of their charter as an official university organization. Until that review is complete we demand that funding for College Republicans and their campus activities cease."
BSU also criticized Holtschneider apology, and pointed to "the continued trend of hate speech on this campus being deemed acceptable under the guise of the right to free speech," which they said was publicly apparent during and in the aftermath of Yiannopoulos' event. They also said that their members were assaulted.
"The Black Student Union would like to make it clear to DePaul's administration and its students that we are well aware of the difference between expressing your opinion and purposely targeting marginalized groups with words meant to degrade and dehumanize," the statement reads. "Homophobic slurs were shouted at our students. Xenophobic slurs were shouted at our students. Racist slurs were shouted in our faces. Members of our union and other protesters were assaulted by these strangers, and yet the group that gets a written apology is the DePaul Republicans, the very same group that happily allowed prejudiced people onto our campus. Inviting a baseless hate monger to our campus is not an attempt to introduce a diverse conversation. It was meant to inspire fear in our students."
Friday, Feminist Front called for Holtschneider's resignation in a letter.
"You have shown us that you do not support marginalized communities and that instead of eradicating institutional violence on our campus you continue to encourage it. We demand that you immediately resign, apologize to the marginalized students you neglect, and admit your wrongdoings and complicity in this systemic, institutional violence," the letter reads.
Signed by Feminist Front Core Organizers Kara Lynn Rodriguez and Sarah María Acosta Ahmad, the letter asserts that Yiannopoulos was not welcomed by most students due to his "racist, homophobic, transphobic, sexist, and ableist opinions" and he was brought to campus by College Republicans to "justify violence against marginalized students, especially Black and Brown students of color."
DePaul Democrats also pointed to a potential need for a change in leadership. In a letter, the group called for Holtschneider to "return to face the students on campus who do not feel safe" and personally host a forum for students for students to voice concerns. If these demands are not met, they warned, "it will become very clear that he is unable to stem the tide of hatred and bigotry that is rapidly engulfing our campus" and they would look for new leadership. 
"The responsibility to foster an inclusiary and respectful campus life lies with the President. He must lead so that all students can function and express themselves in a peaceful non-derogatory way. DePaul University has been a dark place the last 72 hours. If Father Holtschneider refuses to act, then it is up to the students of this University to defend those of us who are being attacked for whom we are. The DePaul college Democrats stands in solidarity with students of color and students from other marginalized groups who have been left behind by the same people who are supposed to have their back," they wrote.
In an email, outgoing Student Government Association president Vanessa Cadavillo said that "this has been a difficult time for everyone on our campus, especially our peers of color. There is no way to ignore the hurt that people are feeling on campus."
"In hindsight, it is easy to say everything could have been done better. But what is more important is how our university and campus community moves forward from this in taking every opportunity to engage in conversation or meaningful action that will help our campus heal together. It will not be easy nor will it happen quickly but it will require a collective effort."
Cadavillo said SGA's newly elected leaders will continue to "be the platform for open and constructive dialogue on what can be done to help our peers feel safe on our campus, relay their concerns , and find the resources necessary to help finish this year on a strong academic note."