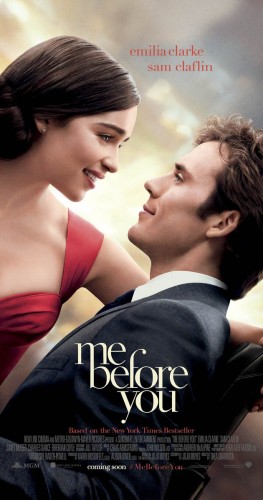 The ways that ideas pop into our heads are bizarre. These realizations can come from just meandering down the street, dreaming in the middle of the night, or perhaps just casually reading the news. Given these random occurrences, the deprivation of such an idea for one writer kept escalating and escalating until her idea needed more than just pages in a book.
"Me Before You" is based on a 2012 romantic novel by author Jojo Moyes, who adopted her own work for the screen.
The tale centers on Louisa Clark, who recently lost her job schlepping tables in a small town café. Faced with financial hardships, Louisa must seek alternative directions in her career to secure herself and her low-income family. She becomes the unlikely caregiver to a lucrative, castle-owning family whose bachelor-esque son's recent accident left him paralyzed.
The film is directed by Thea Sharrock for her feature debut and stars Sam Claflin, Emilia Clarke, Matthew Lewis and Vanessa Kirby.
"Me Without You" opened June 2.
Jojo, how must it feel having a completed project that you've been working on for a handful of years? Can you talk a little bit about the adaption process?
Jojo Moyes: It hasn't felt real until this point because it's just a series of processes. It was really the script and then it was working with the director on the script. We went over and over it for a period of months, and then it was being on set and then being part of the editing process, which is fascinating.
When I suddenly see people start coming out of the early screenings and they're tweeting pictures of their crying faces, which is my favorite thing ever, and I'm suddenly like "oh, OK." I had my mind-blowing moment here yesterday. I had just had a bowl of soup and I looked up at the TV and there was my name and the trailer. That was kind of weird.
Emilia, how was the essence of Louisa in the novel and how was the novel itself part of your preparation and characterization for the film?
Emilia Clarke: I got sent Jojo's incredible novel before I was sent the script, so the basis of my judgment was as of that – it was the book. It was like we knew we were getting the good stuff that the author wanted, and so the essence I fell in love with was throughout the entire experience. And it was us just shouting about everything that we could and going through all the scenes. So from start to finish it was an incredibly collaborate experience which I think is what made it so fulfilling on every level.
Moyes: And there's also not a huge line between Emilia and Louisa.
Jojo, you started out as a journalist at the beginning of your career. How has that direction affected your process and as you grown as a writer? After now writing a book and then a screenplay, do your initial journalistic roots and tactics ever come back to you?
Moyes: Yes, in terms of how I can see stories everywhere. All of my ideas for novels or screenplays come from either things I've heard or read on the news or things I may have eavesdropped on. Many ideas I have nosily gotten out of people. I think journalists are inherently nosey or curious.
Clarke: Yes, that's a better word.
Moyes: That's me. I will talk to anybody about their lives. I'm so interested in everybody, like their back-story and what goes on. It means you're never short of a story, but also it means you can write fast into a deadline, and that's not always the case in the creative industries. In fact, it was the first question MGM asked me, which is "how long will it take you to write the screenplay?" I think Hollywood is littered with promises of screenplays which never quite turned up and it's the same as publishing. It may not be brilliant but it's going to be there.
Was there any inspiration when writing the book?
Moyes: It came from a news story in Britain about a young man paralyzed from the neck down. I got thinking about what it would be like to be that man's mother, and I thought what it would be like to be that man and find a state of grace and find a new path, but in my heart I thought it probably would be a complete nightmare if it happened to me.
I thought I'd be angry and bitter. I think I would shut myself off and I also realized when I was thinking about this is that you can't judge people for their extreme reactions to things and I think we live in a very judgmental society and I guess we're asked quite often "what's the message we want people to take away from this?" and one of them is just you can't judge someone until you've walked in their shoes. We may not agree with what Will wants to do, but it's who he is and I try not to. The older I get, the less judgmental I get.
"Game of Thrones" is huge right now. Emilia, has that TV production experience crossover to this production at all? Has either project given you a sense of genre is how you alter yourself as an actress?
Clarke: It's not so much genre based for me as an actor, it's always character based. The first thing I always go back to is the words. With "Game of Thrones," you've got a lot of them. We've got six seasons going on, we got a few ahead of us and many behind us so there's a huge amount there.
But the difference, I suppose, in sets and in working environments is in some ways incredibly similar and especially with the two characters. There's an inherent strength in both the women that I get to play, but the size, that's the difference. I suppose when you're putting attention on genre when it's more fantasy or sci-fi, you're going to see more green screen. And we had none of that, which is wonderful, which made it feel just very tangible and I got a break from all of that because I needed it.
What do you plan to take with you as you further your careers that you learned specifically from "Me Before You?"
Clarke: A lot. One of my very wise England actor friends once said, "Ask me how many times I've had a bad experience, like an actual bad experience. I mean the ones that we have are second to none they don't often happen." He's done hundreds of projects. He was like, "I've hated maybe two."
In other words, you have a choice as an actor to do things, surround yourself with people who are brilliant, work with people who inspire you and you get to be as an actor – we all want to be self employed. We're all self employed. You always have job after job after job when actually it's so much better to take your time and live your life a little bit and take that job that really matters to you and that's what this is. From a professional point of view, that's what I took away.