This is when and where you should celebrate LGBTQ pride
In the wake of the horrifying nightclub shooting in Orlando that killed 49, communities across the nation and the world have united together in solidarity to remember those that were lost, to stand tall against such hate-inspired violence, and to celebrate who they are.
As Chicago celebrated Pride Fest this past weekend, the streets of Boystown stayed glowingly colored as the bright rainbow flags lit luminously in the sun. Thousands attended. Thousands danced. Gay, lesbian, bisexual, transgender—a community honored and celebrated, as they'll continue in this week's lead up to Chicago's Pride weekend. And in that lead up, from science to comedy to much more, here are some of the Chicago events to celebrate and honor the LGBTQ community.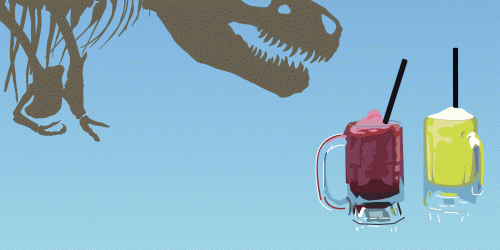 Out in the Field: Slushies and Science
June 21, 6-8 p.m.
The scientists of the Field Museum host a night of "cocktails and curiosity" as they dive into the science behind sexuality in nature, from virgin shark births to black widow mating rituals, and many more. All proceeds will benefit the families of the victims of the recent mass shooting at Pulse.
Proud to Run 2016
June 25, 2 p.m.
Run or walk, there's no denying the Chicago summer weather isn't a perfect time to be outdoors—especially on the lakefront. The annual charity 10K run and 5K run/walk has been a key part of Chicago Pride week since 1982, drawing in over 2,000 participants every year.
Star Whores: The Pride Awakens
June 24-25, 10:30 p.m.
Chicago's immensely popular GayCo returns with its 4th annual prideful comedy production of Star Whores – The Pride Awakens, taking place at the Playground Theater. The improvised comedy based show runs both Friday and Saturday over Pride weekend.
Chicago Dyke March
June 25
If the Pride Parade is too crowded or too long for you, the 20th anniversary of Humboldt Park's Dyke March takes place the same weekend—and is just as celebratory. The half a mile-long march not only draws hundreds but is joined by musical guests and dancers to celebrate with one another and express pride within their community.
Chicago Pride Parade
June 26, noon
Chicago's very own 1pride parade strands over 2-miles long—starting in Uptown and running through neighborhoods such as Boystown and Lincoln Park. The year's parade—celebrating its 47th year—not only features an array of decorated vehicles and floats, but a record number of 160 registered performance groups, marching bands and walking supporters that will undoubtedly draw thousands in support for the LGBTQ community. The Chicago Police department, as well as the FBI have reported that there will be extra security at the parade—though no credible threat or known intel suggest any danger. Before the parade, there will be a moment of silence for the victims of the Orlando massacre, as well as their pictures displayed along the parade route.