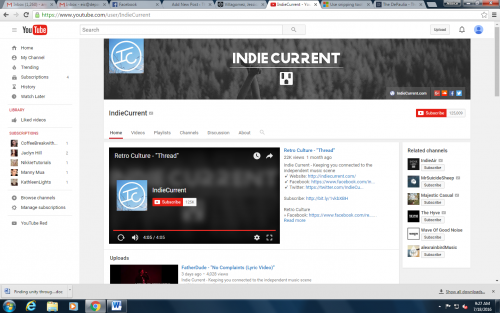 Summer doesn't make too many demands, but summer and new music go hand in hand. Something about the season begs us to find new favorite songs. YouTube can be one of the best sources for finding summer hits, and subscribing to channels can bring newly posted content directly to your home page. Check out the list below for ten music channels that can give you a personalized stream of fresh music.
Kinda Neat
Subscribers: 62,908+
Out of Los Angeles, California, Kinda Neat spotlights unique, up-and-coming artists through a YouTube channel connected to a podcast. The show's host Lee, also known as Intuition, interviews artists on his podcast (found at www.kindaneat.net), who then record a song for the channel. With an incredible array of music collected over the last three years, and the bonus of inspired and entertaining recorded performances, this channel promises an opportunity to find at least one energetic and new favorite artist.
Wave Of Good Noise (WOGN)
Subscribers: 86,023+
Calling itself "a daily wave of indie music," WOGN presents carefully curated tracks with high sound quality and aesthetically-pleasing backgrounds. The videos, though actually posted weekly, seem geared towards relaxed listening. The channel has done some of the work for listeners by creating four different, extensive playlists: Chill/Electronic, Folk/Acoustic, Pop/Rock, and "Discover a Wave of Good Noise," designed to expose listeners to plenty of new music while creating a specific ambiance.
Fueled by Ramen
Subscribers: 5,253,863+
The record label Fueled by Ramen houses artists including Panic! At The Disco, Twenty One Pilots, Young the Giant, and Paramore. With popular artists on call, the channel's content includes official music videos and behind-the-scenes looks for these bands, as well as the lesser known signed artists under the label. Fueled by Ramen streams characteristically one-of-a-kind videos that connect listeners to new artists, whether through the channel or the great recommended section found when watching one of the channel's videos.
La Belle Musique
Subscribers: 1,450,453+
La Belle Musique seeks to "discover you young, talented artists and new, fresh music that we like," according to its Facebook page. Taking submissions from across the world, selected songs take a spot on the YouTube page, which helps give visibility to the musicians. The stylistic, vibes-heavy tracks showcase the personalities of lesser-known, but equally deserving, new artists.
M O S T L Y strings
Subscribers: 189,681+
This channel brings forward emotionally-charged, lyrical songs that weave themselves through the acoustic genre. Each song has a different feeling between guitar, piano, and lyrics, but most carry a cheerful, sunny side up mood. Lyrics posted in each video description represent the care taken with each tune, gently placed for listeners to discover their next relaxed favorite.
 Aliasizm
Subscribers: 64,325+
Local listeners are less likely to know songs featured on Aliasizm since it posts music from BBC radio shows. These premiere tracks range from instrumentals to tech-heavy hip hops to rhythmic EDM. Though the city of Chicago popularized house music, the trance-like tunes Aliasizm posts are unlike anything from around here.
Spinnin' Records
Subscribers: 14,129,725+
With thousands of videos, it makes sense that the highly-productive Spinnin' Records is the "world's leading dance record label." The label's music videos, remixes, and collaborations get plenty of views from a wide audience looking for new music. The channel showcases rhythmic, slower songs to those with hard drops, but most maintain an upbeat and positive atmosphere for summer.
IndieCurrent
Subscribers: 124,773+
IndieCurrent keeps subscribers "connected to the independent scene" by constantly crafting lyric videos that feature graphic EQs. Between music focused on experimental beats, poised lyrics, or soulful intuition, IndieCurrent has collected a mix with a little bit of everything. What you're looking for in new music is probably on this channel's radar.
Ultra Music
Subscribers: 6,507, 856+
Ultra Music demonstrates the multifaceted nature of electronic music and the different moods it can convey. Many of the songs exceed expectations by mixing alternative vibes with traditional electronic music, creating a new sound listeners can make their own. The label produces a steady stream of content, so a subscribe to this channel means new music showing up frequently.
WatchListenTell
Subscribers: 72,668+
Though it has not posted a new video in almost a year, WatchListenTell's collection of videos sit like an unopened treasure chest. These original London performances in artful videos make modern soul songs. Careful listeners can gently sift through the channel's offerings to find their new emotional go-to song excellently recorded and waiting for them.