DePaul, Chicago Dems celebrate historic Clinton nomination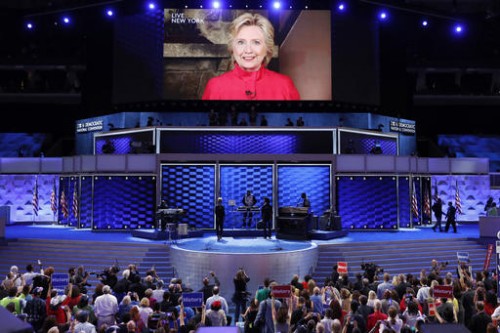 Hillary Clinton's nomination as the first-ever female major party candidate for President was hailed by Democrats from DePaul and around Chicago Tuesday night.
Gathered at an official campaign watch party in River North, Democrats celebrated with beer and food while watching day two of the Democratic National Convention. The historic nature of Clinton's nomination was not lost on attendees, which included Democratic candidate for comptroller and current Chicago City Clerk Susana Mendoza as well as a large contingent of DePaul College Democrats.
Kaitlyn Anglum, a DePaul senior who has supported Clinton from the beginning, described a feeling of relief as the results, only presumptive up until yesterday, were finally confirmed.
"Hillary Clinton is the perfect person to have this title. For the rest of history, she will be the first female nominee of a major political party and she is the most qualified person in history to run for this office," Anglum said. "She deserves this."
Clinton acknowledged her achievement in a live video message to convention attendees in Philadelphia. She will speak before the convention on Thursday.
"This is really your victory. This is really your night," Clinton said. "And if there are any little girls out there who stayed up late to watch, let me just say I may become the first woman President. But one of you is next."
Recent DePaul alum Gabie Hart, now a staffer for former Democratic U.S. Rep. Brad Schneider's congressional campaign, described herself as "blown away" by Clinton's nomination.
"I wasn't initially a huge Hillary supporter. But as a woman, I am happily surprised at how supportive I feel now and honestly how impressive it is," Hart said. "I feel like the women of my age in the future will now feel like they are on the same level as everyone else … I am just blown away and just feel so good about it."
Unity has been a common theme throughout the first half of the convention and will be key for Democrats to win in November.
Several Sanders supporters were infuriated upon the leak of several DNC emails last week that showed an apparent bias against Sanders during the primary season. This led to the ouster of party chair Debbie Wasserman Shultz Sunday morning.
That was not enough, however, to prevent some Sanders delegates from booing whenever Clinton's name was mentioned Monday afternoon. But, after efforts from Sanders and other party leaders, that dissent has largely dissipated.
"I think some of the more mainstream press has been highlighting a conflict within the party that I don't think is as extreme as people are saying it is," Hart said. "I think there is a healthy debate as democracy should go."
DePaul senior Kyla Patterson, who leaned towards Sanders during the primaries, said she was in "awe" and found Clinton's nomination to be "inspiring," especially when contrasted with last week's Republican convention.
"It's got a completely different vibe than the Republican convention," Patterson said. "The Republican convention was all about instilling fear into people whereas this one was about lifting everyone up and making us hopeful for the future."
Monday featured speeches from first lady Michelle Obama, U.S. Sen. Elizabeth Warren (D – Mass.) and Sanders, while Tuesday was headlined by former President Bill Clinton and the 'Mothers of the Movement', a group of women who have lost children to violence.
Thus far, the First Lady's emotional appeal to elect Clinton has been the speech to beat – and, unless her husband, President Barack Obama, is at his best tonight, her speech will likely go down as the best of the convention.
Bill Clinton spoke passionately for his wife as well, telling the story of their life together with little personal anecdotes as well as weaving in policy changes she effected. He frequently referred to her as the "best darn change-maker" he's ever seen.
The former president's speech and other speeches have served to humanize Clinton and play up her personal traits. While no easy task for someone who has been in the near-constant spotlight for more than 25 years, it has become imperative in order to raise the former secretary of state's favorable numbers.
Currently, most reputable polls have her favorable numbers in the mid to high-30 percent range. This would be a massive problem in a normal election year, but luckily for Democrats, the Republicans nominated Donald Trump, whose favorables are even worse.
The best quote from the convention thus far: "That is the story of this country, the story that has brought me to this stage tonight, the story of generations of people who felt the lash of bondage, the shame of servitude, the sting of segregation, but who kept on striving and hoping and doing what needed to be done so that today I wake up every morning in a house that was built by slaves. And I watch my daughters, two beautiful, intelligent, black young women playing with their dogs on the White House lawn. And because of Hillary Clinton, my daughters and all our sons and daughters now take for granted that a woman can be president of the United States." – First Lady Michelle Obama

Up tonight: President Obama, Vice President Joe Biden