Harry Potter and the Cursed Child is bittersweet for older fans
Hang on for a minute...we're trying to find some more stories you might like.
When DePaul junior Michael Rizzo began reading the Harry Potter series, he was 10 years old. It was 2001; the first year of a new decade and, though he didn't know it at the time, Rizzo was reading  the first book of a series that would soon become symbolic for his generation.
He was one of the many young readers who became immersed in the Harry Potter fandom when the Potter series was at its prime with worldwide popularity. With the consistent release of new books by J.K. Rowling and million dollar budget movies, the minds and imaginations of the fandom were constantly fulfilled on Harry's adventures.
Now over a decade after the release of the first Harry Potter book, and six years after the last chapter of the original series in the wizarding world had ended, book eight has been written differently than the original series since it is the actual script for the first ever Potter play, which debuted in London a day before the book's release. The new format and characters, while well written and inviting, are not part of the wizarding world many are used to, making it hard to immerse completely into the new story.
The many young book worms who devoured the Harry Potter series years ago, are now college students. Having lived through the Harry hype, loyal fandom, and emotional toll the series caused, many older fans have been left with the impression that no remake or addition can compare to the original series. Rizzo, who used to choose reading the Harry books rather than playing Nintendo, carries that opinion.
"I didn't even give that much thought to its release; maybe subconsciously writing it off as lame since the series as we knew it ended," said Rizzo. "There really is no emotional connection to new characters or 'old Harry.' That and the Broadway show (have) kind of shaken things up with the franchise."
But, Rizzo who holds the Harry Potter series and everything the franchise brought with it  dear to his heart read the eighth book. And, his reaction was nostalgia. The Harry Potter series is a memorable part of his childhood. . He cherishes the memory of going to Barnes & Noble for each book's release with his mother – where she would then buy him Potter swag – and going to the theaters with his family to watch each movie was one of his favorite parts. He loved filling in his siblings about the plot before they watched it.
So when he picked up "Harry Potter and the Cursed Child," he remembered what it was like to be a young boy again. Those feelings of awe whenever there was a major revelation in the original series came back while reading the new book, but it felt a bit different for him this time around.
Beginning 19 fictional years after the end of Deathly Hallows, the eighth book does not cast Harry, who is now a father of three and employed by the Ministry of Magic, as the main character. Rather, the book's main focus is on Albus Potter, his son and the "Cursed Child."
"I really like it. I thought I wouldn't get too emotionally invested but now that I am almost done with it, I really am," said Rizzo. "It's nice seeing where they are in (their lives). They're starting to figure out their strengths and weaknesses and I'm growing to like them just like I liked Ron, Hermonie and Harry. Plus, twenty years later you finally get to see Draco's good side."
Elements of time travel within book eight bring back older Harry fans to old memories in the first and third book. For example a major character from the house of Slytherin, who had a dramatic death in the original series, comes back.
"It takes you back to childhood," said Rizzo. "You're reading things you never thought you were going to read again."
In the US, 3.3 million copies have already been sold according to Scholastic. A result of book eight's release has also caused, several of the original series' books to being fervently purchased as well.
USA TODAY's Best-Selling Book's List reported six out of the seven Harry Potter books were purchased the week beginning on August 7. Harry Potter and the Sorcerer's Stone, the first book of the series that introduced us to the wizarding world, came at number 14 out of 150 best selling books for this week. As well, the volume series containing all seven books came in as number 138.
The new book release and play is bringing back the adventures and thrills of Harry Potter and his clan, the only difference is their children are in the spotlight. So much so, that Albus and Scorpius, Draco Malfoy's son, are best friends. This character relationship is so strikingly different than the original series, it represents a new era for Potter fans.
For those older, yet loyal Harry Potter fans who now find themselves in college, the release of a new Harry Potter book is bittersweet. Six years later and the news of new Harry Potter book still causes the same thrill, but as new characters take the lead a generation  comes to an end. Yet, a whole new world and set of adventures is expected for new, younger fans. It has been more than a decade and J.K. Rowling still does not disappoint. She continues to give the gift of thrill, fantasy and strong literature to new and older generations of Potter fans.
About the Writer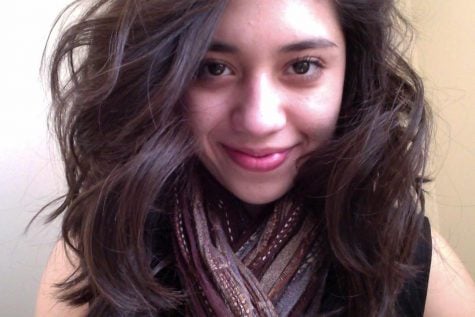 Yazmin Dominguez, Online Editor
Yazmin is the online editor of The DePaulia. She enjoys house music, storytelling, tough editors, and people who can make her laugh. Follow her on Twitter...