Mendoza makes case in comptroller's race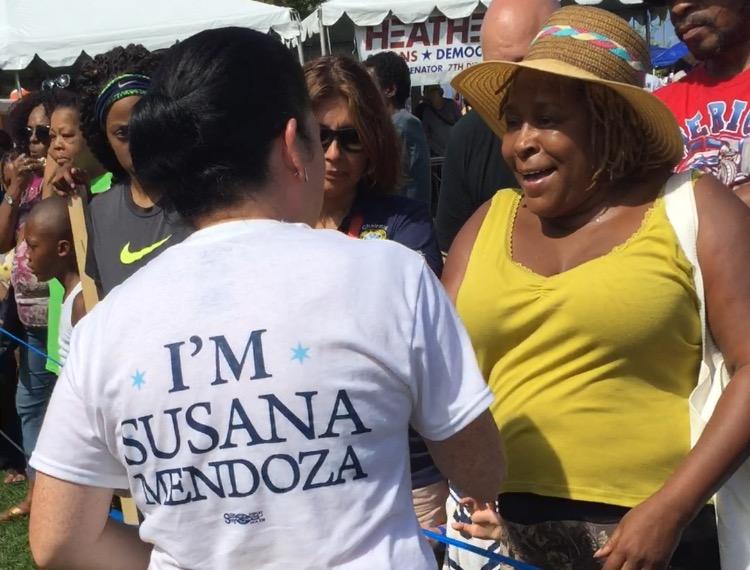 The wearied late-August sun beat down relentlessly and unimpeded, almost like a last gasp of summer before the dog days turn into school days. Despite a pristine scene along the nation's Third Coast in Rogers Park, a lake breeze is unnoticeable.

Yet, the mood in Loyola Park is jubilant. It's the 49th Ward's annual Back to School Picnic. The food was free and plentiful, the bingo tent was alive and kicking, and the Jesse White Tumblers provided excitement for all to see. This was no stay-at-home hot, lazy Sunday.
And the wind was in the air in spite of no lake breeze. This wind was no product of the nature of the Earth, but of the nature of politics. It's election season for those who have not noticed. And Sunday afternoons are ripe for picking off registered voters.
The picnic, thrown by Ald. Joe Moore (49th Ward), featured special guests ranging from Circuit Court Clerk Dorothy Brown to candidates for various judgeships. But, the crowd was focused on the woman calling bingo.
"This is like the Olympics, OK? People are totally serious about their bingo," she said during the drive over. "You do not want to campaign while a bingo game is going on. People will vote against you. They're like, 'I'm going to miss my number because of you!' They're, hardcore."
Of course, one can't expect to get along well in politics without successfully working the bingo hall. But, she's seems at ease in this setting. Loud and enthusiastic, she calls out the numbers while offering a friendly banter back and forth with the voters she'll need to win in November.
"Who is that?" one passerby asks. "Susanna? Susana?"
"Susana Mendoza, candidate for Illinois comptroller," I replied.
"She cool!" the passerby adds. "It's nice that they come out and do this stuff."
This is the first encounter the passerby, 49th Ward resident Carol Vialdories, ever had with Mendoza, the incumbent city clerk of Chicago. Like many across the state, she has never heard of Mendoza or her opponent, incumbent comptroller Leslie Geissler Munger. Nor does she have the faintest idea of what a comptroller does. A very common occurrence Mendoza comes across as she campaigns.
Yet, the comptroller's race is the only statewide election this cycle beyond the presidential race and the high-profile U.S. Senate showdown between incumbent Sen. Mark Kirk and challenger Rep. Tammy Duckworth.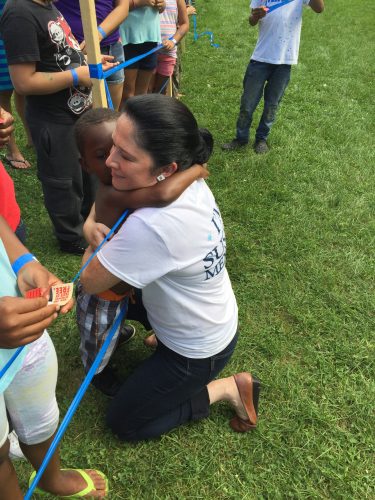 It's hard to ignore the possible ramifications. Munger, Gov. Bruce Rauner's hand-appointed selection following the sudden death of previous officeholder Judy Baar Topinka, against Mendoza, the feisty Chicago Democrat who counts House Speaker Michael Madigan as a political mentor. The stage appears set for another battle in the war between Rauner and Madigan. And, as the person who signs the checks in an era where state budgets are hard to come by, perhaps that's the only lense through which to view it.
Though this is a familiar situation for Mendoza – from her early days campaigning for state representative in Little Village to her campaign for city clerk in 2011 to now, she's climbing an unsteady ladder with no idea what she will find at the top. But, she still climbs.
Once the back to school event concludes, Mendoza gets back in the car, on her way to U.S. Rep. Jan Schakowsky's Evanston home, where she will mix and mingle with state reps., township committeemen and ordinary folks who paid $50 to get into a backyard BBQ fundraiser.
Team Mendoza is small, only three paid employees, to be exact. They include the campaign manager, a driver/photographer and communications associate. With the driver off today, communications associate Christie Lacey is at the wheel.
Lacey, a DePaul alum, has been officially employed by Mendoza for only a few months. This is her first job out of college.
"I was looking for a few months, and then, because I'm such a politics nerd, I'd always go to Hillary Clinton watch parties. They're held at Old Crowe or different bars around the city, and my friend Mike Papanicholas had met Susana at the college Democrats conference, so he introduced me to her," Lacey said. "And she had just spoken and had talked about her job as city clerk, she got married, she got pregnant, and meanwhile, she did all this stuff. It was just this power woman speech and I just said, 'that was awesome, you're so cool!'"
Lacey and Mendoza would talk for an hour, something that struck Lacey as unusual at the time.
After all, most politicians give a handshake and a smile and move to the next person, Lacey thought.
Mendoza would go on to tell her, "I can't hire you, but you can volunteer for my campaign."
The unemployed college grad, with degrees in communications and political science, looking for something to do, took Mendoza up on the opportunity. She marched in a few parades, but nothing too serious. That is, until a campaign staffer left for law school, opening a position for Lacey.
Lacey now coordinates Mendoza's schedule, staffs campaign events and does a little bit of everything on the communications side, from email blasts to social media to talking points for speeches.
They have a good banter in the car, even as Mendoza occasionally comments on Lacey's navigation of the campaign car, which has logged more than 30,000 miles over the last year.
"Sometimes, I feel like politicians, even though they try, have a hard time connecting to the average person either because they're in the spotlight so much or they just live a life that's (not humble), but she's just so down to earth and easy to get along with," Lacey said.
Humble beginnings
The daughter of Mexican immigrants, Mendoza's background is clearly reflected in her three year old son (and perhaps the only campaign surrogate more effective that herself), David Quinten, when he speaks to her in the native tongue of her parents.
Spending the first eight years of her life in Little Village, Mendoza was surrounded by her parents and two older brothers. Mendoza has fond memories of her childhood in the neighborhood, which is still known as a major port of entry for Mexican immigrants settling in the United States.
Yet in a familiar script throughout pockets of Chicago, Mendoza's family took the chance to leave the neighborhood they'd loved. Mendoza's brother, Joaquin, eight years her senior and a Chicago Police Explorer, dealt with constant harassment from the gangs for his dream of becoming a cop. Then, a murder happened on the block, which led to Mendoza's mother deciding "enough is enough, we're leaving" for the suburbs.
"We had never been out that way but my dad literally overnight got us out of the neighborhood. We moved whatever we could fit in the car and we went to Woodridge," Mendoza said. "Little by little, we came back and picked up our stuff, but that's how scared my parents were about us getting hit by a bullet."
Little Village was never far from Mendoza's heart or mind, even as she flourished in Woodridge, playing outside without the fear of gunfire and eventually succeeding at Bolingbrook High School, where she was the captain of the women's soccer team.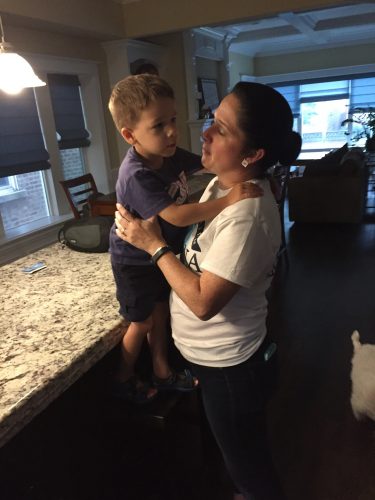 She and her family would go back to the old neighborhood once a week for groceries (there were no Hispanic markets in the suburbs at the time) and other events, but in a much more controlled setting.
Mendoza now lives in Portage Park, a sleepy Bungalow Belt neighborhood on the Northwest Side. By her measure, it's safe and solidly middle class, perfect for her and her husband, also named David, to raise their son.
"Hard-working middle class (people who) want their kids to walk to the park without being shot. That's what every neighborhood in the city should be like. Unfortunately, it's not," Mendoza said.
This is what led her back to Little Village upon graduation from Truman State University in 1994.
"I could've just stayed out in the 'burbs or gone onto work in some cool, private sector (job) with high money and a high paced environment, but I just felt like that was not really where I was going to make a huge difference."
Back in the old neighborhood, she tried to lead by example, whether simply maintaining her property or encouraging neighborhood children to have pride in their block. She organized neighborhood children into a weekly cleanup crew, known as the 12th Ward Planeteers.
Just 25, she decided to make her first run for office, running against an incumbent supported by Madigan — a fact she mentioned several times throughout the day as if it were a Declaration of Independence from the Democratic political boss.
"I've never had anything handed to me in my life, I've worked super hard for every single thing I've ever earned," Mendoza said. "If I'm going to ask people to send me to Springfield, you better believe I'm going to earn it."
She lost that first race in a landslide — 55 votes. Smelling blood in the water, Mendoza tried again two years later. This time, she won with 55 percent of the vote against the same Madigan-backed incumbent. Mendoza would spend 10 years in Springfield before making the jump to the city clerk's office in 2011.
"I never would have thought that I'd be running for that position, but politics is all based on timing and opportunity. So, you need to be flexible for the right opportunity should it arise. I had never been looking for that opportunity as a state rep," Mendoza said.
Politics as usual?
When asked if she's a career politician, Mendoza, who's been in elected office uninterrupted since 2001, acknowledges that the narrative is easy to construe.
"I can understand why someone who doesn't know me would think I'm like everybody else," Mendoza said. "But, I know I'm not. And I can sleep at night knowing how hard I work and I would say my last 15 years have been 15 years in public service. I don't see myself as a politician as much as I see myself as a public servant."
"For me, it's the only thing I've really wanted to do. I really enjoy public service," she said. "And the day I don't will be the day that I have a press conference and say I'm not running again."
Though as Mendoza seeks to climb the ladder once more, her ties to unpopular political leaders have raised questions about her independence. After all, she for the most part voted in lockstep with Madigan in the state house, including several unbalanced budgets, and served as a major surrogate for Mayor Rahm Emanuel's reelection despite fellow Little Villager Chuy Garcia's candidacy.
"She has voted for every one of Speaker Madigan's unbalanced budgets," Munger said last month at the Illinois State Fair. "She's voted for every tax increase, every pension holiday and all of the borrowing that (has) created the mess that we are in today. She calls Speaker Madigan her mentor."
Madigan as a political mentor is something Mendoza does not hide, but seems irritated when it, in her view, is taken out of context. In politics, she counts diverse array of characters from Topinka, Illinois Sec. of State Jesse White and the late Dawn Clark Netsch as mentors.
But when it comes to The Speaker, Mendoza acknowledged "the big aura around" him; something she believes is the result of not allowing the press a "glimpse behind the curtain." As party leader, it's his job to make sure his members come back, which may mean a suggestion of which way to vote and perhaps shielding members from tough votes, she said.
"But, in reality, I spent about 10 years working there, there wasn't a single time, and I know no one will believe me when I say this, but there wasn't one instance where he ever tried to twist my arm or make me feel like my career was in jeopardy because I was standing up against him or taking a position contrary to what he was recommending the members do," Mendoza said.
Mendoza said the expectation from him was to look out for her district's interests.
"This persona that's been created about him is just not the person that I've worked with. He's the first person to show up to the (State Capitol), and I'm not exaggerating, the last person to leave. He's read every single bill that's been introduced from both sides of the aisle, like it's an unreal work ethic. I've never seen anything like it. So whether you like him or don't like him, you have to admire and respect that work ethic. And I think that's what a lot of members have seen. And that's why they've followed him for as long as they have and why his constituents have continued to reelect him time and time again."
It doesn't take long for Mendoza to turn her attention to the person she views as "the real iron-fisted leader," Rauner, a man she says is "just a more polished version of Donald Trump."
"He's been a political insider for a lot longer than has been the case with his election," Mendoza said. "This is a guy who's played with the politicians for many, many years. And finally, decided to buy himself an election."
Rauner, a Republican elected in 2014 on a message of "Shaking up Springfield and bringing back Illinois," has loomed large over this race and others across the state. One could argue he has has single-handedly made the Illinois GOP competitive again my filling its coffers with more cash than ever before.
He hasn't won a lot of friends among Democrats, who disagree with his pro-business, anti-union Turnaround Agenda.
Mendoza, referring to reports from early 2015 that detail Rauner's $20 million threat to GOP legislators who defied him, said Rauner was the problem.
"Why is he not under investigation for that kind of stuff?" Mendoza asks. "And he has the audacity to say that the Democrats are in cahoots or under the iron fist of the Democratic leader, whereas he's actually instilling fear of financial repercussions against his members. That's pretty much extortion."
Enter Munger, the governor's hand-appointed comptroller. And it becomes clear why many perceive this race to be a proxy between the Governor and the Speaker.
"Well, I would say that whether or not we want it to be perceived that way or not, it clearly is because you asked me the question, right?" Mendoza said. "So I think many people are looking at our race as a proxy between those two entities, when in fact, it is a race between two women, one who was appointed and one who's earned every elected office she's ever run for."
Munger, a native of north suburban-Lincolnshire, had run for state representative 2014, losing to incumbent Carol Sente. Just weeks after Rauner appointed her, she made headlines for her decision to buck the governor by not withholding union "fair share" fees. She has used this as an example of her independence, though Mendoza quickly dismisses it as simply "following the letter of the law."
"If (voters are) happy with the dysfunction that is Springfield today, then they should vote for my opponent," Mendoza said. "But if they really do want somebody who's already been tested, who's been proven to be an effective leader and executive manager, then I'd really ask them to give me an opportunity to show them what I can do as their comptroller and to be an independent fiscal watchdog, which is what I think is sorely lacking today."
Despite not having the advantage of incumbency, DePaul professor Nick Kachiroubas believes Mendoza is the favorite given Illinois' blue state status in national elections.
"What I think Susana Mendoza has the ability to benefit from is a united Democratic Party in Illinois, at least on a statewide level," Kachiroubas said. "And the people that are up right now in this election on a statewide campaign level, she's done a really good job positioning herself in photos with Hillary Clinton and Tammy Duckworth whereas you don't have that kind of unity on the Republican side. You've got Trump, you've got Mark Kirk, you've got Leslie Munger, and you never see them together."
Indeed, Mendoza is not camera-shy. She snaps photos with Schakowsky, Senate President John Cullerton, State's Attorney candidate Kim Foxx and others at the BBQ. She works the food line with ease as she tries to lock down the support of all in attendance.
It is not certain if Mendoza will win in November. But, it is clear she is not afraid to make a leap. And as shown by her grueling campaign schedule, she won't be outworked in this race.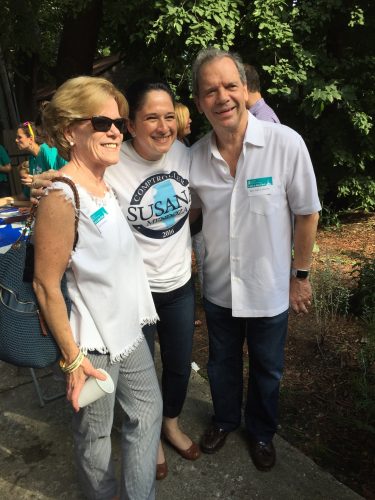 This Sunday in late-August, with two events, was considered a light day of campaigning. Now back home, Mendoza plays with her son, who she brings along on the campaign "whenever I think he'll have fun."
That included a trip to the State Fair in downstate DuQuoin the previous day. Lacey jokes that DQ's pitch for his mom is short and sweet: "Vote for mommy!" he says, then handing the voter a campaign sticker.
As she reflects on the timing and opportunity of her campaign, Mendoza wishes it were under different circumstances.
"It's bittersweet for me because I never in my wildest dreams imagined I'd be running for this because Judy Baar Topinka was a dear friend of mine and we actually collaborated a lot," Mendoza said. "But the good Lord called her to what I hope and believe is a better place. And this position is an important position that can help or hurt a lot of people in this state and right now, I think it's hurting a lot more people than it's helping."
The challenges faces the comptroller in January are daunting, no matter who wins. With a backlog of bills, many owed to social service agencies that rely completely on state aid, the role of the person signing the checks has never seemed more important.
"To run for Illinois comptroller when there is zero money and we have a governor who wants to, in my opinion really break down this state, and help the one percent while everybody else suffers in the process, that's probably the worst possible time for anybody who wants to enjoy their job to run for this position," Mendoza said. "It's not going to be fun, it's going to be the biggest challenge of my lifte and precisely because people are facing the biggest challenges of their lives is that that's when leaders step up."
But, the script is familiar. The ladder is there, it's not steady, but Mendoza continues to climb.