Mayor Rahm Emanuel proposes more cops
Mayor Rahm Emanuel proposed a broad plan Sept. 22 to solve the violence plaguing many Chicago neighborhoods, centered on hiring nearly 1,000 more police officers.
The mayor argued the increased manpower and tougher penalties for gun offenders will go a long way towards getting the city's surging crime levels down. In order to fully address the problem, he said more investments must be made and opportunities opened up to people in the city's violent areas.
"I have seen firsthand that when we provide an alternative to the life of guns and gangs, our young people will choose that positive alternative," Emanuel said.
Emanuel told the invitation-only audience that solving the city's crime problem is on "all of us" and urged Chicagoans to "get to work."
The mayor's announcement comes weeks after Lincoln Park's Alderman Michele Smith called for an increase is police patrol in the area. While her views are in sync with that of Emanuel, some DePaul students who live in the area do not think an increase in police activity is necessary.
"This isn't really an area of high crime compared to the other neighborhoods," said McCrey Guillory, freshman environmental science major. "These people have the resources to pay for better home security. This is an area that has been heavily gentrified."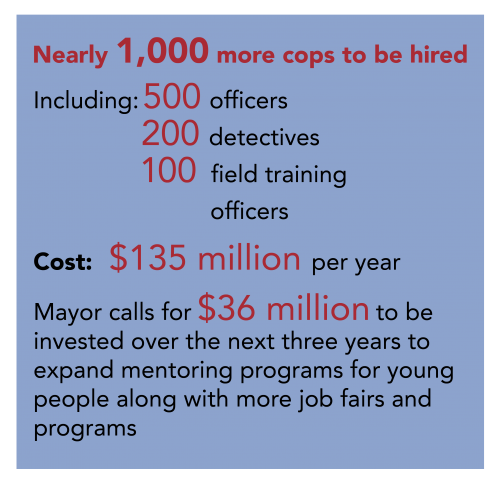 Robert Stokes, director of DePaul's School of Public Service, said the distribution of police through Chicago is a problematic part of the system, and it is one that will need to be corrected if these new hires announced by the mayor are to actually have an effect.
"Police are a public service that everyone pays taxes for, and some places, like Lincoln Park, think they're getting under-policed" he said. "But there's a strategy with cops that you're going to put cops where they're the most impactful, and that tends to be in the worse off areas."
But Carly Travis, freshman journalism major, said she doesn't want to see Lincoln Park excluded from the news by CPD.
"They should definitely be more concentrated in the south side and the not so great neighborhoods," she said. "But the city shouldn't skip out on Lincoln Park because it's safe. Don't give us the short end of the stick."
Stokes said this has a lot to do with the fact Lincoln Park is a wealthier area of the city.
"Some can afford high-end security systems, or they can do things like get together through the civic association and hire security guards," he said. "Other places that don't have that money or resources need police."
On the policing end, 500 officers, 200 detectives and 100 new field training officers will be hired over the next few years. The mayor also announced every officer will have a body camera and Taser next year, and that the city will be funding new gunshot-tracing cameras in violent police districts. The new hires will total 970 by end of 2018.
The additional cops are expected initially to cost around $135 million per year, but the mayor offered no specifics on how the city plans to pay for it.
Stokes said the city has not hired such a mass quantity lately, which has resulted in more officers using overtime as opposed to hiring new ones.
"They really earn a lot of overtime, and it really puts them in a higher economic stratosphere," he said. "Those benefits packages that come with new hires cost more to the city. It's cheaper in the longer run than hiring a new person because that person is going to get a huge range of benefits."
"At the end of the day, we will be judged by one simple question:  Can a mother in any neighborhood in Chicago send her children outside to play with peace of mind that they are safe?"        – Mayor Rahm Emanuel
While this decision has economic benefits to the city, it's not the most effective method of crime prevention.
"Crime does not operate that way," Stokes said. "You're going to tell me that working for 16 hours as a police officer, you're going to have an even productivity line across that 16 hours? If you overwork people, they tend to make mistakes or they tend not to do their job in a proper fashion. And ultimately, overtime becomes the goal, not the crime prevention."
Emanuel also did not shy away from the fractured relationship between the community and law enforcement, saying "respect is a two-way street."
"Every one of us has a role to play in rebuilding the vital partnership between our police and the community," he said. "We all have to hold ourselves, and each other, to a higher standard."
Emanuel said when he talks to Chicagoans, they do not hate the police, but in fact want "more cops and fewer gangs."
"There are too many senior citizens and good residents in Chicago who are sick and tired of having to walk several blocks out of their way when they leave their homes just to avoid the gangs and drug dealers on the street corner," Emanuel said.
Legislatively, the mayor called for Springfield to act on gun offenders, ranging from tougher sentencing to holding gun stores accountable.
"Our residents and police are demanding tougher gun laws and tougher sentences," Emanuel said. "We need Springfield to be part of the solution and not just mimic Washington."
But Stokes said no number of new officers will fix the main problem that lies within the political sphere.
"We have these extreme voices being heard on both sides," he said. "Both sides of this argument have some legitimate gripes to make, but this thing has to be sorted out on the ground. Hiring more cops, I think, would be a step to solving the problem. It's not going to completely solve the problem, but it's going to help."
Emanuel also called for expanding opportunity "community-by-community, block-by-block." This includes investing $36 million over the next three years to expand mentoring programs for young people along with more job fairs and programs.
The mayor closed with asking for the public's help.
"The city of Chicago is our home," Emanuel said. "The people of Chicago are our family.
"At the end of the day, we will be judged by one simple question:  Can a mother in any neighborhood in Chicago send her children outside to play with peace of mind that they are safe?" Emanuel said.