DePaul alum directs new play "The Burials"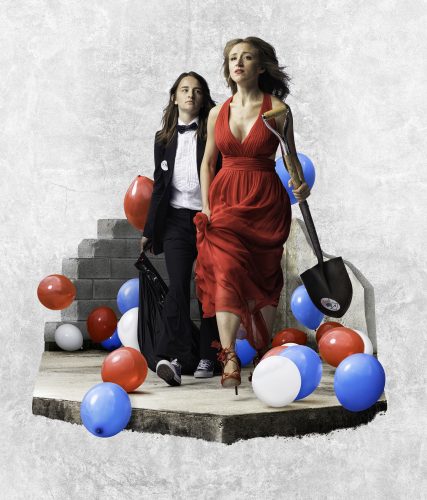 In the spring of 2006, then DePaul theater student and studying playwright, Caitlin Parrish was premiering her play "Echo Boom" at DePaul as part of The Theatre School's New Playwrights Series.  Inspired by the Greek tragedy "Antigone," "Echo Boom" followed a high school valedictorian named Ash, whose younger siblings commit a large-scale killing spree at their high school. 
Written only seven years after the Columbine high school shooting that left 15 dead, the important conversation behind "Echo Boom" was undoubtedly relevant.
And now 17 years past Columbine, and a decade after "Echo Boom," Parrish returns with a new play regarding the same subject, exploring once again a conversation and issue that is as relevant as it is today than it was in 1999 – if not more.
Loosely based off of "Echo Boom," and again, influenced by Sophocles' "Antigone," Parrish's newest play entitled "The Burials" will kick off the 2016/17 season at Steppenwolf for Young Adults (SYA) at its world premiere on Oct. 8.  Much like Ash from "Echo Boom," "The Burials" follows Sophie, an engaged, smart, loving high schooler, whose life gets thrown into the spotlight after her brother goes on a high school shooting rampage.  Director of the play and fellow DePaul theater alum, Erica Weiss, met Parrish at the university's theater school in the mid 2000s, and since then the two have been frequent collaborators in theater production, television and feature films.
"When I met Caitlin, I just remember we had linked in so many different ways," Weiss said. "Without DePaul, this partnership would never have happened in the first place, which would be unfortunate because it's easy for us to work together with each other, I've never found anything like this."
Along with Parrish and Weiss sitting behind the steering wheel of the production, DePaul alum Stephanie Andrea Barron is one of the nine actors cast in the play.  Starring as Janette, the happy and optimistic friend of Sophie, Barron talked about the challenges of portraying such a joyful character in such heavy sobering subject.
"It was about making this character more than comic relief, but making her feel like an actual person. Erica's direction and Caitlin's script were excellent in helping me achieve that," Barron said. "It was about navigating the pain a person like this would have after an event so horrific."
And much like Parrish and Weiss, Barron credits much of her success to DePaul's Theatre School.
"I don't think I would have a career without DePaul's training," said Barron.  "It wasn't just the professionalism at DePaul, it was the opportunity to connect with people within the industry."
While many from the cast and crew from "The Burials" can certainly connect the play to the origins of their careers, many have also a profound connection towards its subject matter.
"Being from Orlando, and in the wake of the shooting at the Pulse nightclub, this story, these conversations, they really meant something to me during the production of this play," Barron said. "A connection to material like that doesn't happen often."
For Weiss, the subject of a school shooting was not only personal to her past, but offered a conversation she wishes the youth of today explore.
"I grew up in Colorado, I went to junior high 25 minutes from Columbine.  Many of the students seeing the play are the age of those killed in Columbine," said Weiss. "This is a story about young people with empowering voices. Whether it's a school shooting or a gang shooting in Chicago, I hope they walk away from this play recognizing a problem in America, and being ready to come together and fix it.
"There are so many different reasons people get shot, but there's only one way they do get shot."