Pope taps Chicago Archbishop Cupich in cardinal pick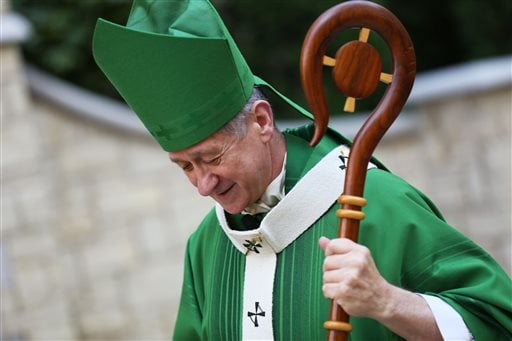 Pope Francis looked to the American Midwest when picking his first U.S. cardinals.
The Vatican announced Sunday that Chicago Archbishop Blase Cupich and Archbishop Joseph Tobin of Indianapolis, Indiana, will become cardinals in a Rome ceremony Nov. 19.
Pope Francis named 17 new cardinals Sunday representing Asia, Africa, North and South America, Europe and Oceania. Thirteen of them are under age 80 and thus eligible to vote in any conclave to elect his successor.
Chicago's Roman Catholic archbishop said he learned in a 5 a.m. call from Rome that Pope Francis was elevating him from archbishop to cardinal. Cupich said he was humbled by the honor.
Blase Cupich joked with reporters after Mass Sunday at Chicago's Holy Name Cathedral that he didn't mind being awakened given the pleasant news.
Chicago Mayor Rahm Emanuel congratulated Cupich on his elevation to cardinal not long after the Sunday Mass. In a statement, Emanuel said in his short time in Chicago, Cupich has made a tremendous impact as a voice for the voiceless in the name of inclusion.
Emanuel went on thank Pope Francis for recognizing Cupich's leadership in both the church and society.