Ink outside the box
Many people, like junior childhood education major Brianna Gougis, "don't think there are many bad tattoos." Although television shows like Bad Ink and Tattoo Nightmares might disagree, there are people all around Chicago, and DePaul's campus in particular, who love their tattoos and want to share them, and their unique stories, with others.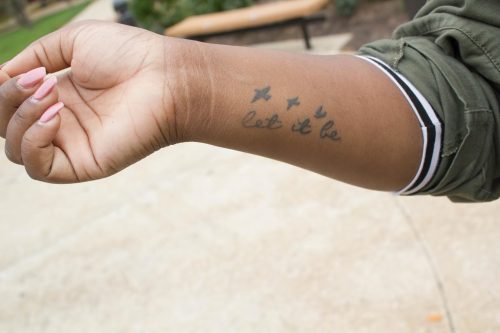 Junior communication studies major Akemi Almeida has several tattoos with personal connections, from important music to life experiences.
"I have an OWSLA symbol, which is a music label Skrillex made. He was an integral part of my adolescence because I used to dance to his music all the time. And then I have three birds for Bob Marley's song 'Three Little Birds', because that was the first Bob Marley song I heard, and it reminds me to just chill," she said.
"Then I got this elephant because this is something I saw in South Africa. We were on a safari trip, and this elephant started crossing, so we had to stop and be really silent and still. It was really majestic and beautiful," she said. "I got all my tattoos by the same guy; he was the only guy who would do this cross, which was my first one. He's a great artist and I support his work. His name is Jimmy Matson in Woodstock, a northwest suburb."
Sophomore art, media and design major Jordan Delmonte has eight tattoos. His tattoos include diverse styles and subject matter, ranging from animals to surrealist faces.
"Having tattoos is all about the art for me," Delmonte said. "I really enjoy getting pieces from artists that create really nice work. My tattoos speak to what kind of art and artists I'm in to."
Delmonte's career aspirations include the possibility of becoming a tattoo artist. While his art courses at DePaul focus on drawing and painting, he still finds ways to test his creativity in this program in order to prepare him for his eventual career goals.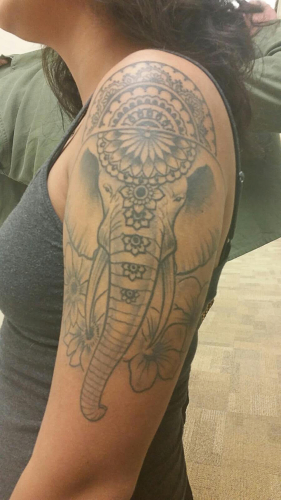 "I have my own way of going about my art so I try to always put my own spin on how to do assignments (and) projects," Delmonte said. "Since my first art class at DePaul, I have always tried to really exceed expectations by just doing more difficult pieces than what is expected so I can put my skills to the test."
Junior art, media and design major Amy Martin also appreciates the artistic element behind her tattoos. She has 11, with the tradition of gifting herself a tattoo every year for her birthday.
"I like having tattoos because I like the idea of being a canvas for art," Martin said. "I have some original works of art made by tattoo artists, a tattoo drawn by me and paintings from famous artists."
Other students express more hesitation when it comes to the idea of tattooing themselves.
"The reason I don't have a tattoo is because I can't decide on a symbol that will last the test of time in my mind," said senior Temi Adelakun, an organizational communication major.
Senior environmental studies major Malcolm Engel, who has a tattoo, believes that tattoos must have intention behind them.
"I think tattoos should have a very thought out intention and have meaning behind each tattoo," Engel said. "It doesn't have to be extremely deep. But, for thousands of years, our ancestors before us used tattoos for spirituality and what not. So, I think tattoos should have some sort of meaning or substance behind them."
Engel originally had no interest in tattoos.
"The chain of events in my life just led me to get one," Engel said. "It was a test of my body's impermanence and a spiritual token on my body."
Engel has one tattoo,  a circle in the middle of his chest.
"(My tattoo) represents impermanence, death and the flow and interdependence of reality," Engel said. "Also, it's by my heart to be compassionate and love, and to be honest and accept myself."
Both of sophomore advertising major Aaliyah Curtis' tattoos connect to her personal experiences.
"I have two tattoos. My first one is the heart chakra, which is like an energy source of love. I thought it would be cool to get it where it is on the body, so it's right here, right in the middle of the chest," she said. "My second one is someone checking your pulse. I used to have really bad anxiety, but I found out it was because I'm anemic. So if I got nervous, my heart would start pounding really hard. It's like a reminder to live."
Junior psychology major Alyson Gibson also has a tattoo that embodies a theme of self-acceptance.
The location of Gibson's tattoo is on her left wrist, a place in which she used to self-injure. Now, she has a series of three circles on that exact spot.
"The circle itself represents the notion that recovery never stops, it is infinite," Gibson said. "The filled-in circle is introversion and the open circle is extroversion, and the middle circle is the healthy balance between the two."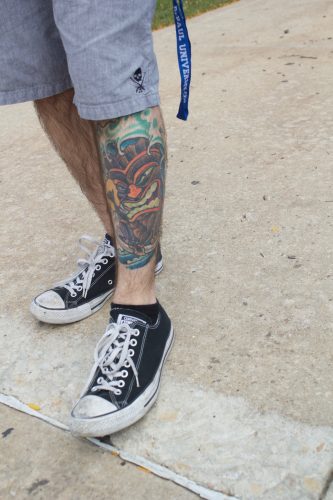 Engel says he has noticed a trend of circle tattoos on DePaul's campus.
"I've noticed a lot of circle tattoos on the inner forearm," Engel said. "Small circles. It's really weird. I see a lot of roses and things like that, but those are just really common tattoos in general. I think the circle became trending because of its many meanings."
Another tattoo trend Gougis added is that of semicolon and quote tattoos, which she sees around campus.
Gibson got tattooed for the first time on her 18th birthday. In addition to tattoos being a birthday ritual for some, others have even traveled distances to get the tattoo of their choosing. Delmonte is one of those students, as he has been tattooed by artists from the Spike T.V. show Ink Master, which he traveled to New York to achieve.
"Both of my experiences with Ink Master tattoos were very good," Delmonte said. "The tattoo on my arm was done by Cris Element, who is based out of Staten Island, and the tattoo on my leg was done by Mark Longenecker, who is based out of Cocoa Beach, Fla. Those two tattoos are by far my favorites out of the eight I have. Getting tattooed by Cris was great, he is really down to Earth but also isn't super serious, so it was cool to just be in a very relaxed environment in the shop he works at."
Element did a tattoo of lady justice with an hourglass on Delmonte's left forearm. His experiences with Longenecker were also memorable.
"Mark free-hands all of his tattoos which is nice because I actually was able to watch him and his whole creative process, which was great. He was a super chill guy, really fun to be around," Delmonte said.
One issue that comes up with tattoos is the potential implications with employment. Some employers prefer to hire candidates who do not have tattoos, while other employers ask that tattoos are covered up in the workplace.
Engel believes that self-expression is important, but also understands why tattoos may not be accepted in the workplace.
"In an ideal world, people should be able to express themselves how they want to," Engel said. "Unfortunately, we live in a system where we are obligated to make certain choices. So based on professionalism, I think it's fair, but inherently I think it's stupid to have to cover up (tattoos) or be discriminated against (for them)."
Adelakun agrees that it is unfair for people with tattoos to be discriminated against for employment.
"However, I do see why employers would ask for employees to cover themselves up," Adelakun said. "It could take away from the business if the tattoo is inappropriate or just too distracting."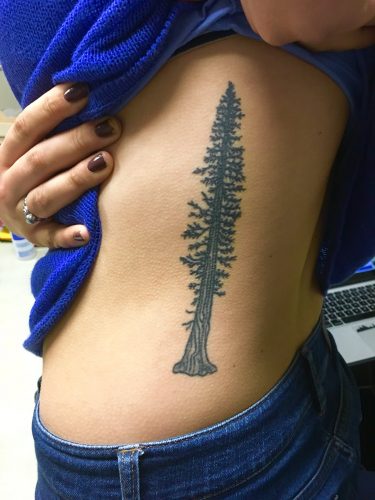 Gibson asserts that her tattoos are for herself, and not for others.
"I'm fully aware that there are many people out there who don't like tattoos, don't like seeing them, and are judgmental of them," Gibson said. "And while I truly don't care if you like tattoos or not, they're for me. And even though they're exposed to the outside world, I don't have them to be cool or to seem like I'm different, they're completely for my use and no one else's."
On Friday, The Field Museum started a six-month run of its latest special exhibition, called Tattoo. While it features over 170 objects from the Parisian Musee du Quai Branly in Paris, France, along with 14 additional artifacts from The Field Museum's collection, Chicago decided to take it to the next level by adding another unique aspect to the exhibit: a tattoo shop.
Interested visitors can take part in the exhibition by receiving one of 42 different pre-drawn flash art designs at a cost of $250, according to the Chicago Tribune. While this interactive opportunity shows contemporary tattoo art, the exhibit as a whole reveals historical narratives, methods and purposes of tattoos across cultures and times. The exhibition will run until April 30.
"The central message of the exhibition is about human creativity. It's important to understand creativity's different manifestations and not dismiss cultural practices and art forms because they were somehow stigmatized. The exhibition is going beyond the stereotype of tattoos to explore their aesthetics and artistry across cultures," curator of North American Anthropology Alaka Wali said in The Field Museum's press release.
Students and Illinois residents can see the exhibit for free on one of The Field Museum's upcoming free days, which include Oct. 30 and 31, Nov. 27 and Dec. 3, 4 and 18.