DePaul student ventures in Chicago's underground graffiti world
Fascinated by the way it captures the attention of the everyday person, Jake Coleman, a DePaul senior, picked up his first spray cans over the summer. His goal was to put some of his drawings on walls. When he was younger he admired the colorful taggings on the freight trains that passed through town, stopping traffic, but graffiti itself, the art of turning words or drawings into something the public can take part in, came to him in steps.
"I think that was what really got me interested in drawing initially," Coleman said. "It wasn't until I found an abandoned building complex on the West Side of Chicago did I begin to tag the walls."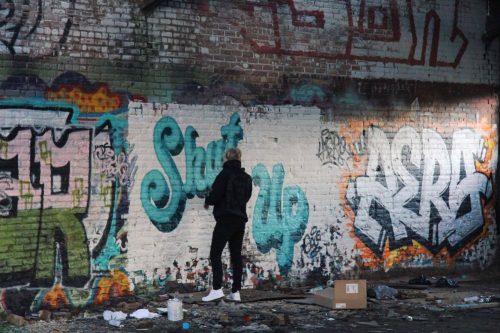 Coleman said he wanted to create things that attracted the most visitors — he tries to create pieces that are elegant and easy to read and look at. The viewer's experience is a major part of graffiti culture and its history.
Cornbread, a Philadelphian high school student in 1967, tagged walls in the City of Brotherly Love to get the attention of a girl. Historians consider him to be the first modern graffiti artist. The art world turned its nose up at the medium initially, believing it to be "too urban," and it wasn't until the 1980s that graffiti started to be featured in galleries.
Graffiti has been called a lot of things over the course of time. Some call it vandalism. Others call it a language of protest and a way to connect to other artists, people and communities. From subway cars and walls in Philadelphia to buildings that line 'L' lines, graffiti adds vibrant elements to cities around the country and around the world.
Graffiti grew alongside hip hop music and b-boying, but early images can be traced back to Egypt, Greece and Rome. The image it brings to mind differs from person to person, conjuring images of full walls covered in words and colors to simple words on the sides of buildings.
"It allows for people to be alive critically and to protest what's happening around them," Jonathan Gross, a professor of English at DePaul who has written about graffiti's history in Greece, said. "If it wasn't important it wouldn't be imitated as much as it is."
Imitation includes other artists imitating each other, as well as outsiders imitating the act of graffiti. Gross pointed to corporate ads plastered on the sides of buildings and public transportation as a major form of imitation, and a bad one at that.
The act of imitation appears through certains tags and styles. Some artists, like Coleman, aim for street style so their art looks different. Others change up their styles or craft a character, or phrase, that they tag so their art can be identified by those who know what to look for.
For an artist named Goosenek, who prefered not to use his real name, his graffiti experiences started with reluctance and lead to him wanting to be a part of Chicago and a part of something larger.
"I used to work at an Italian restaurant and one of the delivery drivers noticed some of my sketchbook work I had done for art school and asked if I would go bombing with him," Goosenek said. "I initially turned down the offer, but later I joined him and another graffiti writer and painted a wall under a bridge."
"After that I needed to paint more. I loved riding the red line and seeing "snacki," his character, (which) always motivated me to paint more. The goose started off as me wanting to be a part of Chicago, like the Cubs or a mascot or something. But also I didn't really know anything about graffiti and street art and how to use a can. So, I started painting a goose and it stuck."
Graffiti doesn't require very much "pre-requisite" knowledge — the study of it is growing though slowly — but it does require a passion and vision that is similar to all other art forms (questions about whether or not graffiti is art persists to this day).
Coleman, a graphic design major, says the two overlap and he enjoys "making stuff that's different and if done correctly it catches the viewer's eye."
"That's a big part of design and not many people have that background," Coleman said. "But for me and those who do have that background, we have to take something we created and sort of unwrap it. We need to take a step backwards and deconstruct the letters."
Coleman urged for curiosity and for people who were interested to "go and get it."
"The medium will always be there so as with anything else you just have to go and get it," Coleman said. "I'm a fan of anyone who creates something new."